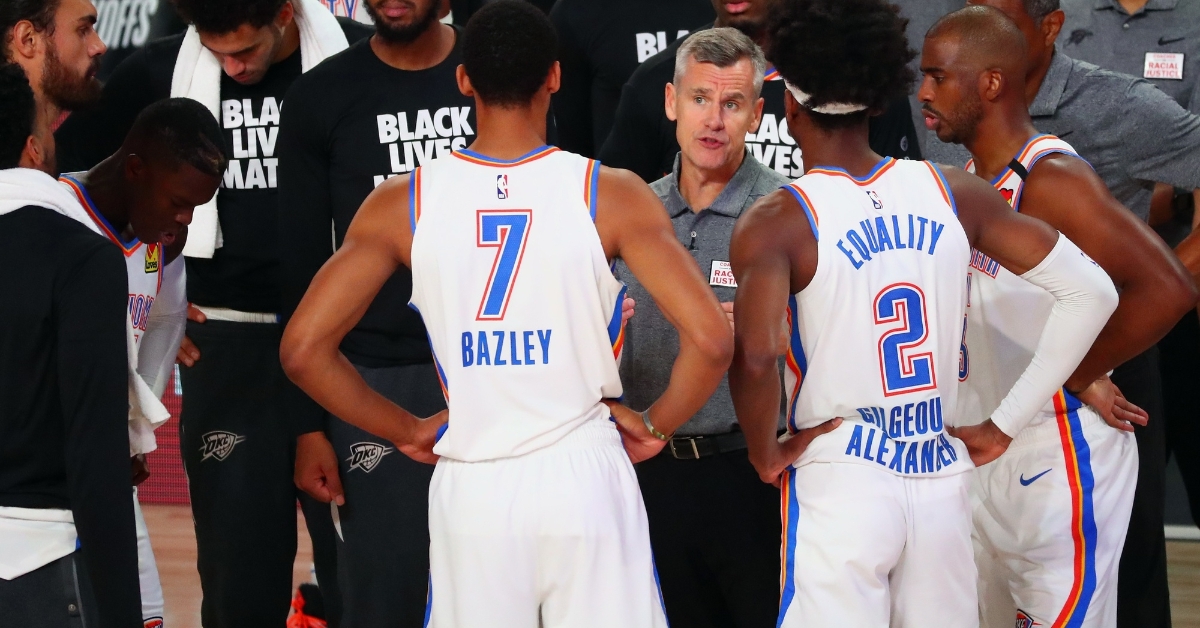 | | |
| --- | --- |
| Billy Donovan will become Chicago Bulls next coach | |
---
Finally the Chicago Bulls have a new leader in place.
Former Oklahoma City Thunders head coach Billy Donovan has agreed to a deal to become the next head coach of the Bulls.
According to ESPN, VP of Basketball Operations Arturas Karnisovas sold Donovan on a talented roster and a historic franchise to lead.
"We are very pleased to welcome Billy and his family to the Chicago Bulls," Karnisovas said in a statement. "The success that he has sustained over the course of his coaching career puts him on a different level. We feel his ability to help his players reach their potential, both individually and collectively, will mesh well with our roster. Whether as a player or as a coach, he has won everywhere his career has taken him, and we hope that will continue here in Chicago."
In five seasons, Donovan was 243-157 (.608 winning percentage) as the Thunders coach and led them to the playoffs five straight seasons. However, the team and coach mutually parted ways after an early first round exit this season.
"I want to thank Jerry, Michael, Arturas and Marc for the opportunity to coach the Chicago Bulls. I also want to thank them for the time and effort they put into this hiring process. I'm excited to partner with Arturas as we work together on behalf of this historic franchise," said Billy Donovan in a statement.
Zach LaVine had the following take about the new coach on Facebook Gaming:
"Oh damn we got Billy Donovan as our coach. Wow. That will be good. Really good coach."
Billy Donovan turned down two-year deal in OKC, and quickly lands the Bulls gig. Chicago has some nice young players, but are in desperate need of a star. Bulls have the No. 4 overall pick in November's draft and will need to hit on that one.

— Jeff Goodman (@GoodmanHoops) September 22, 2020
Terrific hire. Donovan offers credibility, personality, a track record of winning at OKC, experience with player development. Given where Bulls are organizationally and with their roster, this sure seems like another smart decision by Arturas Karnisovas. https://t.co/LKlSMU7Js6

— David Haugh (@DavidHaugh) September 22, 2020
The Bulls didn't anticipate Billy Donovan would become available. But when he mutually agreed to part with the Thunder, the new Bulls front office quickly made a run at the most proven coach available.

— Darnell Mayberry (@DarnellMayberry) September 22, 2020
You walk into a room to recruit a free agent w/ Arturas Karnisovas, Marc Eversley, and Billy Donovan.
The #Bulls are back!
Got worried when it took a while, but AK quietly fired Boylen and quietly hired Donovan. Nothing leaked.
I haven't said it in a while, but good job Bulls!

— Silvy (@WaddleandSilvy) September 22, 2020
Just talked to Joakim Noah: "I'm happy for the Bulls organization. They're getting a great coach, someone who is an unbelievable motivator and someone who is family to me."

— K.C. Johnson (@KCJHoop) September 22, 2020
Welcome our new head coach, Billy Donovan!

— Chicago Bulls (@chicagobulls) September 22, 2020