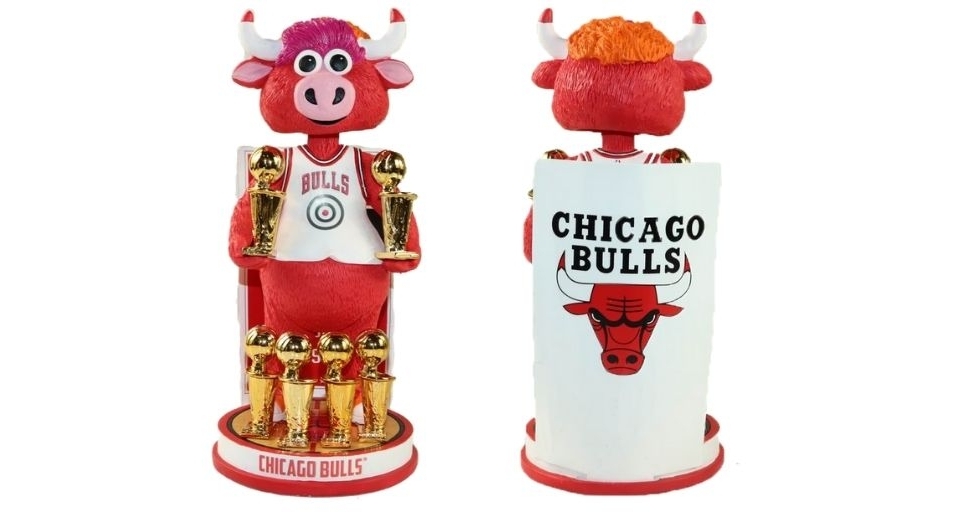 | | |
| --- | --- |
| Chicago Bulls Six-Time NBA champions bobblehead unveiled | |
---
MILWAUKEE – This morning, the National Bobblehead Hall of Fame and Museum unveiled an officially licensed bobblehead commemorating the six-time NBA champion Chicago Bulls. The bobblehead, which features beloved mascot "Benny the Bull," includes replica trophies for each title and a commemorative backing with the championship years. The bobbleheads are being produced exclusively for the National Bobblehead Hall of Fame and Museum by FOCO, an official licensee and manufacturer of Chicago Bulls and NBA merchandise.
The limited-edition bobbleheads are individually numbered to only 1,998 to coincide with the Bulls' last title year. The bobbleheads are $45 each with a flat-rate shipping charge of $8 per order. They are only available through the Hall of Fame and Museum's Online Store and are expected to ship in December.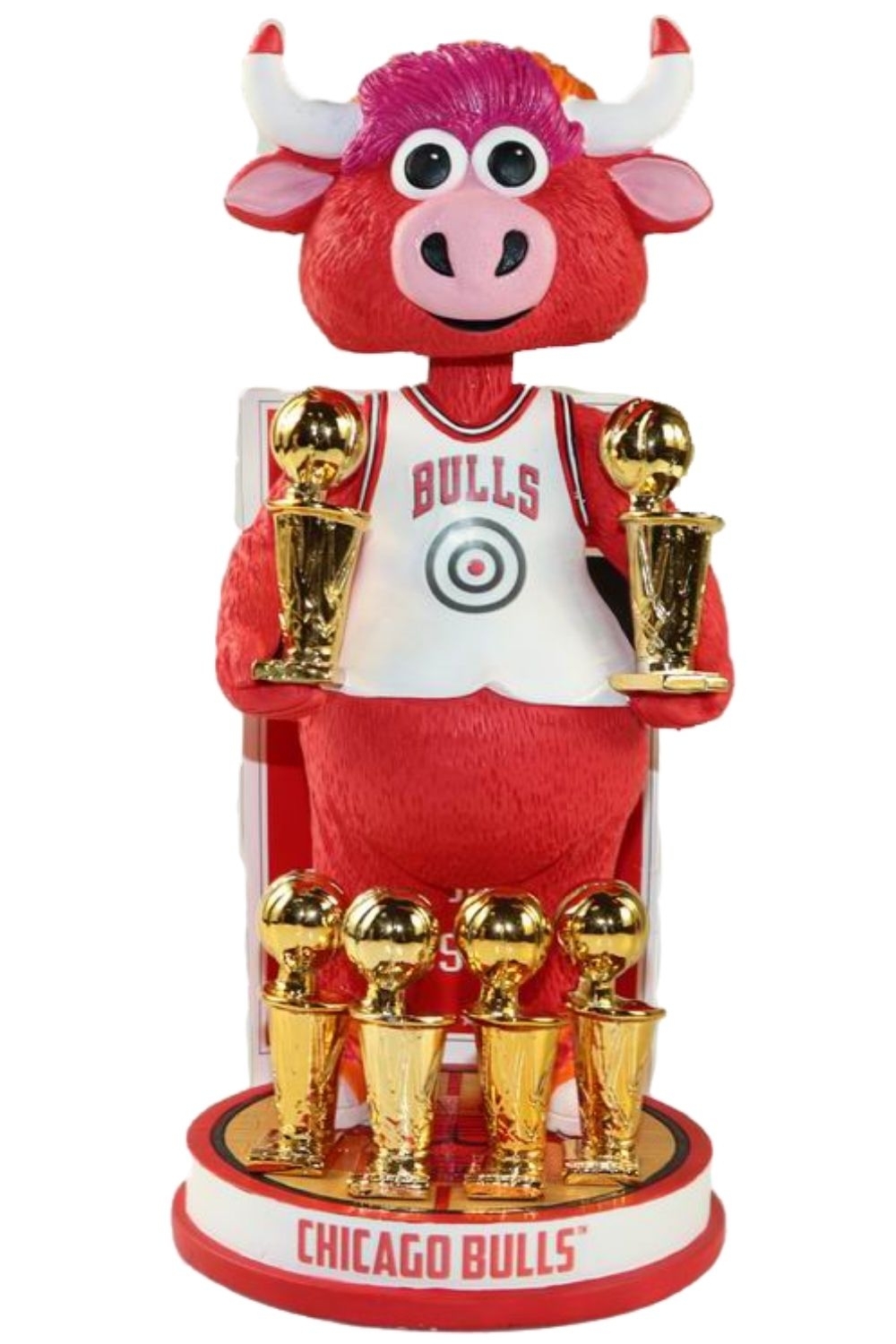 The Bulls played a major part in popularizing the NBA worldwide in the 1990s when they won six championships in eight years with two "three-peats". Led by Hall of Famers Michael Jordan and Scottie Pippen on the court and Coach Phil Jackson on the sidelines, the Bulls are the only NBA franchise to win multiple championships while never losing an NBA Finals series in their history. The Bulls' dynasty was chronicled in the popular 10-part documentary "The Last Dance", which debuted on April 19, 2020.
After losing in the Eastern Conference Finals in back-to-back seasons, the Bulls broke through with their first NBA title in 1991 as they defeated the Los Angeles Lakers in five games. They won the franchise's second and third titles with six-game victories over the Portland Trail Blazers and Phoenix Suns in 1992 and 1993, respectively. Shortly before the start of the 1993 season, Jordan shocked the basketball world by announcing his retirement three months after his father's tragic murder.
Jordan came out of retirement late in the 1994-95 season and the Bulls ended up losing to the Orlando Magic in the Eastern Conference Semifinals. The Bulls returned to championship form the following season. Joined by future Hall of Famer and rebounding specialist Dennis Rodman, the 1995-96 Bulls' squad is widely regarded as one of the greatest teams in the history of basketball. The Bulls won 72 games during the regular season, becoming the first team in NBA history two win 70 games or more in a single season. They culminated the campaign by beating the Seattle SuperSonics for their fourth title.
The Bulls captured their final two titles in 1997 and 1998 with victories over the Utah Jazz. After his final game in a Chicago uniform, Jordan was named the Finals MVP for the sixth time in his career. He then retired for good on January 13, 1999.
"We are excited to release this bobblehead celebrating the Chicago Bulls and their dominance in the 1990s," National Bobblehead Hall of Fame and Museum co-founder and CEO Phil Sklar said. "With six NBA titles in eight years, the Bulls were must-see TV for basketball fans throughout the world during their reign."