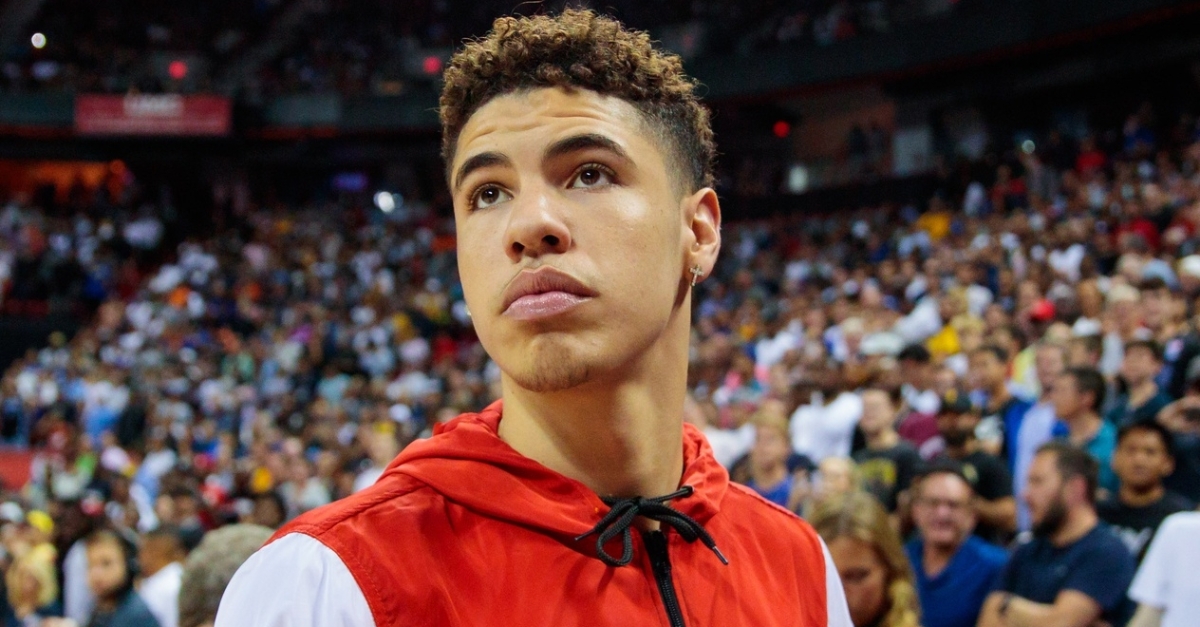 | | |
| --- | --- |
| Lamelo Ball wins 2020-21 Kia NBA Rookie of the Year award | |
---
NEW YORK, United States of America, June 17, 2021/ -- Charlotte Hornets guard LaMelo Ball is the recipient of the Eddie Gottlieb Trophy as the 2020-21 Kia NBA Rookie of the Year, the NBA (www.NBA.com) announced today. He is the third player to win the annual award with Charlotte, joining Larry Johnson (1991-92) and Emeka Okafor (2004-05).
Ball received 84 first-place votes and earned 465 total points from a global panel of 99 sportswriters and broadcasters. Minnesota Timberwolves guard Anthony Edwards received the other 15 first-place votes and finished in second place with 309 points. Sacramento Kings guard Tyrese Haliburton finished in third place with 114 points. Players were awarded five points for each first-place vote, three points for each second-place vote and one point for each third-place vote.
Ball averaged 15.7 points, 6.1 assists, 5.9 rebounds and 1.59 steals in 28.8 minutes in 51 games (31 starts), leading all rookies in assists and steals and ranking second in points and rebounds. He is the seventh rookie to average at least 15.0 points, 6.0 assists, 5.0 rebounds and 1.50 steals in a season since steals became an official statistic in the 1973-74 season, joining Magic Johnson (1979-80), Penny Hardaway (1993-94), Steve Francis (1999-00), Chris Paul (2005-06), Michael Carter-Williams (2013-14) and Ben Simmons (2017-18). Ball was one of two NBA players to reach all four of those averages this season, along with Miami Heat forward Jimmy Butler.
On Jan. 9, Ball recorded 22 points, 12 rebounds and 11 assists against the Atlanta Hawks at 19 years, 140 days old, becoming the youngest player in NBA history to have a triple-double. In other standout performances, Ball posted a career-high 34 points, eight assists and zero turnovers against the Utah Jazz on Feb. 5 in his third career start, and he had 30 points, eight assists, six rebounds and four steals against the Portland Trail Blazers on March 1. Despite missing 21 games with a wrist injury, Ball finished with the second-most assists (313) and third-most three-pointers made (92) by a rookie in Hornets history.
Ball was selected as the Kia NBA Eastern Conference Rookie of the Month in each of the first three months of the season (December/January, February and March). He was also named to the U.S. Team for the 2021 NBA Rising Stars rosters.
Charlotte selected Ball with the third overall pick in the 2020 NBA Draft. Ball played for the Illawara Hawks of Australia's National Basketball League during the 2019-20 season, where he was named the NBL Rookie of the Year.
The Kia NBA Rookie of the Year trophy is named in honor of Naismith Memorial Basketball Hall of Famer Eddie Gottlieb, one of the NBA's founders. Gottlieb coached the Philadelphia Warriors to the 1946-47 championship in the league's first season.
The voting results for the 2020-21 Kia NBA Rookie of the Year Award are below. The balloting was tabulated by the independent accounting firm Ernst & Young LLP. Complete ballots for each voter will be posted at PR.NBA.com after the announcement of all end-of-season awards.