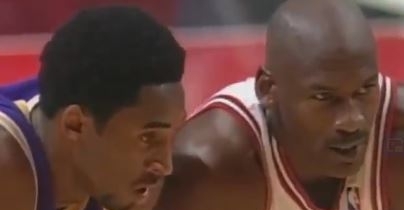 | | |
| --- | --- |
| WATCH: Michael Jordan giving Kobe Bryant advice during a game in 1997 | |
---
Chicago Bulls legend Michael Jordan gave some basketball advice during a game for Kobe Bryant back in 1997.
Bryant wanted to get some pointers on his fadeaway jumper that was so perfected by Jordan. Jordan obliged and Bryant attributed some of his advice to the reason that he garnered five NBA championships during his pro career.
"I'm not against giving him any kind of hints about his game if he asks," Jordan said in the following postgame interview.
Great job by Jordan to understand to pass the knowledge forward to other players as his time was winding down as G.O.A.T of the NBA.
"I had a question about shooting his turnaround shot," Bryant said during episode five of the 'Last Dance' documentary. "So I asked him about it. He gave me this great detailed answer."
"But on top of that, he said if you ever need anything, give me a call. That's my big brother."
The teacher and the student.#TheLastDance pic.twitter.com/JM15DNN6yb

— Chicago Bulls (@chicagobulls) May 3, 2020