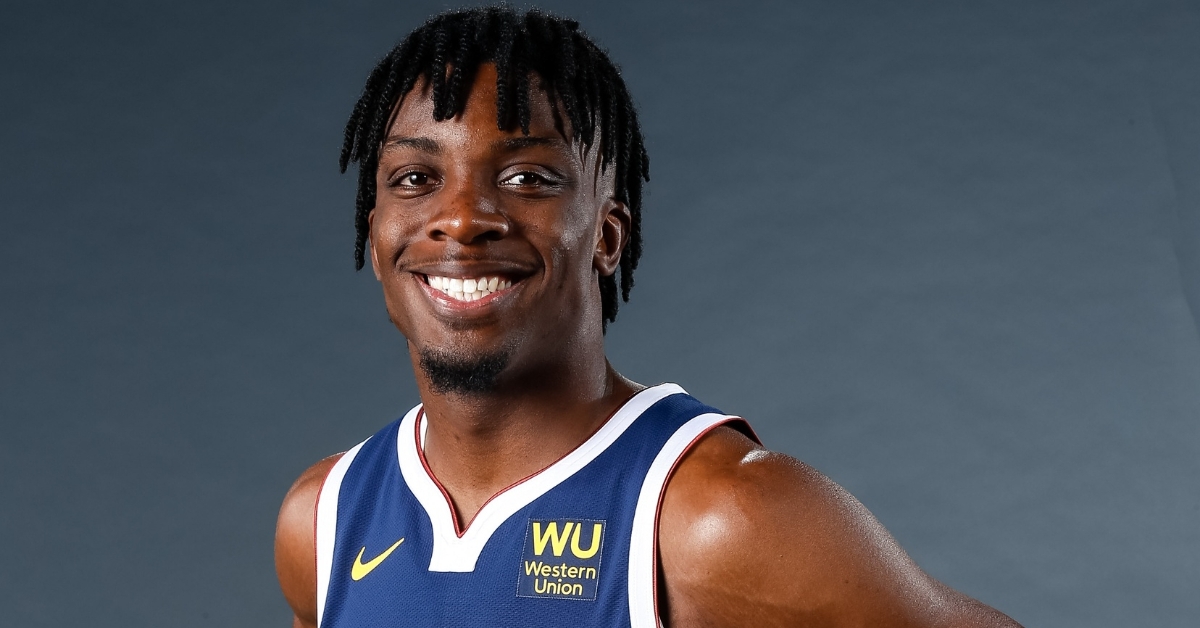 | | |
| --- | --- |
| Bulls add another big-man to training camp roster | |
---
As if adding three players over the weekend wasn't good enough, Arturas Karnisovas continues to go about his business bringing in yet another body for camp. After seeing Stanly Johnson, Ethan Thompson, Matt Thomas, and Alize Johnson all signing with the Bulls (non-guaranteed contracts), Chicago continued to find possible bench pieces as Tyler Cook is the newest member to join the Bulls.
While all the players mentioned above do not have a guaranteed contract on this team, they will be given a chance during training camp and the preseason to prove they deserve a guaranteed contract this season. Cook is the latest player added to the mix as he will give the Bulls another option to plug in at PF.
A former big 10 standout for the Iowa Hawkeyes, Cook, brings a 6-8 frame and has seen significant action at the PF position. Going back to his collegiate days for a minute, Cook was a very underrated player known for his athleticism and well-rounded play. In other words, not only was he one of the best athletes on the floor, but there wasn't much that he couldn't do when given a chance to contribute on the floor.
Not only did he earn all BIG-10 honors, but Cook helped lead Iowa to the second round of the NCAA tournament during his time with the Hawkeyes. While most of the attention always circled Luka Garza, and rightfully so when you look at his overall production last year, Cook had a good run with Iowa before coming to the NBA.
He was second on the team in scoring, averaging 14.5 PPG while putting up 7.6 RPG and 2.4 APG. Those are some excellent numbers across the board, and there is a reason why Iowa had the success they had with Cook and Garza leading the way. Despite those numbers, Cook found himself undrafted in 2019 before landing with the Cleveland Cavaliers.
Since then, Cook has bounced around between Cleveland, Detroit, Oklahoma City, and now Chicago seeing time both in the G-League and on the NBA floor. While playing in the G-League, Cook was very consistent in scoring, consistently putting up 12 PPG while adding 5 RPG and an assist. Those numbers were very similar to what he brought to the table in college and was a promising sign for the teams that had Cook's services at the time.
While on primarily two-way contracts his entire career, Cook's success in the G-League landed him on an NBA roster several times, where he has logged 45 career games to this point. Primarily someone seeing action in less than seven minutes per game, Cook saw his minutes double in 2020-21 while playing for the Pistons.
Not only that, but he also played in a career-high 28 games after seeing time in just 17 games across his previous three organizations. The Pistons were the first team to give him a chance off the bench, and he rewarded them with 5.5 PPG, 3.3 RPG, and .5 APG. Those are not great numbers, but for an undrafted journeyman who never had a defined role, it was nice to see the improvements he was making.
What stands out the most that is often not talked about is his efficiency in scoring. Although he didn't score a ton, he capitalized on his shot attempts, where he made 68% of his field-goal attempts. Again, a small sample size, yes, but it is worth noting any time you make nearly 70% of your shot attempts in the NBA. Given his reputation as a young journeyman type of player, you would think that reputation would continue in Chicago.
However, when you look at the success he showed when given his first opportunity last year, Cook was certainly worth a flyer-type look. Chicago is weighing many young options at the PF position, and Cook is another one added to the list. As things sit right now, I believe both Stanley and Alize Johnson will find a way to make this roster, but that doesn't mean Cook would be an excellent option to stash on a two-way contract to use when injuries happen.