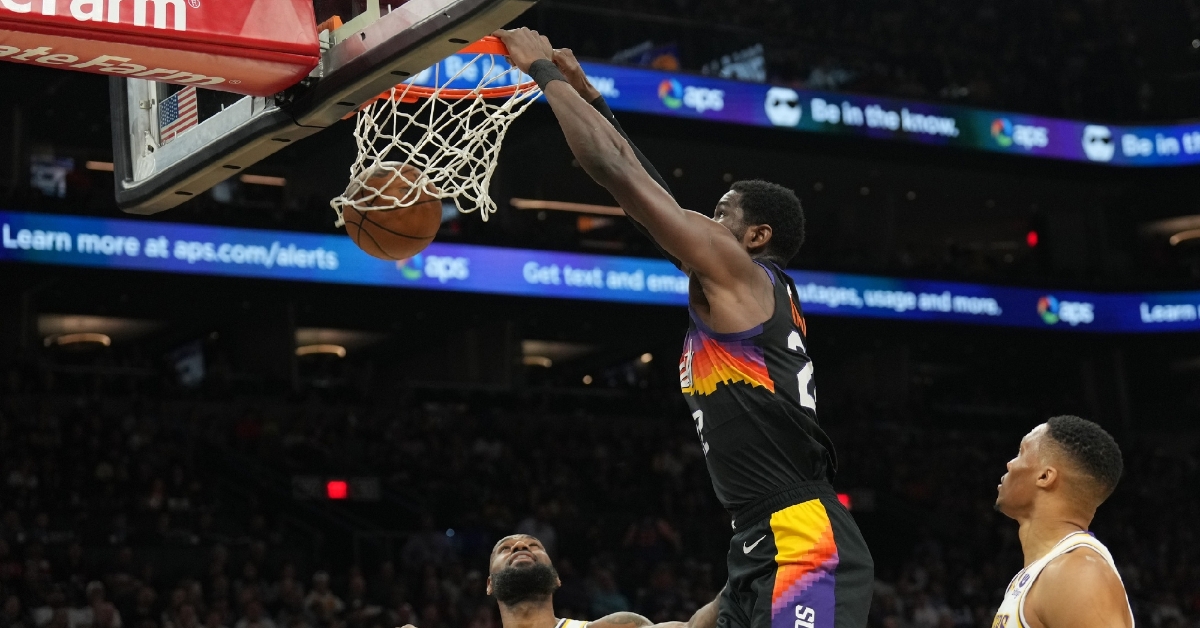 | | |
| --- | --- |
| Bulls need to be involved if DeAndre Ayton is available | |
---
With every passing hour, the Bulls and Rudy Gobert seem like a foregone conclusion. While he would be a significant upgrade on the defensive end, the offensive side aspect of things would take a hit as Nikola Vucevic is a much better offensive center.
If the Bulls want to get better defensively and keep an offensive presence in the front court, why not make a run for DeAndre Ayton, who may be on the way out of Phoenix. The former No.1 pick of the Suns has been a dominating presence the last several years, but is one of several big-name players whose future may be a question.
Not only did the Suns suffer a surprising early playoff exit against the Dallas Mavericks, but Ayton is also entering free agency this offseason after the team refused to extend him during the season. Not only has that extension rubbed Ayton the wrong way, but tensions between the two sides are heating up as there is a lot more behind the situation.
Ayton wanted to stay in Phoenix long-term, but after not getting the extension he was hoping for, he is now looking for a new home. Add in the fact that he felt undervalued or underused, especially during the Dallas series, and maybe a fresh start is just what the big man needs.
To no one's surprise, plenty of teams are lining up to make the 23-year-old part of their roster, but are the Bulls one of them, and should they be? The more you talk to people within the Suns organization and around the NBA, the more likely it seems like a new destination is on the horizon for Ayton. I don't expect them to let him walk for nothing, but some sign and trade deal could be in store, which the Bulls were heavily involved in last offseason.
If the Bulls are as serious about Gobert as the reports indicate, I find it difficult to fathom that they would be in on Ayton. However, given his age and that he has not yet reached his prime as a player, it would be foolish for the Bulls not to take a swing at him as he would make the Bulls better.
Not as good defensively as Gobert, Ayton is miles better than Gobert from an offensive side of things. Since coming into the league, Ayton has averaged 16.3 PPG, including a career-high 17.2 PPG this season. He also averaged 10.2 RPG for his career to go with 1.0 BPG. He did all this while shooting 65% from the field, so the efficiency is there.
While those numbers are not ideal for a No. 1 overall pick, Ayton is still young and has yet to come into his own as a player in terms of potential. Once he figures that out, he could be one of the three best centers in the game and someone who could average 20-25 points with double-digit rebounds.
That would be better than any Bulls center in history and would give Chicago the dynamic frontcourt presence they have been lacking. Add him to this pre-existing Bulls roster, and Karnisovas has a new two-way building block that could extend this team's competitive window.
No one is saying pursuing Ayton is the best option for this team, but he is a better option than Gobert and will come a lot cheaper right now. That would allow the Bulls to add more pieces around him, and that alone makes the team better and puts them in a better position than where they were this year.
Regardless of what you feel about this move or the position of the Bulls roster right now, adding a piece like Ayton to a playoff team from last season makes that team an instant contender. You are getting one of the premier rising centers in the game, which has a chance to become a leader for any team he is on.
Arturas Karnisovas will have to do a lot of playing around to make a deal like this happen. However, last year, we saw that he has no problem pulling the trigger on pieces he feels will make this team better.