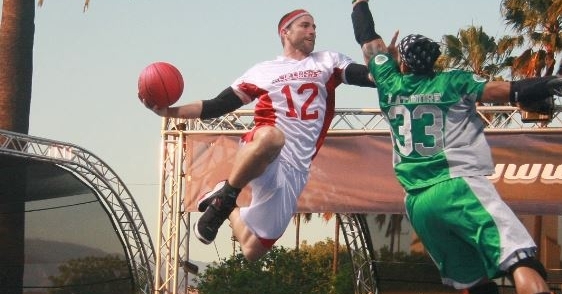 | | |
| --- | --- |
| Bulls News: Slamball is set to make its return in 2023 | |
---
| | | |
| --- | --- | --- |
| Friday, August 5, 2022, 12:00 PM | | |
Every so often, you have a sport that is created that is mixed with other sports to create something great. In this instance, that sport was slamball, which hasn't been around for nearly 20 years, but appears to be on the verge of returning shortly.
For those unfamiliar with what this game is or why this is even a thing, slamball broke onto the scene in the early 2000s, making its television debut in 2002. The high-paced basketball game was mixed with the hard-hitting action of hockey while having trampolines serve as the primary purpose of this game.
The players involved may not have been professional NBA players, but the skillset they provided allowed for some of them to sign an NBA contract. These athletically gifted players are not only good at basketball but padded from head to toe while using the trampolines for high-flying posterization dunks and incredible blocked shots.
In other words, it is a dream come true for the casual basketball fan that may not enjoy watching the NBA or regular basketball on a nightly basis. Living in an age where social media releases highlights almost instantly, this is the perfect time for this game to come back as it will generate more of a following now than ever before.
When this sport first arrived in 2002, it was a sport that was unlike any other in the United States, which is what made it an instant hit with fans. The problem was it didn't last long, and despite a successful run in 2002 and 2003, the league disbanded in 2004 and didn't return.
Five years after disbanding, Slamball tried to make a return in 2008, but even that was not good enough to keep it afloat. Here we are now, 15 years after the relaunch and 20 years after the debut, and Slamball founder Mason Gordon thinks now is the perfect time to bring it back for a relaunch.
2022-2023 marks the 20th anniversary of when Slamball was first introduced to television networks in the United States. That is the main reason why this alternative sport will be making its highly anticipated return in 2023.
Although the league has received offers to return in the past after the 2008 failure, Gordon believes that this era of social media and the short-form entertainment that Slamball brings makes it the perfect time to relaunch something that could have longer than a two-year run.
"Slamball kind of fits the bill with 20 minutes games, television half hours, people have always really gravitated to the action," Gordon said in a TMZ interview. "And it's this incredible mashup of basketball, football, hockey, a little bit of gymnastics, and video games. That's just SlamBall. You get a whole lot in one neat, tidy little package."
When you look at his thought process of the social media age, he is not wrong, and as tough as it is to launch an alternative sport, this is the right time to try it. The action it possesses is not only one of a kind, but it makes it hard for you to take your eyes off the screen even if these games are only 20-25 minutes long.
Back in 2002, you had former NBA players Kenny Anderson and John Starks part of the league, so there was minimal following. The goal for Slamball this time around is to try and get NCAA and NBA caliber athletes, but also to offer an opportunity for anyone to try and showcase their skills. Maybe a future Chicago Bulls player could be found in this league someday.