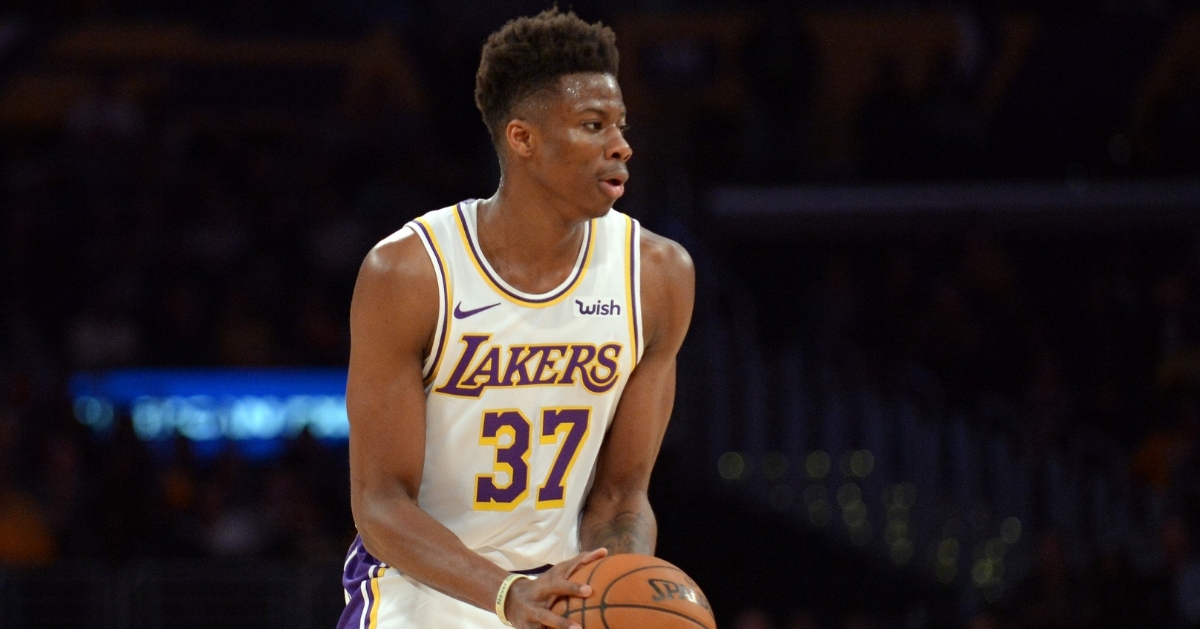 | | |
| --- | --- |
| Bulls reportedly showing interest in Kostas Antetokounmpo | |
---
| | | |
| --- | --- | --- |
| Thursday, September 1, 2022, 8:12 PM | | |
Remember a few weeks ago when Giannis Antetokounmpo was talking about possibly playing for the Bulls, and everyone thought it was a joke? Well, that is still something that is not only a possibility, but it could become more of a possibility if the recent reports from overseas are accurate.
According to a report by SDNA, the leading sports publication in Greece, fans could be seeing the name Antetokounmpo on the back of a Bulls jersey soon as Chicago is expressing a ton of interest in Giannis's little brother Kostas.
Not only has Arturas Karnisovas been talking with his team about adding the 24-old to the roster, but this report started picking up steam just days after that Giannis interview, and it doesn't seem like an accident at all.
For as much as Giannis has made it clear that he loves Milwaukee and would love to remain there, he is also big on family, which is why one of his brothers plays with him now. Should the Bulls go after Kostas and sign him to their roster, that would give Giannis another tough decision as he would have the opportunity to play with family again in a different city.
Not only are the Bulls showing strong interest in Kostas, but this interest was expressed by an old acquaintance, the former Olympiakos player, Artouras Karnisovas. While this is fun to think about, especially when you look at what the long-term ramifications could be, I want to urge fans to take this with a grain of salt as this report is coming from over 5000 miles away.
Unlike his brother, who is a top-3 player and arguably the best player in the NBA today, Kostas has had limited action spanning three seasons with the Dallas Mavericks and Los Angeles Lakers. During that time, he played in just 21 games and averaged just one point and one rebound per contest. That is minimal production at best, so I find it interesting to see a team like the Bulls specifically showing interest in him.
This is one of those rumors where you have to look at the big picture and realize this is more about the domino effect that could happen once this move is made. At 6-10 and 200 pounds, Kostas would give the Bulls some much-needed size in the front court and can play both the PF and Center position. Not to mention he is way more athletic than Nikola Vucevic and Andre Drummond; it would give the Bulls a different look at the front court that they have been lacking.
Before arriving in the NBA, Kostas played one year in college, where he attended Dayton University and averaged just 5.2 PPG, so you can see the offensive struggles. However, he has shown more consistency since signing with ASVEL Basket of the EURO League. That is another reason why Karnisovas has been in talks with Kostas and his representatives.
Granted, he is only averaging 5.8 PPG to go with 2.7 RBP, but he has done that in a bench role which is what he would be on this Bulls roster. Ideally, he would love better numbers as any team looking to acquire his services, but consistency is more important, which is what he is starting to show.
However, the big reason, and you could say the main reason this move is being discussed, isn't because the Bulls believe Kostas is a future all-star, but more so doing what they can to have the best shot at Giannis when that time comes. You bring in his family, surround him with talent, and put him in one of the biggest media markets in the United States, and it becomes a win-win situation for everyone involved. This is a story to continue to monitor as we inch closer to the regular season.
https://www.youtube.com/watch?v=OLlR_q91E74