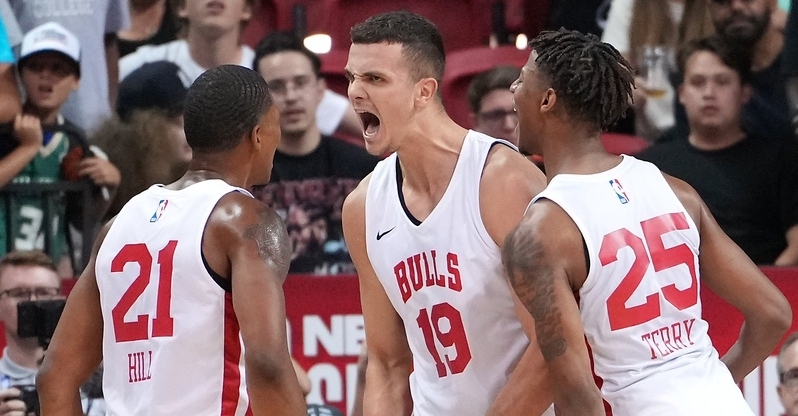 | | |
| --- | --- |
| Bulls top Raptors in Summer League action | |
---
| | | |
| --- | --- | --- |
| Wednesday, July 13, 2022, 10:03 AM | | |
CHICAGO - While most people could care less about the NBA summer league, it is a nice thing to have to showcase the league's new stars before training camp starts. The Bulls were coming off a blowout loss to New York and were looking to bounce back in a big way.
Not only did the Bulls do that, but they did so in a big way outscoring Toronto in every quarter, but the fourth and building up a 15- point halftime lead. That lead eventually grew to 26 points through three quarters before a massive fourth quarter by the Raptors made things close than what they should have been as the Bulls took care of business 93-83.
Over the first two games, most of the fans attention has been on Marko Simonovic and Dalen Terry for good reason. Simonovic is a second-year man who had a fantastic G-League campaign in 2021 and has the size to be a valuable piece for this team. When it comes to Terry, he is a rookie, and fans want to see what you can expect from him. Terry scored a career-high 14 points as his offensive game may be a bit better than most realize.
However, a free agent pickup stole the show as Carlik Jones had the hot hand. Not only did Jones lead the Bulls in scoring, but he finished with 17 points on a perfect 7-7 night from the field. Pair that with the 14-point five rebound effort from Terry and then having Malcolm Hill add 11 points, and the Bulls had a reasonably balanced scoring option.
For the second consecutive game, Simonovic struggled to score points even though he did finish with seven points. Typically that would be a concern, but when you have Ethan Thompson and Makur Maker dropping 10 points off the bench, it makes things harder for your opponents. Maker had one of the more impressive showings as his seven body can move better than most people his size can. Should the Bulls get that kind of production from him, he could potentially land on this roster.
When it comes to the Raptors, they had an excellent scoring duo in the back court that started with second-year man Delano Banton. The former Nebraska guard led the Raptors in scoring, dropping a game-high 18 points. Joining him in having a solid game was Jeff Dowtin, who added 16 points.
With those two shouldering the load for the Raptors, it was going to be interesting to see where the rest of the offense would come from. D.J. Wilson did a nice job by adding 10 points, but apart from him, no additional players landed in double figures for the afternoon.
This was precisely the bounce-back win this team needed, especially considering how things went against the Knicks on Sunday. If the Summer league has taught fans anything about this Bulls team so far, they are an excellent defensive team that lacks consistent scoring.
Considering the roster the Bulls already have at the NBA level, 80% of their scoring will come from the starting five. That means that the role players Chicago has assembled will have to produce well enough to give this team a chance. Good things are on the horizon for Chicago this season if that happens.