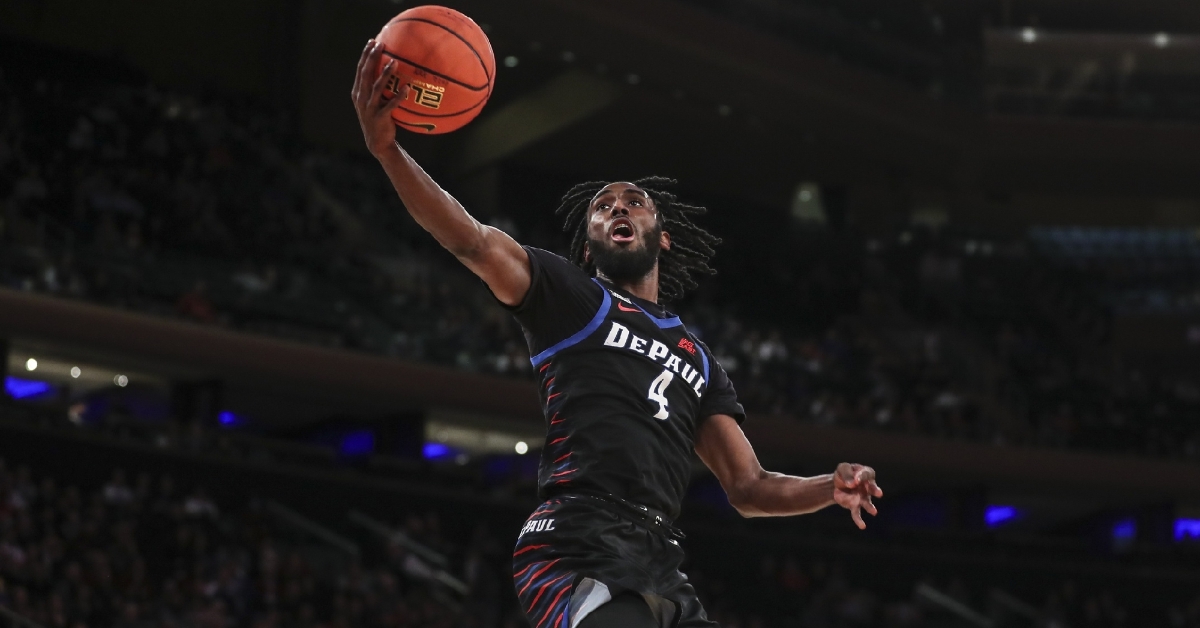 | | |
| --- | --- |
| Bulls workout hometown product Jovan Freeman-Liberty | |
---
| | | |
| --- | --- | --- |
| Wednesday, June 15, 2022, 4:39 PM | | |
With the NBA draft just over a week away, teams continue to go the extra mile by working out players. The Chicago Bulls are no exception, as they have spent the better part of the last few weeks working out several players who could be options at 18.
The most recent workout is not only a Chicago native, but one Arturas Karnisovas is a massive fan of. That player is DePaul G Jovan Freeman-Liberty. Being brought in for a workout is one thing, but leaving a lasting impression is an entirely different thing. Freeman-Liberty not only left a lasting impression for scouts, but quickly became a favorite for Karnisovas as that could have some credibility when the Bulls pick at 18.
No stranger to working out for NBA teams, Freeman-Liberty has tested the draft waters before, only to elect to return to school. However, coming off a career-best 21.7 PPG, 7.3 RPG, and 3.2 APG is lasting proof that patience is a virtue. Had Freeman entered the draft before this year, he would have been lucky to get selected. Now, he seems like a shoo-in first-round talent and one that could be stolen if appropriately developed.
Many people feel Freeman transferring to DePaul was the biggest reason for his breakout season; it could help him land with his hometown team. This wasn't the first time Karnisovas had seen Freeman's game, as he was in attendance for several DePaul games last season and became an instant fan of Freeman and his game.
The 6-4 combo guard was originally a Valparaiso commit where he put up great numbers with the Crusaders. Freeman averaged 19.0 PPG during his freshman season and added 6.1 RPG and 3.2 APG. His sophomore was a bit down, but he managed to put together a line of 14.4 PPG, 5.3 RPG, and 2.6 APG.
Those numbers improved significantly in his first and only season with DePaul, and a big reason for that was his uptick in three-point percentage, where he knocked down 37% of his shots. His play in Conference put Freeman's name on the map regarding draft prospects. Once the Big East season got underway, Freeman took his game to a new level averaging 22.6 PPG, 6.5 RPG, 2.5 APG, and 1.6 SPG. He also connected for nearly 40% of his triples.
Taking a Chicago native is nothing new for Karnisovas, who drafted Ayo Dosunmu in the second round last season. That move worked out in the Bulls favor as he was one of the better rookies all season long. His second-team all-rookie selection far outweighed his second-round billing, where he was taken 38th overall. Maybe the Bulls could strike twice when finding successful hometown products.
Freeman has a chance to become the next Chicago start to be drafted in the NBA as his time appears to be now. Granted, the Bulls do not have a second-round pick; if Karnisovas likes Freeman as much as he says he does, look for him to try and acquire a second-round pick or an additional first so they can land Freeman.
Not only has Freeman been considered a leader by his peers, but he will do what he needs to do to win. That is the type of player this Bulls roster needs, and a winning attitude is the first step to having a successful career.
https://www.youtube.com/watch?v=tOKAH3tQfOk
He is a two-way player who can guard the perimeter and get you a bucket whenever and wherever on the court, but his intangibles could make him an attractive option for the Bulls much in the same ways that Dosunmu was. Freeman is the perfect fit for the roster Karnisovas is trying to build, hometown team or not, and would be a great option to have off the bench.