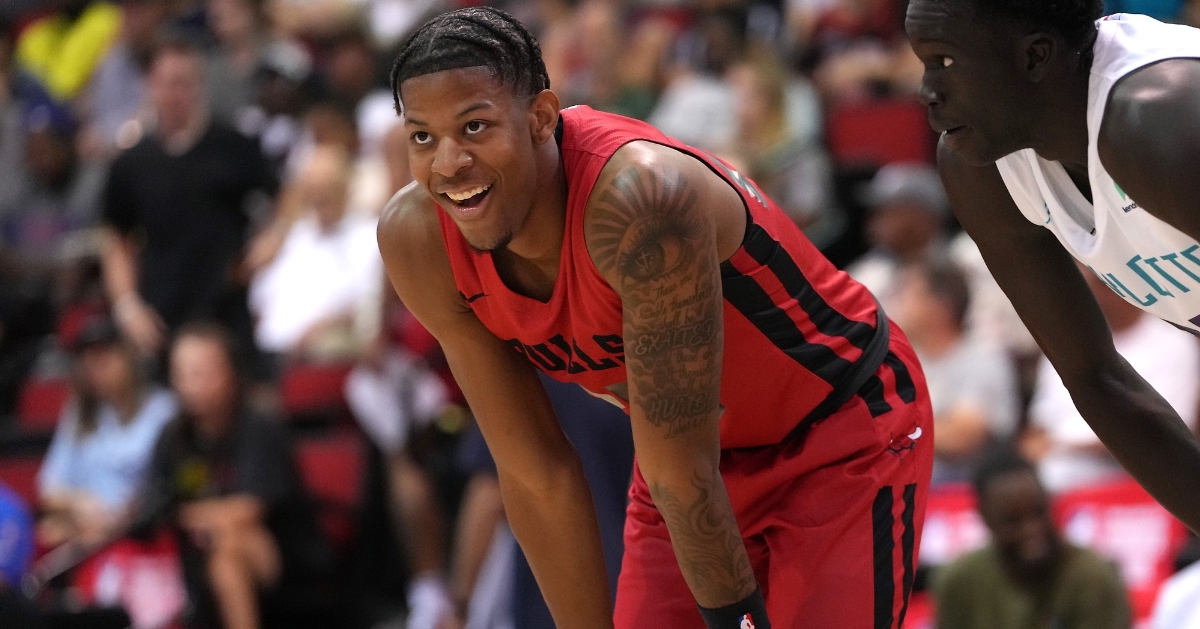 | | |
| --- | --- |
| Dalen Terry leads Bulls to Summer League win | |
---
LAS VEGAS - If there is one thing the Summer League has taught us about this Chicago Bulls team, it is that it could be one of the better defensive teams this season. Across their first three games, this team had yet to allow more than 101 points in a game while forcing plenty of turnovers to lead to easy buckets.
Facing off with the Hornets on Thursday evening, that defense was on full display as the Bulls put together their best defensive effort of the summer thus far to improve to 3-1 in Summer League action. The Bulls not only led by 18 points at the half, but did so by allowing just 24 points as their defense was suffocating, to say the least.
While things were not as strong defensively during the second half, they didn't need to be as the Bulls took that massive first-half lead and carried it to the 89-73 win. After being selected No. 18 overall in this year's draft, there were a lot of question marks surrounding Dalen Terry and the type of player he would become.
Granted, there are still plenty of question marks about him heading into the season, but one thing that does stand out is how great of a defensive player he is. Even with Terry committing plenty of turnovers this summer, he has improved every game and picked a great time to play his best game of the summer. Terry not only led the Bulls, but led all scorers with 20 points and added five rebounds to go with it.
Terry wasn't alone in having a massive night as Marko Simonovic responded from two less than appealing nights. Simonovic not only added 17 points of his own, but collected 13 rebounds as his added muscle could be an excellent attribute off the Bulls bench this season. While those two combined to score nearly 50% of the team's points, Chicago did have two other players land in double figures, including Malcom Hill, who finished with 11 to give Chicago three starters in double figures.
Granted, Terry and Simonovic have stolen the headlines virtually all summer, but you have to be intrigued about the play from Makur Maker the last two games off the bench. The seven-footer out of Howard has shown a tremendous shooting touch with incredible athletic ability as he led the Bulls second unit with 11 points to cement himself in their G-League plans for 2022.
While the Bulls offense hasn't been great all summer, they haven't needed to be as the defense has made life miserable for most opponents. Ask the Hornets, who were held to under 35% shooting in their loss. Struggles aside, Bryce McGowens had an excellent game as the rookie from Nebraska dropped a team-high 15 points.
He wasn't alone in having a double-digit night, but points didn't come easy for the Hornets as only two more players finished with 10 points or more. Those players were Jalen Crutcher (Dayton) and JT Thor (Auburn), who both finished with 10 points in the loss.
One of the players that has drawn plenty of attention this season was top 15 pick Mark Williams from Charlotte. Not only was he one of the tallest players in this year's draft, but his overall length and athletic ability made him an intriguing prospect from day one. Williams was in play for the Bulls at No. 18, but went off the board before Chicago could make that pick.
If the summer league indicates how things will go this season, the Bulls are happy they selected Terry, as he has been the far better player between the two. Still, after scoring just seven points against the Bulls on Thursday, the future remains bright for Williams. Chicago will now wait to see who their final opponent of the summer league is as they will play either Saturday or Sunday.
https://www.youtube.com/watch?v=4uLfcbGzVWI