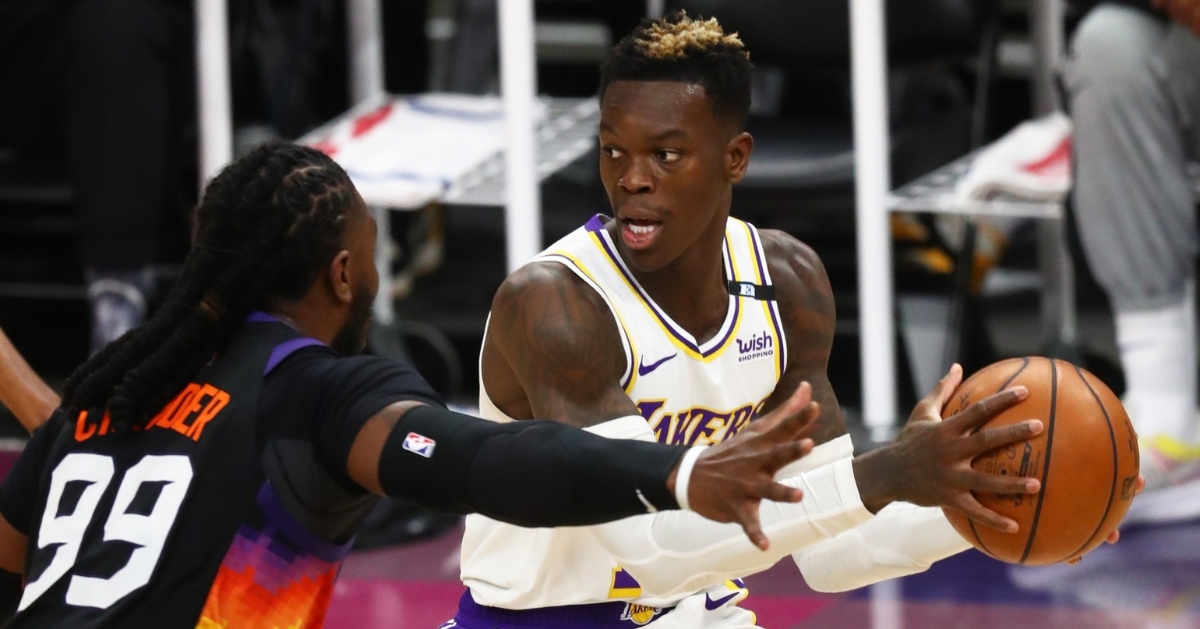 | | |
| --- | --- |
| Is Dennis Schroder a fit for the Bulls? | |
---
| | | |
| --- | --- | --- |
| Friday, July 16, 2021, 11:22 AM | | |
We have reached that point in the NBA offseason where it will be rumor central from here on out. With NBA finals knotted 2-2 and the draft set to occur in the coming weeks, the constant theme will be what if and who is interested in who.
With the Bulls actively pursuing PG help this offseason, Lonzo Ball still seems to be the name most linked to the Bulls, and for a good reason. The Pelicans have already said they don't plan to match any offers on Ball, which means the Bulls could be big-time players. However, Ball isn't the only name linked to the Bulls, as there will be plenty of PG help available this offseason.
Now all the Bulls need to do is figure out what to do and who might be the best fit for this team. That poses the next question. Would Dennis Schroder be an excellent match for Chicago? If you ask me, yes, he would be, and the Bulls feel that way too as they are emerging as suitors for the German guard.
The former Thunder and Lakers guard is on the open market, and the Bulls have their eye on acquiring his services this summer. They are not alone, however, as the New York Knicks also appear ready to bounce. The Knicks are coming off their first postseason berth in a while and have a better cap situation to work with than the Bulls, but don't count Arturas Karnisovas out just yet.
Schroder is coming off a solid season with the Lakers, but a little underwhelming for what they thought he would bring to the table. He still averaged 15.4 PPG, 5.8 APG, 3.5 RPG, and 1.1 SPG. He did this while shooting 44% from the field and 34% from deep. Schroder flashed a ton of skill and everything you could ask for out of a guard this season, but the Lakers were expecting a lot more out of him.
He constantly showed the playmaking ability that made him a highly coveted piece last offseason, but his scoring is still streaky at best. However, for someone who is counted on to lead an offense, teams may want him to be more consistent when it comes to scoring, which will make his contract interesting this offseason.
If rumors are correct, Schroder is looking for a deal in the 100–120-million-dollar range after turning down a four-year 84 million dollar offer with the Lakers. Whether that means he wants more money annually, or a longer commitment remains to be seen, but it does appear the 27-year-old wants at least 20-25 million a year.
If that is the price tag, I can almost guarantee you that the Bulls won't fork over that kind of cash despite having some moves on the table where they could create enough money to make that happen. Essentially, the market will dictate what Schroder gets paid, so look for the Bulls to keep an eye on that market.
The sooner Ball, Chris Paul, or others have signed this offseason, the better it will be for Chicago as they will then know the market price. For a team so blatantly in need of PG help, they may be willing to overpay to a point, but they won't kill themselves doing so. Adding a player like Schroder would give this lineup another excellent ball-handler who can be a distributer first over a scorer.
Not only would he help create open shots for other players, but he continues to work hard on the defensive end and has become a lockdown perimeter defender. Schroder also gives the Bulls an aggressive mindset and someone who isn't afraid to attack the rim. He is coming off a season where he converted over 63% of his shot attempts at the rim and got the free throw line a career-best four attempts per game.
Should the Bulls want more scoring production, Schroder has also proven to have a scorer's first mentality despite lacking in the three-point department. I think the Bulls have him somewhere on their radar, but how far down remains to be seen, as does what would be too much for him be.