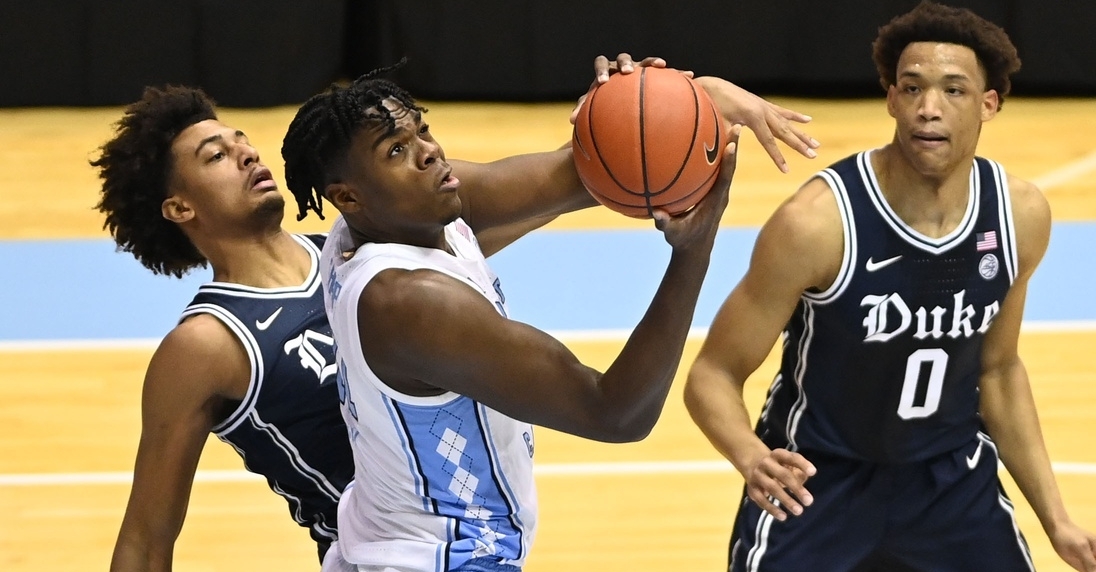 | | |
| --- | --- |
| NBA Prospect spotlight: Day'Ron Sharpe | |
---
| | | |
| --- | --- | --- |
| Sunday, June 27, 2021, 10:25 AM | | |
The Bulls are coming off a disappointing end to their season, but overall, it was much better than many expected. With a talented roster filled with young talent, a new front office, and a head coach that proved he was the right man for the job, the future is exceptionally bright in Chicago.
However, this offseason will be a difficult one as the Bulls will face plenty of tough decisions. Along with figuring out what to do in free agency, Chicago also has plenty of internal roster decisions they need to make to put the best team on the court next season. One of those decisions hinders on Daniel Theis as Chicago would love to retain him for center depth behind Nikola Vucevic.
Should Chicago miss out on bringing back Theis, the Bulls will need to invest in center help, and one option could be the NBA draft, where the Bulls are set to pick 38th. While most of the top centers in this year's class will be gone by pick 22, Day'Ron Sharpe of UNC is one of those second-round prospects that could help this team.
At just 19 years old, Sharpe is coming off a promising freshman season that was filled with ups and downs. Given the position the Bulls could be in if Theis doesn't return, Chicago could do a lot worse than taking a flyer on Sharpe to see what he can do. Sharpe is an intriguing prospect and, depending on what draft board you follow and has his name anywhere from 19 to 34.
Most people feel he is somewhere between the 29th and 33rd best prospect, so that would put the Bulls in the potential area for him. Sharpe is one of those players that fans needed to watch during the NCAA tournament, and from what I saw, he certainly lived up to his billing. While it is unclear as to what his role would be with the Bulls or any team, I do think he fits this team better than some may think.
From the offensive side of things, Sharpe is very raw, and his offensive skill set has yet to be defined. However, one thing he does do well is provide some excellent rim protection on defense while showcasing the ability to bring down the lob pass over the rim. With a mentor like Nikola Vucevic in the fold, Sharpe would almost instantly get better learning from one of the better bigs in the NBA today.
At 6-11 and checking in at 265 pounds, Sharpe is a very big man for his age and is the perfect size for the modern-day NBA center. Not only is he powerful, but he is a bruiser on the inside and has no trouble getting physical with anyone. Add in that he is an interior-first type of player both on the offensive and defensive side of things, and he would give the Bulls a tremendous inside outlook while strengthening them on defense.
When you look at his college numbers, you can see how productive he was. A big reason for that was his size, as he was often too much for smaller centers to handle. That allowed him to camp out in the paint, where his interior scoring ability is near the top of this draft class. Given his size, he knows how to use it to his advantage, but that won't be the case at the NBA level.
While he may have been big for college, he will go up against plenty of players who have a similar body build to him and are more physical than him at the NBA level. Inside scoring is his best attribute, but Sharpe is a player who translates into someone who can do so much more, including some tremendous passing ability and putting the ball on the deck to make a play.
A big reason for that stems from Sharpe being surprisingly Nimble for his size, allowing him to step out and guard smaller players. While he may not be one of the more talked about players in this year's class, Sharpe could be the most overlooked player in this class. Not only does he have late first-round potential, but you are looking at a player who could be a starter for a long time in this league. The Al Jefferson comparison is alive and well with him when you look at the player Jefferson was coming out of high school.