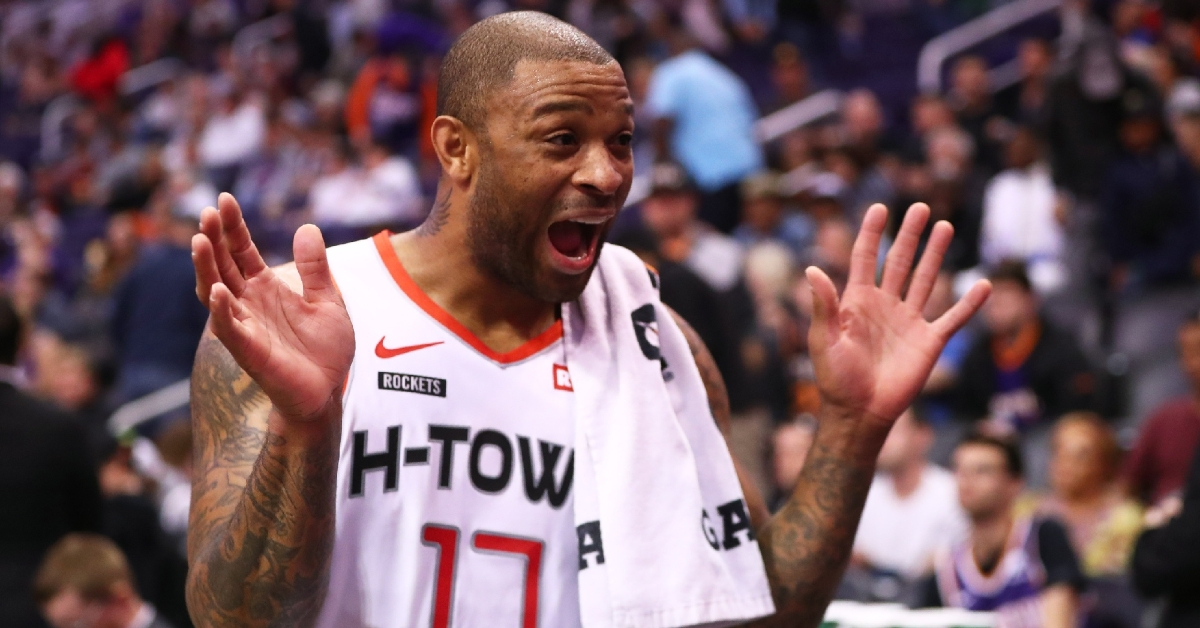 | | |
| --- | --- |
| PJ Tucker reportedly drawing interest from Bulls | |
---
| | | |
| --- | --- | --- |
| Wednesday, June 22, 2022, 9:42 AM | | |
Not only is the 2022 NBA draft one day away, but NBA free agency beings in about a week. That means that the Bulls will have some serious roster decisions to make as they look to build a championship-caliber roster. With that comes the possibility of an entirely new roster being put together as the Bulls bench needs some major retooling.
In a surprising twist, PJ Tucker has opted out of his contract in Miami and will now become a free agent. What does that have to do with the Bulls, you may ask? Well, the Bulls are one of those teams highly interested in Tucker and his services, and it shouldn't come as a surprise when you think of it.
Arturas Karnisovas has made it a point to not only add to the frontcourt, but also has said he wants to improve defensively. Tucker would be the perfect player to fit that need as he is one of the best on-ball defenders in the league. Chicago is not alone in their desired interest to acquire Tucker as the Brooklyn Nets and several other teams are expected to pursue the now free agent forward.
Tucker elected to opt-out of his 7.4 million dollar deal for next season and will instead hit the open market in hopes of landing a multi-year deal. Of all the free-agent rumors swirling around the Bulls, this one makes the most sense for several reasons.
For one, Tucker brings the physicality with him, especially on defense, which the Bulls lacked all season long. Despite being 37 years old and age not on his side, Tucker has been rated one of the better defenders in this league, dating all the way back to the 2013-14 season. To show you how good Tucker was on the defensive end of the floor this season, he graded out with a +2.7 grade which landed him in the 97th percentile.
Another thing Tucker brings with him is a championship pedigree which he earned with the Milwaukee Bucks a few years ago. He is also coming off a season where he played in 71 games while shooting nearly 42% from distance, as that kind of durability will be hard to replace. Although not much of a three-point by volume, Tucker has emerged as a better catch and shoot shooter as of late, especially from the corner.
If the Bulls not only want an experienced winner, but someone who can bring the toughness factor with them, then Tucker is the perfect fit for this team. The next question is, does Tucker see the Bulls as a good fit for him? The market for Tucker is expected to be highly competitive and filled with championship-level teams looking for an elite defender.
Chicago may not be in the title conversation right now, but Tucker could see them as a contender if they can make the right moves. If there is mutual interest, that is a good thing for Chicago, but there will be one major hiccup to get over. That hiccup is the financial side of things which the Bulls are extremely limited regarding funds.
That could become an issue if other teams can give Tucker more money, as that could tip the scale in other teams favors. Despite being tight on funds, the Bulls will still be in a position to offer Tucker more money than he turned down. However, with more holes to fill on this roster than just him, Arturas Karnisovas needs to be smart with his money and invest it in the best way possible.
The fact that the Bulls are even in this conversation at all is huge for this team as Tucker is the type of player championship teams covet. He will be a fantastic leader for a relatively young team and someone who fits plenty of needs.