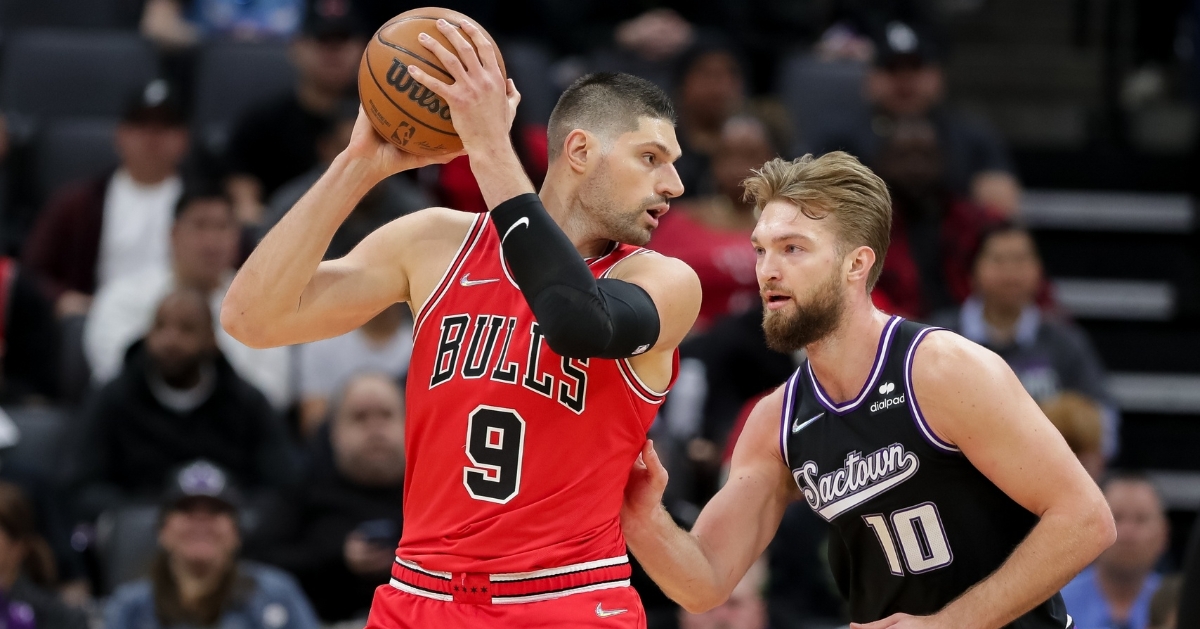 | | |
| --- | --- |
| Bulls News: Season Report Card: Nikola Vucevic,Tristan Thompson, Tony Bradley Jr. | |
---
| | | |
| --- | --- | --- |
| Tuesday, May 10, 2022, 11:08 AM | | |
The final installment of our season report card series falls on the center position. We said it before, and we will say it again. This roster had several flaws that were exposed in the second half of the season, and one of them was the lack of overall size outside of Nikola Vucevic.
Whenever Chicago played bigger teams, they were dominated, and not having anyone outside of Vucevic didn't help. Thankfully he remained healthy most of the season; otherwise, there is no telling where this team would have ended up. This area is still something Arturas Karnisovas needs to address, and that leaves the future of Vucevic up in the air for next season.
Nikola Vucevic
Say what you want about Vucevic and wherever his future takes him, but he was a godsend for the Bulls this year. Not only was he durable, playing in the second-most games with 73, but he finished third on the team in scoring, averaging 17.6 PPG while adding 11 RBG.
Those numbers increased in the playoffs ending up closer to his career scoring average as he put down the fewest number of points in six years. A lot of that had to do with the worst shooting season of his career percentage-wise, but keep in mind he is not the NO.1 option like he was in Orlando.
Regardless, this is someone who the Bulls counted on several times in big games, and his offensive ability was tremendous for this team. His only issue is defense and despite playing well on defense in the postseason remains a defensive liability. That could be why the Bulls are thinking of moving him this offseason.
Season Grade B: Vucevic is stuck in the middle of two grades. On the one hand, his numbers were down, so it affected his grade. On the other hand, he was their only post option so give him some credit for being durable and doing what he did.
Vucevic is a tremendous offensive threat, but until his defense improves, he can't be counted on in big moments. That is what makes his 21 million dollar contract intriguing beyond this season, as the Bulls may choose to move him for a more defensive-minded big who is younger.
Tristan Thompson
With the Bulls needing size and height during the second half of the season, Karnisovas checked the waiver market, came across the veteran Thompson and signed him for the rest of the season. Like last year when the Bulls acquired Vucevic, the chemistry seemed to take a hit as their record went south after he landed on the team.
In 23 games with the team, Thompson made three starts and averaged close to 6PPG to go with 5 RPG. That may have been less than what the Bulls thought they would get from him, but he was brought in to bring size and physicality, which he did display plenty of times. However, he just didn't fit well with this team, which cost them.
Season Grade D: I will admit, I was high on the Bulls picking him up because I felt he brought what the Bulls were missing to the table. However, he didn't vibe well with this team. Maybe it was because he wasn't around the team long enough to build that chemistry.
Could he wind up back in Chicago? Sure, but if that is the case, he needs to bring more to the table than he did this season, or it won't matter.
Tony Bradley Jr.
Another depth signing the Bulls made this offseason was the acquisition of Bradley Jr. Someone who always had first-round talent, Bradley Jr. never reached his full potential as he couldn't find consistent playing time anywhere he went.
At 6-10 and 253 pounds, Bradley Jr. is big and physical enough to make things happen, but doesn't have enough of an arsenal to get on the court. Bradley Jr. played in 55 games this season, with seven coming as starts. He had moments where he was valuable enough to give his team minutes, but he still only averaged 3 PPG to go with 4.5 RPG, which will not get it done.
Season Grade D+: His offensive numbers may not have been there, but Bradley Jr did provide the Bulls valuable minutes when Vucevic needed a break. The team brought him in for that, but they were hoping to get more out of him offensively.
This shows that having superstars is equally crucial as having overall depth across the board. The Bulls lacked depth, especially in the frontcourt, and now they need to address that once again.