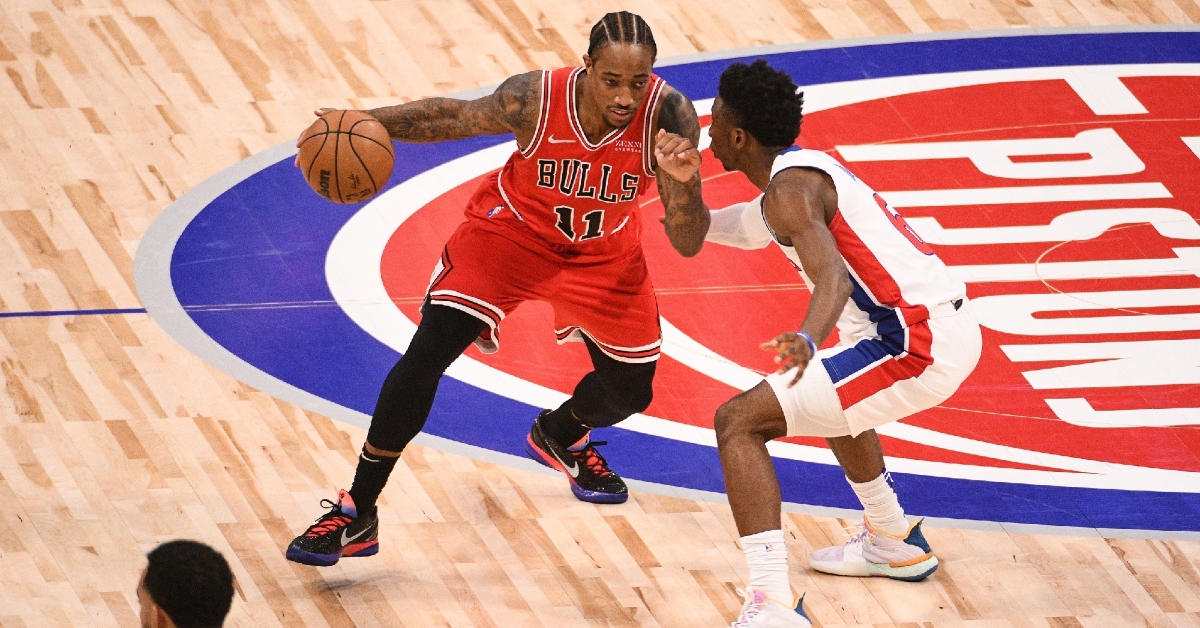 | | |
| --- | --- |
| Takeaways from Bulls season-opening win vs. Pistons | |
---
| | | |
| --- | --- | --- |
| 2021-10-21 11:07:32.0 | | |
DETROIT – It wasn't pretty, but the Chicago Bulls (1-0) did what they needed to do to knock off the Detroit Pistons (0-1) to open their 2021-22 season. A team that many feel the Bulls should not only beat, but dominate in the process didn't start that way, and that trend continued as the game went on.
Despite not having their top pick Cade Cunningham available as he is nursing a sprained ankle, the Pistons were more than up for the high-powered Bulls offense as they gave them all they could handle and more. Led by Jerami Grant and his team-high 24 points, the Pistons not only held a first-quarter lead, but did so by playing exceptional defense, allowing 14 first-quarter points and 40 points overall in the first half.
That along was the biggest shocker of the first half as the Bulls offense was nearly impossible to stop all preseason long. While some credit goes to the Pistons and their defense, the Bulls did themselves no favors as they struggled to shoot the ball all game long. That is what it comes down to, not shooting the ball at the level they are capable of.
If it weren't for Zach LaVine and his 34 points, most of which came in the second half, this game would have had a drastically different outcome as Chicago erased a four-point halftime deficit to surge in front during the second half. Four of the five Bulls starters dropped double-digit points, with DeMar DeRozan adding 17 and Lonzo Ball chipping in with 12. Even with a terrible overall night from the floor, Nikola Vucevic had a phenomenal game
dropping 15 points to go with 15 boards as the Bulls came back to secure the 94-88 win.
A win is a win
It may not have been the way Bulls fans wanted it to happen, but the bottom line is a win is a win in the NBA. The Bulls played terribly and had this been the same roster they had in place last season, and they lose this game by double-digits. That is not the case anymore, as this roster is more than capable of winning ugly games this season.
Even though this was the first win of the season just one game in, it marked the end of a significant stretch that most Bulls fans don't realize. With the win, the Bulls are sitting at 1-0 on the season. That means they are above .500 for the first time since November of 2017. That goes to show you the state of the franchise over the last several years and that the long rebuild may very well be over.
Waking up with the Chicago Bulls in first place in the Eastern Conference. pic.twitter.com/lgR2W0zmwq

— Daniel Greenberg (@ChiSportUpdates) October 21, 2021
Time to play defense
For all the talk put into how exciting their offense will be, the Bulls defense stole the show last night. Aided by some poor shooting by Detroit, Billy Donovan deserves a ton of credit for how this team has boughten into his defensive approach.
Not only has he been a players coach from the moment he arrived in the NBA, but Donovan has been known as a defensive-minded coach as that is what it takes to build championships. As weird as it is to say, Donovan hasn't needed a ton of defense at this stage of his coaching career, given the offensive firepower he has had to work with.
Last season was the first time he needed a defensive-minded team, and it backfired when that didn't happen. He has instilled this team with a defensive-minded approach, and they have used that all preseason long, which now carries over into the regular season. Even with the most scoring options this team has had in nearly a decade; this team will only go as far as their defense takes them. If they continue to play at the level they did last night, they will go very far.
Zach, DeMar, Vooch power the @chicagobulls on opening night!@ZachLaVine: 34 PTS (11-17 FGM)@DeMar_DeRozan: 17 PTS, 3 STL@NikolaVucevic: 15 PTS, 15 REB pic.twitter.com/HYKpt1Erg8

— NBA (@NBA) October 21, 2021
Time to back up the Brinks Truck
One of the biggest offseason questions surrounding the Bulls was the future with LaVine and this team. Knowing that his contract comes to an end after this year, Chicago fans were hoping to see an extension get done only to see him enter this season with no new deal.
Lavine knows this is a business and isn't going to hold anything against the Bulls, but he also knows his worth and won't take a hometown discount. Despite how good he has been since coming to Chicago, LaVine has yet to prove he is a winner and must show he can lead this team to the playoffs.
I understand that he hasn't had the best supporting cast since arriving, but his numbers have gotten better each season despite a lack of wins. Now, LaVine has that supporting cast he has been waiting for, so the time is now for him to win games. If he can play at the level he showed last night all season long, this team will win a lot of games, and LaVine will finally get the love he deserves. Chicago has a team that can win now, and it is time ownership calls his agent, gives him a max deal, and locks him up for another five-plus years.
A hot start for Zach LaVine ??

34 points | 11-17 FG | 7 reb | 4 ast pic.twitter.com/tzZoF1rd1n

— Chicago Bulls (@chicagobulls) October 21, 2021