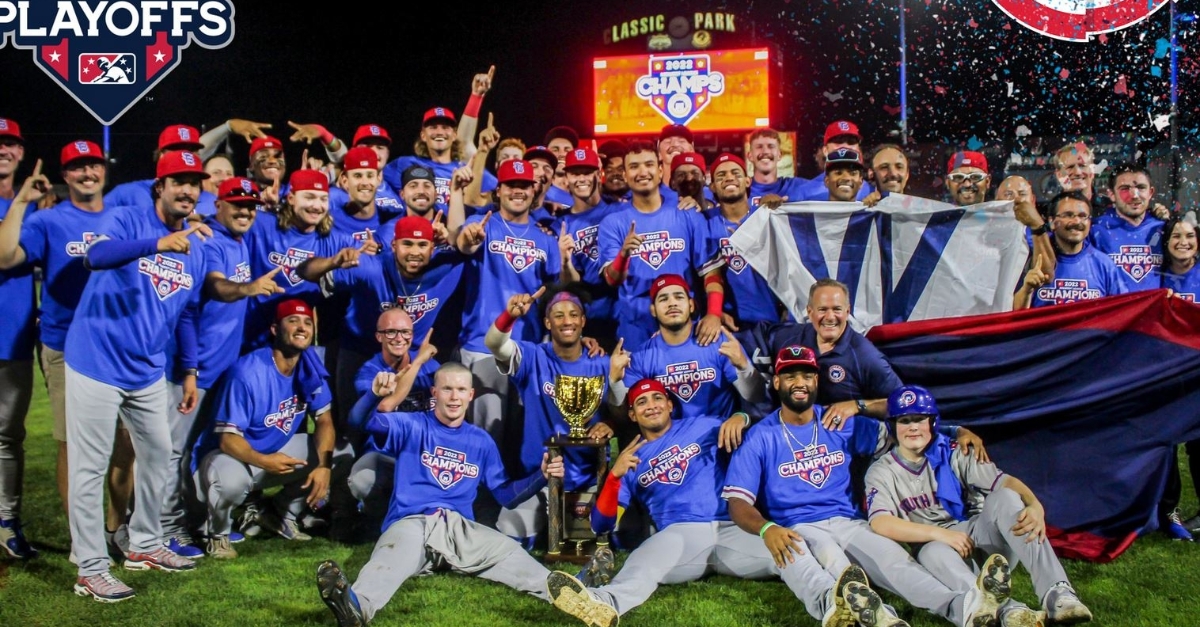 | | |
| --- | --- |
| Cubs Minor League News: South Bend wins Midwest Championship, Mervis hits 35th homer, more | |
---
| | | |
| --- | --- | --- |
| Thursday, September 22, 2022, 12:39 PM | | |
With the Tennessee Smokies on a travel day, only two teams were in action on Wednesday. Fortunately for the Cubs, not only did both of those teams come away with victories, but the South Bend Cubs came away with the Midwest Championship crown giving them their second title in three seasons.
IOWA CUBS 6 - OMAHA STORM CHASERS 3
Remember when the Cubs couldn't beat the Storm Chasers to save their life last season? That is a thing of the past, as Iowa has had great success against Omaha this year, including another solid win on Wednesday. Wyatt Short is emerging as another one of those feel-good stories in the Minor Leagues.
After spending most of the season in the bullpen, the Cubs moved him into the rotation in August, and he has taken off since. With his six-inning start and allowing three runs on five hits, you have to wonder what is next for him as he has proven he can be a starter in this league.
It took three innings for someone to break through, and that was the Cubs first as Matt Mervis unloaded for his 35th homer of the season and 14th with Iowa to put the Cubs up 2-0. Mervis also has 115 RBIs and now leads all Minor league baseball again. Not only did Iowa take the lead with a homer, but Omaha answered in the bottom half of the inning when Brent Rooker got into one to make things 3-2.
That score would hold until the seventh inning, when the Cubs saved their best for last. Levi Jordan opened the scoring in a four-run inning with an RBI single to tie things up. That was followed by the game-winning sacrifice fly from Darius Hill before an error brought home two more to give the Cubs a 6-3 lead. Ben Leeper took care of the rest and picked up the save.
Wednesday was supposed to be a double-header, but mother nature had other plans, and game two was ultimately canceled. Not ideal, but when you have nothing to play for in the standings, it does make sense.
Today's second game was canceled due to inclement weather. It will not be made up at this time. pic.twitter.com/cq5JlFhqjM

— Omaha Storm Chasers (@OMAStormChasers) September 21, 2022
SOUTH BEND CUBS 7 - LAKE COUNTY CAPTAINS 4
The last time the South Bend Cubs made the playoffs was in 2019, resulting in a Midwest league title. Here we are three years later, and the same story as South Bend went on the road to win two straight and claimed the 2022 Midwest League title.
Coming off a great first start in his postseason debut, Porter Hodge was on the bump again and was looking to deliver another strong showing. Granted, he wasn't at his best, allowing three runs on five hits, but Hodge did get through five innings of work with the lead before Joe Nahas Sheldon Reed took care of the rest.
It took a little while for both teams to settle in, but South Bend was in full-go mode once the third inning rolled around. With a pair of runners on base, Owen Caissie put the Cubs in front for good as his three-run smash put South Bend up 3-0. The Cubs were not done in that inning, with Pablo Aliendo leaving the yard later in that inning to put the Cubs in front 5-0.
Needing at least a couple of runs to keep things close, Lake County responded in their half of the inning with a crooked number of their own. While Hodge did help the Captains out a little bit with a run-scoring wild pitch, Joe Naranjo and Milan Tolentino added RBI singles as the Captains trimmed that deficit to 5-3.
That would be as close as Lake County would get as you could see all the momentum on the Cubs side. Luis Verdugo capped off the scoring for the Cubs in the fifth inning as he connected for their third homer of the night. Lake County pushed a late run against Nahas late, but that wouldn't be enough as the Cubs were crowned Midwest League Champions again with a 7-4 win.
PUMP IT UP ???????? WE ARE MIDWEST LEAGUE CHAMPS???? pic.twitter.com/KACsKZJWxQ

— South Bend Cubs (@SBCubs) September 22, 2022
?????????? pic.twitter.com/JLvKDRLCwY

— South Bend Cubs (@SBCubs) September 22, 2022
Update: They never quit. ???? #wearethechampions pic.twitter.com/0KOM30sLfk

— South Bend Cubs (@SBCubs) September 22, 2022
About last night…???? #ringszn pic.twitter.com/mmgiWOYZBC

— South Bend Cubs (@SBCubs) September 22, 2022