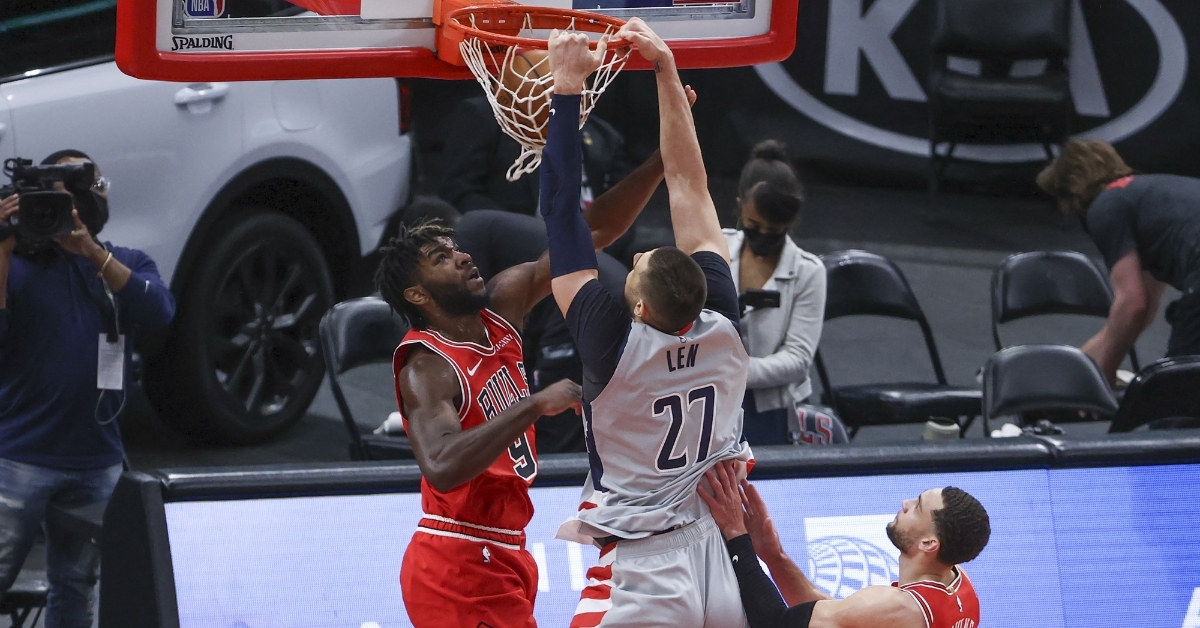 | | |
| --- | --- |
| Bulls fall to Wizards as injuries continue to mount | |
---
| | | |
| --- | --- | --- |
| Tuesday, February 9, 2021, 11:34 AM | | |
Already down a few players heading into Monday's night game with Washington, the news got worse for Chicago. With Wendell Carter Jr still nursing a quad contusion, Otto Porter Jr recovering from back spasms, the Bulls were already down two critical pieces to their rotation. Well, Chicago will now be down three key pieces as an MRI revealed that Lauri Markkanen would miss the next 2-4 weeks with a right shoulder strain.
As the injuries continue to mount, Billy Donovan has had to shuffle things up with his rotation a bit to keep the Bulls competitive. For the most part, that is precisely what has happened, but the wins are not following, which this Bulls team needs. Facing off against one of the East's worst teams, Washington got 35 points from Bradley Beal and held off another second-half surge to top Chicago 105-101.
Not only did Beal have the hot hand for Washington, but Zach Lavine matched him with 35 points for Chicago as the two of them were going right after each other from the opening tip. With Lavine scoring seven of the Bulls first nine points, Chicago held a five-point lead before Alex Len started to get involved. Thankfully, Patrick Williams had answers to help the Bulls maintain their lead, but it was a rare hero having a big first quarter.
With Carter still nursing his injury, Daniel Gafford has been thrown into the starting lineup and has seen his minutes drastically increase. Those increased minutes have helped his production increase as he put together an eight-point first quarter for the Bulls. With Washington now in front after Rui Hachimura and Davis Bertans buckets, Tomas Satoransky continues to find his groove as he kept things within two.
Thaddeus Young continued his strong play off the bench, scoring six-straight to put Chicago back in front before Gafford and Satoransky ended the quarter. Despite Ish Smith, Beal, and Hachimura coming through for Washington in the closing moments, Chicago held a 27-24 lead after one quarter of play.
Of all the teams the Bulls have seen this season, Washington is the one team they have had the most success with going 2-0 earlier in the season. Looking to complete the season sweep, Satoransky continued to pace the offense in the second before the Wizards started to take control. After a slow start to the game, Bertans was heating up as Robin Lopez joined him to put the Wizards in front. Washington continued to build on their lead, with Deni Avdija pushing things out to 39-31.
The Wizards eventually built their lead to double digits courtesy of Beal and Hachimura buckets, but Denzel Valentine made sure things would still single digits for the time being. That is when Lavine took it upon himself to attack the rim as he found himself continually getting to the free-throw line. As good as Lavine is, not having a guy like Markkanen will hurt, so everyone will need to pick up the slack. Unfortunately, the Bulls couldn't find their rhythm in the first half trailing the Wizards 58-48 at the half.
Back-to-back games with 35+ for Zach.

35 points | 12-26 shooting | 6 assists pic.twitter.com/W74YRPZP3e

— Chicago Bulls (@chicagobulls) February 9, 2021
Down 12 following the Raul Neto bucket, Williams tried to make his presence felt again, teaming up with Lavine. Despite their best efforts in closing the gap to five, Beal continued to put the league on notice as his three pushed things back to eight. Now down nine, Valentine was left alone for consecutive threes ahead of Lavine layup as Chicago closed within 69-68 following an 8-0 run.
Both Beal and Hachimura answered with an 8-0 run of their own, and just like that, it was a nine-point game again. A couple of Lavine buckets kept things close ahead of the Satoransky three, but Chicago still was down by eight with a couple of minutes to go. Coby White hit a clutch pull-up jumper late in the third to send the Bulls to the fourth down 83-78 and momentum on their side.
Sensing momentum was tilting the Bulls way, Washington stretched their lead back to seven after both Smith and Avdija knocked down shots. Four quick points from White kept things close, but once again, Beal had the answer. Now down nine, both Gafford and Lavine attacked the rim and brought things within five points yet again.
That lead continued to shrink when Valentine connected for yet another three. Since filling in for Porter Jr, Valentine has continued to improve his scoring, adding a much-needed element to the Bulls game. Unlike their first two meetings in which the Wizards had no answers for Chicago, they were able to withstand any surge from the Bulls leaning on Beal to play stopper.
Beal came up with a massive bucket before things got close before opening things up for Len to push the lead back up to 99-91. A pair of dunks from both Young and Lavine made things a four-point game before Lavine knocked down two free throws to make things interesting 99-97. It became a free throw competition the rest of the way, with White picking up the night's last field goal. Unfortunately for Chicago, that field goal was not enough as Beal iced the game from the line to preserve the 105-101 win and avoid the season sweep.
With the loss, Chicago falls to 9-14 on the season and just 3-8 at home. Lavine led the way for the Bulls with 35 points as he was the lone Bull to top 20. Young was second on the team with 14 points off the bench as Valentine (11), Gafford (10), and Williams (10) all ended up in double figures. Just like Lavine, Beal led the way for Washington with 35 of his own, but it was the 19 points from Hachimura that proved to be the difference. Chicago will be back on the floor tomorrow against New Orleans.