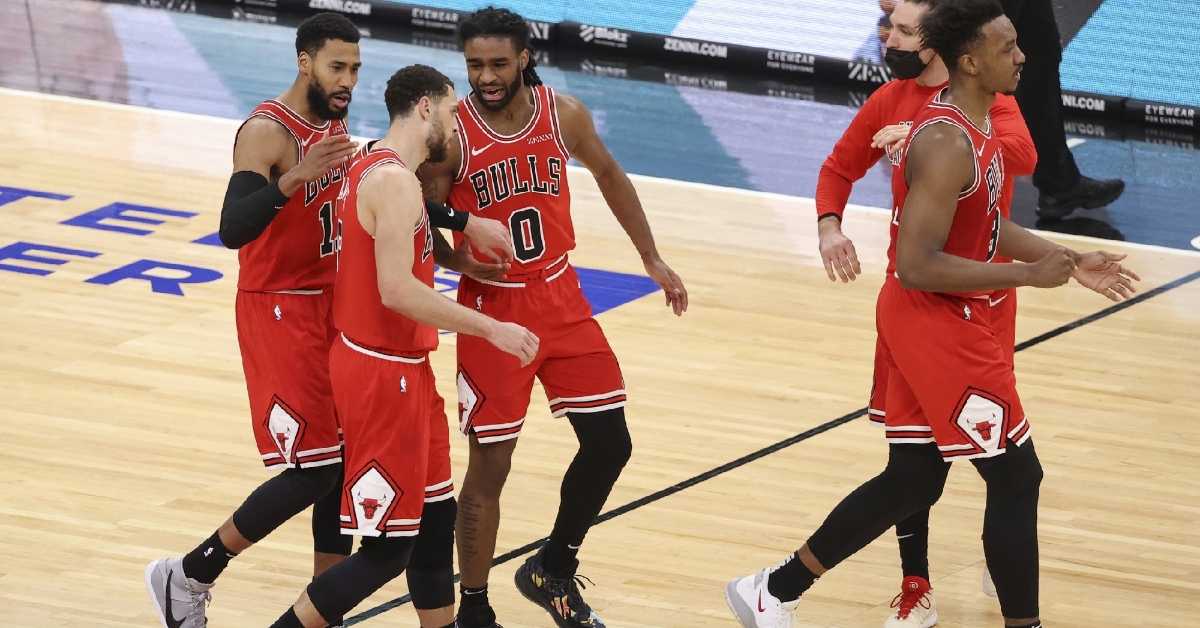 | | |
| --- | --- |
| Bulls rally behind Zach LaVine's 37 points for comeback win | |
---
| | | |
| --- | --- | --- |
| 2021-02-18 11:21:10.0 | | |
As the Bulls continue to climb in the Eastern Conference standings, some games could be viewed as must-win for a team hoping to make the Postseason. Wednesday night was one of those games as a late schedule change welcomed the Detroit Pistons to town. With the Pistons and Bulls having their regular scheduled game postponed, the NBA figured out a way to have them play, so they played each other.
Despite the Pistons entering the night a conference worst 8-19, which includes 2-11 on the road, the Pistons showed up in a big way putting the Bulls in a double-digit hole. Grant continued to play at an all-star level, dropping a game-high 43 in the process. However, Chicago was able to erase a near 20-point halftime deficit using a big third-quarter surge to take the lead and eventually old off Detroit 105-102.
While Grant may have led all scorers, Zach Lavine continued to do his thing, opening the game with a three and finishing with 36. His three was matched by Wayne Ellington, as the Pistons offense was off and running early, talking a 9-5 lead. Since coming back to the lineup last game, Wendell Carter Jr is getting involved early on offense as he teamed up with Patrick Williams to provide the Bulls with some excellent support early.
Both Delon Wright and Mason Plumlee were now getting in on the fun as they helped keep the Pistons in front early. Add in Grant, who got off to a slow start, and Detroit was now up 20-15. That five-point lead was stretched to seven as the Pistons continued to work a balanced attack while the Bulls were relying too much on Lavine in the early going. Chicago eventually got buckets from Garrett Temple and Thaddeus Young late in the quarter, but Detroit held the 35-27 lead after one.
Being down in a game isn't new to the Bulls but being down by this big of margin against Detroit was a bit surprising. Unfortunately, things got worse before they got better, with Dennis Smith, Josh Jackson, and Saddiq Bey opening the half on an 8-0 run to stretch the lead to 43-27. Now down 20 after another Bey bucket, Billy Donovan took a timeout as his team was completely lost on the court.
Following the timeout, Carter Jr. put in two quick buckets, but the Chicago defense couldn't keep Detroit off the board. Three's from Smith and Grant gave Detroit a 23-point edge which grew to their largest lead of 25 following a Plumlee bucket. Things didn't get any easier despite buckets from Lavine and Tomas Satoransky to close out the half as Chicago was down big 61-43 at the break.
?? @ZachLaVine (37 PTS, 24 in 2nd half) was relentless in the @chicagobulls 25-point comeback win! #BullsNation pic.twitter.com/rtoUUsSVuw

— NBA (@NBA) February 18, 2021
The best way to erase an enormous deficit is to come out strong, and that is exactly what Chicago did to start the second half. Four quick points from Lavine was followed by a Temple jumper cutting things to 12 early. Down 14, Lavine continued to attack the rim, with Carter Jr continuing to be involved as the Pistons lead was down to nine.
Nine became four as Lavine connected for five more third-quarter points, but Jackson answered with a Jumper to keep Detroit in front by six. Still, down three, it was a rare Ryan Arcidiacono sighting as his layup off the bench closed the gap to one. The Bulls defense continued to make life difficult for Detroit while Young and Coby White closed out the quarter with a pair of buckets, cutting the lead to 73-70 following a 27-12 third-quarter run.
All of a sudden, with a brand-new game, Chicago opened the third on an 8-0 run that saw them take their first lead since the first quarter 78-73. Grant was doing his best to keep things close, but Williams showed off his athleticism, getting inside for several easy looks. Up one following a Wright Bucket, it became the Lavine, Grant show as both men put on a showdown the stretch.
Every time Lavine would score, Grant had an answer as the Pistons kept things within one possession. A Satoransky layup, but the Bulls back in front by four, but once again, Plumlee got inside, closing the gap to one. Credit the Bulls for staying aggressive as they eventually built the lead back to five only to see Grant and Bey cut it to 96-94.
With just over a minute to go and clinging to a one-point lead, Chicago was looking for a big bucket to crush the hopes of a Pistons comeback. That bucket didn't come from who you would think as it was White knocking down a three-pointer to stretch the lead to 100-96. That three was followed up by a Williams three as the Bulls led 103-98 late.
Patrick Williams coming up CLUTCH! ??#Crunchtime pic.twitter.com/g6ksIIxN7X

— NBA TV (@NBATV) February 18, 2021
Clinging to a 104-102 lead and just 7.9 seconds left to play, the Pistons had no choice but to foul the Bulls, putting them on the line. Unfortunately for them, Lavine was not the guy to foul as he had a chance to ice it from the line. After making the first of two, Lavine missed the second, giving Detroit a chance to tie it. Wright had a look, but the shot didn't fall as the Bulls held on to complete the comeback 105-102.
With the win, Chicago moves to 12-15 on the season and just 0.5 games behind Charlotte for the eighth seed. Lavine led Chicago with 37, with Carter Jr and Williams chipping in with 18 and 15 of their own. Grant led all scorers with 43 and was the only Pistons player with more than 12 points. The Bulls will be back on the court tomorrow against the East-leading Philadelphia Sixers.