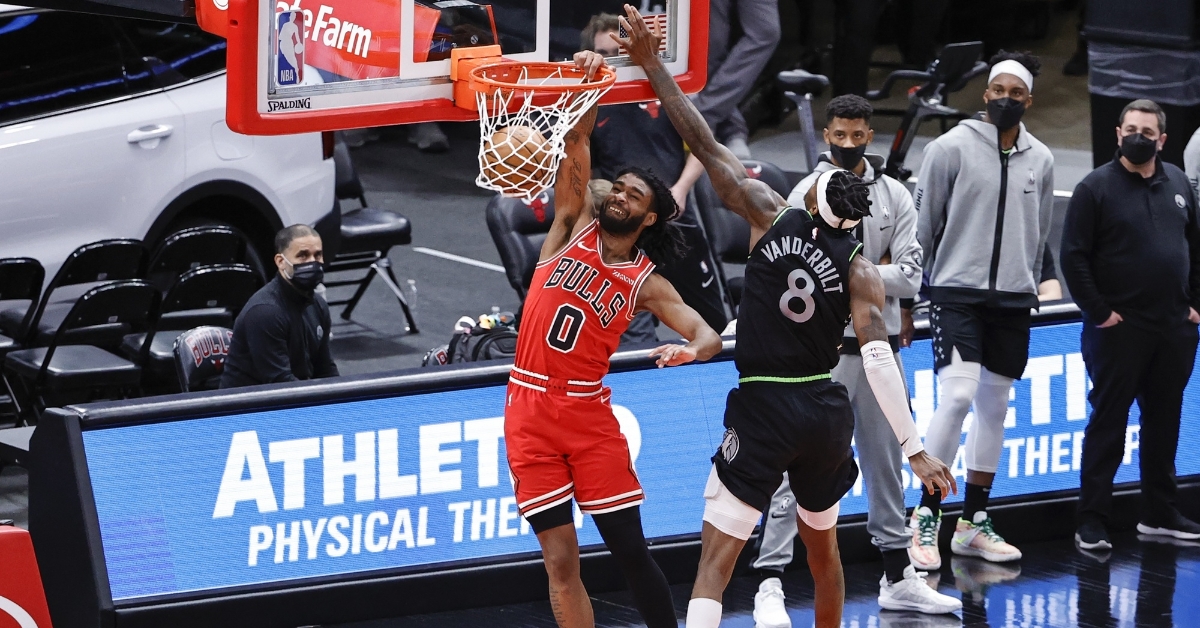 | | |
| --- | --- |
| Bulls stay hot with overtime victory over Timberwolves | |
---
| | | |
| --- | --- | --- |
| Thursday, February 25, 2021, 10:08 AM | | |
Thaddeus Young said it best when he said this team is miles above where they were last year. Whether it is new coach Billy Donovan, the players getting more comfortable with each other and their roles, or the talent itself just being better, the Bulls are playing with a sense of confidence that fans haven't seen in years.
Against one of the worst teams in the league on Wednesday, Chicago knows these are the games that the Bulls need to have. Instead, Chicago got a Minnesota team, coming off a loss to Milwaukee and eager to write the ship. Led by another 35-point night by the all-star Zach Lavine, Chicago recovered from a costly miscue down the stretch to top the T-wolves 133-126 in Overtime.
Record aside, Minnesota indeed came to play in this one with the No. 1 overall pick Anthony Edwards getting the scoring started. Another former No.1 pick followed that in Karl Anthony Towns and Ricky Rubio as Minnesota jumped out to a quick 7-0 lead. That lead was short-lived as the trio of Patrick Williams, Wendell Carter Jr, and Coby White helped bring the Bulls back, but Minnesota still led by three midway through the quarter.
Coming off a pedestrian game last time out, Lavine got going right away in the first quarter, proving to everyone once again why he is an all-star. The outside shooting from Lavine opened things up in the lane for guys like Williams and Young to take advantage of as the Bulls were within one. Jarred Vanderbilt extended the lead back to four ahead of Malik Beasley, pushing it to seven. Tomas Satoransky continued his strong play with some buckets to close the quarter, but it was Minnesota holding a 34-32 lead after one.
Minnesota continued to play inspired ball to open the second with Naz Reid getting inside. Denzel Valentine answered with two points of his own, with White following up with four of his own to put the Bulls back in front. Valentine and White's duo were not done as they were joined by Williams extending their lead to six points. The Chicago bench continued to deliver, with Ryan Arcidiacono knocking down a three, pushing the lead to eight.
The lead grew to double digits after Lavine went down to knock home another jumper, but Minnesota wouldn't go away quietly. The duo of Beasley and Reid were making for a tough go in the second quarter's final minutes as they kept Minnesota within two possessions. After Lavine and Rubio exchanged buckets to keep things at a seven-point lead, Satoransky sent the teams into the half with a buzzer-beating three, and the Bulls were up 68-58.
As mentioned above, this is a confident Bulls team, and right now, they feel like they can beat anyone. With the starters providing most of the scoring in the first half except the usual bench heroes, Garrett Temple finally got on the board in the third as the Chicago lead grew to 14. That lead was cut in half as the young studs Beasley, Edwards, and Anthony-Towns knew they needed to start shouldering the load for the team.
Beasley impressed, especially from beyond the arc, as another three had Minnesota within 74-70. Both Young and Williams put an end to that run with some nice buckets inside, but Anthony Towns was now establishing himself inside after a quiet first half. Another three from Satoransky, followed by six Lavine points, had the Bulls back up eight but give Minnesota some credit as they refused to go down quietly. Satoransky continued to get to the rim to close out the third, Jaylen Nowell and Anthony-Towns had Minnesota within 96-90 after three.
Looking to close out the Timberwolves, Nowell was getting going early as he had Minnesota within three. A Josh Okogie tip cut things to one before White stretched the lead to three with a driving layup. A couple of Valentine jumpers mixed with Williams on the inside had the Bulls up five, but the Lavine triple appeared to be the knockout blow with Chicago up 111-103.
Now up 10 following a Young bucket, Beasley continued to find his rhythm from the outside, knocking down a pair of threes to close the gap to four. An Edwards three with less than a minute to go had Minnesota within 117-116 before Satoransky knocked down a pair of free throws with 10 seconds to go. Needing one-stop, White was playing tough defense on Rubio, but it was a little too aggressive as he bumped Rubio on a three-point attempt earning him three shots from the line.
Rubio knocked down all three free throws tying things up 119-119 with 4.8 seconds to go. Looking to end the game in regulation, Lavine had a great look from three, but the shot wouldn't fall as we were headed to Overtime. Typically, in seasons past, this is when the Bulls mentality didn't have that killer instinct.
This year, as Chicago got after it early and often with four different players getting involved, this year is not the case. Holding a 126-121 lead, the Bulls defense forced a steal which ended with a White tomahawk for a seven-point lead. That lead proved to be too much for Minnesota to overcome as Temple and White finished things off from the line to preserve the 133-126 Overtime win.
The win moves Chicago to 15-16 on the season, but they are now sixth in the Eastern Conference and are just .5 games behind Indiana for second in the Central and fifth in the East. Lavine led the way with 35 points as Chicago had seven players score in double figures. White added 20 of his own with Carter JR (17), Satoransky (16), Young (14), Williams (13), and Valentine (10) rounding out the double-digit outputs for Chicago.
Beasley and his 25 led Minnesota, with Anthony Towns and Edwards adding 24 and 21, respectively. Minnesota continues to search for their ways, as they now sit at 7-26 this season and occupy the worst record in the NBA.