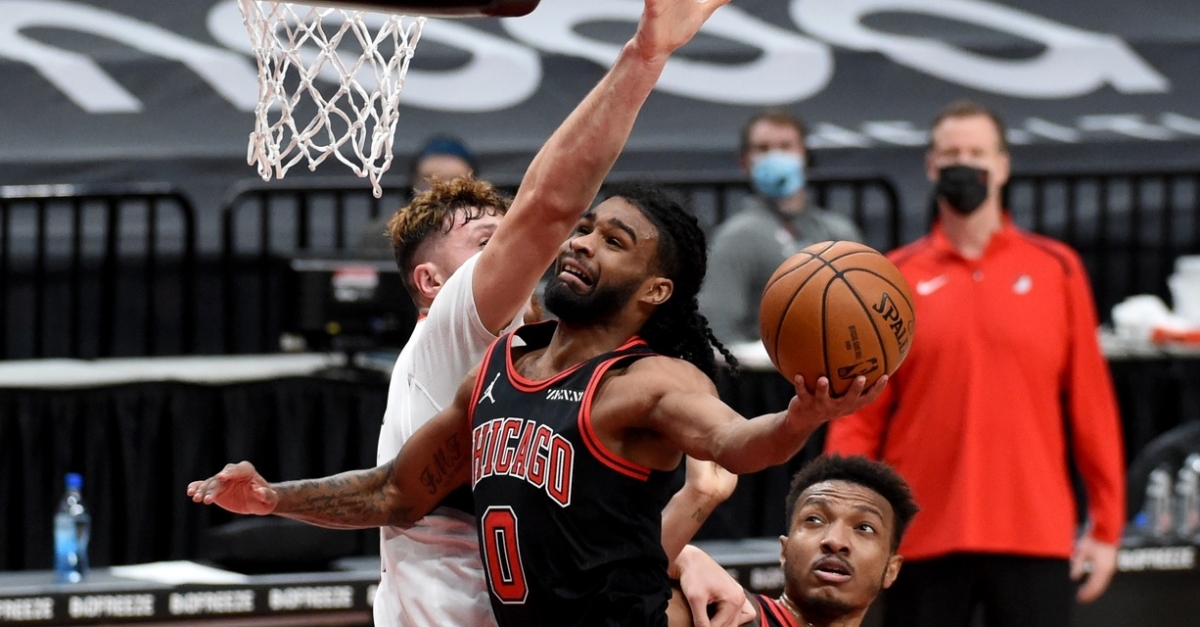 | | |
| --- | --- |
| Bulls with huge comeback win over Blazers | |
---
| | | |
| --- | --- | --- |
| Wednesday, January 6, 2021, 12:02 PM | | |
Despite being short-handed with four players out for COVID tracing, the young Bulls continue to battle, winning three of their last four. However, things would not get any easier as the team traveled out west to face Portland in game one of a four-game swing. Despite an impressive first-quarter performance that saw the Trailblazers sink eight three's, Chicago continued to battle and managed to keep things close heading into the fourth. Chicago completed the comeback when Zach Lavine nailed a step-back three to lift Chicago 111-108.
Early on, it looked as if it would be a long night for the Bulls with Reggie Covington, CJ McCollum, and Damien Lillard connecting on four three-pointers to open Portland's scoring. If it weren't for Wendell Carter Jr strong start to the game, Chicago would have been down much more significant than they were. Carter did, however, find himself in foul trouble picking up three fouls in the first quarter.
The third came with the Bulls down 14-10, and it helped ignite the Portland offense. As if the hot shooting to start the game wasn't enough, Jusuf
Nurkic got involved on the inside with Covington and McCollum continuing to light it up from deep, pushing the lead to 22-10. Chicago refused to go down quietly as Thaddeus Young and Coby White helped keep things close at 23-18. The rest of the quarter belonged to Portland as Gary Trent Jr and Carmelo Anthony got in on the three-point fun, giving Portland a 39-21 after one.
Most teams would panic being down by 18 after one-quarter of play, but not this young Bulls team. Billy Donovan knew there was no way Portland could shoot like that all game, so Chicago just needed to stick to the game plan and go to work. Luckily for Chicago, not only did Portland start to miss shots, but Otto Porter and Young connected for a pair of threes to open the quarter as Chicago was gaining momentum.
After McCollum and Trent made threes to build the lead back to 20, Lavine hoped to get going after suffering a rare rough shooting night. With Lavine struggling, it was time for the Bulls to get contributions from the bench, and Garrett Temple delivered with a season-high 14 points. With Temple and Young keeping things afloat, the Bulls were able to close the gap to single digits trailing 54-45 at the half.
One of the positive signs for Chicago in the second was their defense was starting to step up, forcing Portland to play at their pace. That place happens to be the fastest pace in the league, and rookie Patrick Williams opened the third with a corner three to close the gap to six. Portland could sense the Bulls were gaining momentum, and every time Chicago got close, the Blazers pushed it back out with Lillard, Nurkic, and McCollum building the lead back to double digits.
White may not have had an efficient shooting night, but he did his part leading the team scoring 21 points while posting 10 rebounds for a double-double.
Coby White makes things happen.

21 points | 10 rebounds | 5 assists pic.twitter.com/VUXuM75atZ

— Chicago Bulls (@chicagobulls) January 6, 2021
After exchanging buckets for a few positions, Derrick Jones Jr brought the house down with an emphatic dunk hoping to ignite Blazers once again. Instead, it seemed to ignite Lavine as he connected for a pair of much-needed threes, keeping things within two possessions. Temple closed out the quarter with five straight points with less than a minute to go, as the Bulls closed within 85-81 after three.
With all the momentum on their side, Chicago was looking to cap off this comeback, which would be a statement win for this team. After Trent put Portland up six, Lavine was doing his part from the free-throw line closing the gap to 89-88. Porter Jr managed to tie things up at 91 a few minutes later, but once again, Portland turned to McCollum to put them in front.
Down by one following a Williams dunk, Temple continued his hot shooting as his three gave the Bulls their first lead of the night 96-94. McCollum connected on a step-back three on the next possession to retake the lead, only to have White answer. Anthony certainly looked like a shooter this night, not known for his three-point shot, hitting his fourth three of the game to retake the lead 100-98.
That is when the Chicago defense began to sink their teeth in with Williams tying things up and Porter Jr hitting a jumper to cap off a 6-0 run for the 104-100 lead. The Bulls, clearly riding a wave of momentum, kept the pressure on with White extending the lead to 106-100 and an 8-0 run. Refusing to let this game get away, Lillard took it upon himself to get to the line connecting on five free throws to make it a 106-105 game.
With less than 30 seconds to go and needing a giant bucket, Chicago turned to their leader to get things done. Despite a rough shooting night all game, Lavine made the one-shot that mattered when it counted as his step-back three but the Bulls up four and iced the game.
The Bulls overcame a 20-point deficit to win last night in Portland

Zach LaVine hit the dagger with 10 seconds remaining to secure the win for Chicago pic.twitter.com/kSRidLNJGi

— Blue Collar Media Group (@BCollarMedia) January 6, 2021
Lillard was able to hit a step-back three of his own on the other end, but it was too little too late with White sinking a pair of free throws with five seconds remaining, giving the Bulls an improbable 111-108 comeback win.
The win moves Chicago to 4-4 on the season, and they have now won four of their last five. They will look to move above .500 for the first time this season as they face Sacramento tonight.