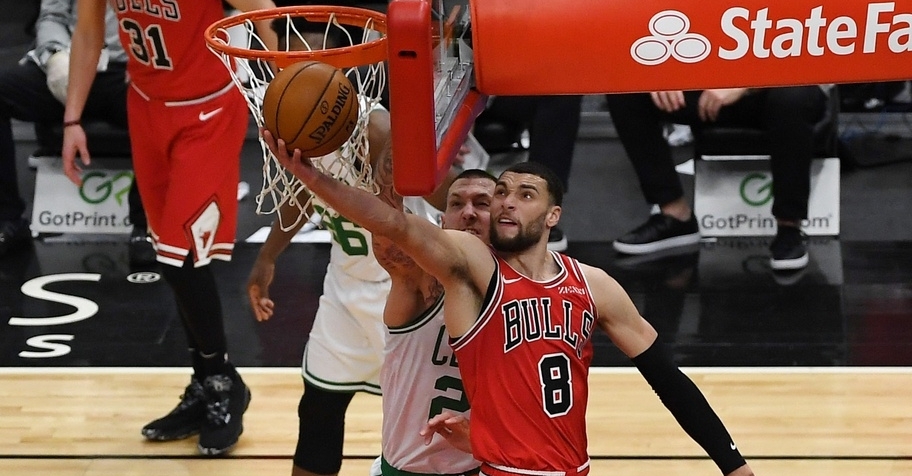 | | |
| --- | --- |
| Celtics overpower Bulls despite Zach LaVine's 30 points | |
---
| | | |
| --- | --- | --- |
| Tuesday, January 26, 2021, 10:31 AM | | |
After having their meeting a few weeks ago postponed for health and safety concerns, the Bulls were finally able to face the Celtics Monday night.
Despite being down a few players, including Jayson Tatum, the Celtics remain one of the East's premier teams while the Bulls are battling for that final playoff spot. If the Bulls wanted to beat Boston, this could be the time to do so, but the Celtics showed how good they could be topping Chicago 119-103.
Chicago came out firing three's with Zach Lavine and Coby White, each knocking down one from the outside to spark a quick 6-2 lead. Following that, it was all Boston as they put together a 14-2 run anchored by Tatum's seven points and Jaylen Brown's five. Marcus Smart also got in on that run as Boston was up 16-8.
Lavine continued his hot shooting from deep, knocking down another three, but the Celtics had answers as Smart put together an impressive first-quarter helping the lead grow to 21-12. In need of instant offense, the Bulls turned to their bench mob as they came out firing. Garrett Temple continued to show how great of a signing he was this offseason, but Thaddeus Young continued to lead the way. Young finished with 16 points on the night and flirted with a triple-double as the Bulls closed within 30-25.
Down by eight early in the second, the Bulls bench continued to do their thing with Denzel Valentine knocking one down from deep. That three was answered by an Otto Porter JR three, and just like that, we had a 33-31 game. After coach Brad Stevens called a timeout, the Celtics came out with a Jeff Teague and Tatum bucket to push the lead back to seven. The lead eventually grew to nine, with Aaron Nesmith getting involved from three, but Valentine and Porter Jr had answers closing the gap to six yet again.
Boston couldn't shake the Bulls a majority of the second quarter with Lauri Markkanen finally getting on the board ahead of another Valentine three, and we had a three-point game once again. Boston returned the favor with an 8-0 run of their own as the Bulls now trailed by 11 late in the second. That 11-point game was cut to eight when Lavine knocked down career three-pointer number 600. It was his 400th since coming to Chicago. A White layup closed the gap to six, but the Celtics held tough with Daniel Theis putting one home late for the 60-50 halftime lead.
Despite being down double-digits at the half, the Bulls had to like where things were, especially when you look at how the bench played. Unfortunately, the second half couldn't have started any worse for Chicago, with Brown coming out hot to ignite an 11-0 run to push the lead to 71-50. The Bulls were still down 20 until Markkanen knocked down his 400th career three, tying him with Lavine since arriving in Chicago.
Markkanen, along with Lavine and Temple, gave the Bulls a little bit of hope as they helped bring things to 79-67 following a 7-0 run of their own. Brown made sure that run would end right there, scoring the team's next five points to put them back up 15. Young and Porter Jr provided the rest of the Bulls offense in the third quarter as Chicago had a lot of work to do down 91-76 after three.
Chicago has a knack for playing from behind in the second half, but in the early stages of the season, they have recovered. This wasn't one of those nights, as Tatum build the lead to 17 before the teams started to exchange buckets. The Bulls bench continued to do their thing with Temple, Young, and Porter Jr closing the gap to 11 before Markkanen got it within single digits.
Three-pointers from Javonte Green and Tatum erased any hope of a comeback bid as the Celtics were up 15 yet again. Teague and Tatum pushed that lead to 19 as the Bulls were in big trouble. As the quarter went on, more players were getting involved, including Carsen Edwards, who connected on a three-plus the foul to push the lead to 21.
Markkanen and Lavine took over down the stretch, but there was a Tomas Satoransky sighting in the final four minutes. Boston continued to hold a comfortable lead until Lavine connected on a long three to close the gap to 11. That was about the last bit of excitement for Chicago as the Celtics ended the game on a 7-2 run to take home the 119-103 win.
Lavine led all scorers on the night with 30 as Markkanen and Young chipped in with 18 and 16 apiece. Boston was led by Brown and his 26, with Tatum adding 24 and Theis giving Boston a strong 19.
With the loss, Chicago falls to 7-10 on the season as they don't return to the court until Saturday against Portland. Wednesday's game with Memphis is postponed.