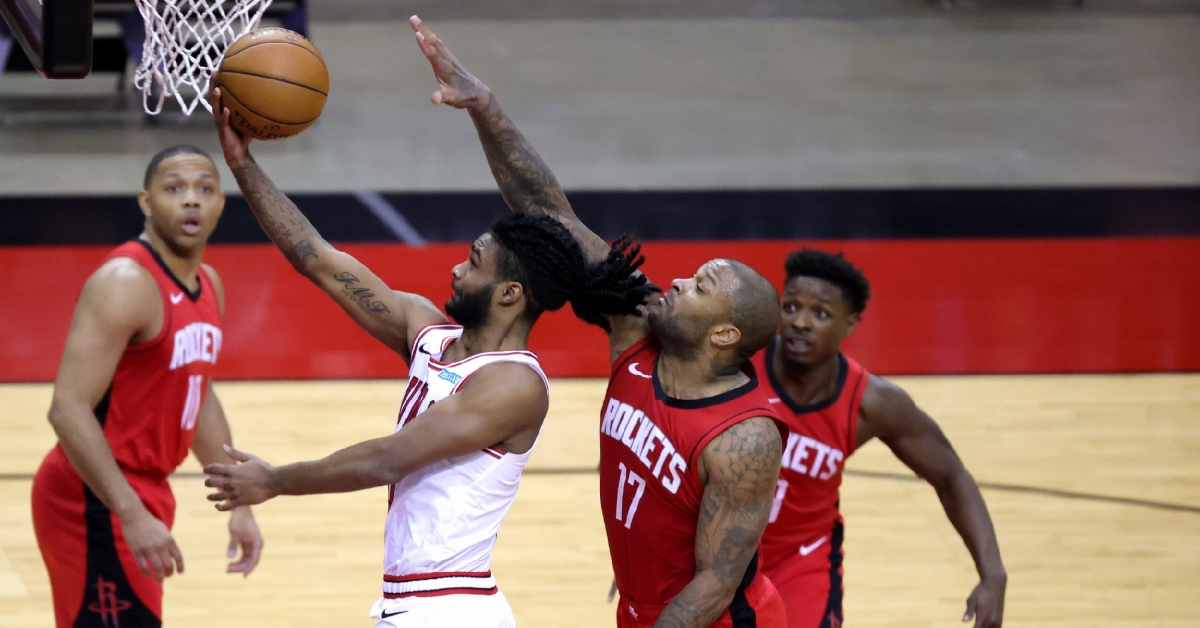 | | |
| --- | --- |
| Houston, We have a problem: Bulls blowout Rockets in road matchup | |
---
| | | |
| --- | --- | --- |
| Tuesday, February 23, 2021, 11:21 AM | | |
If there ever was a team that knows about playing shorthanded, the Chicago Bulls are it. Down Otto Porter Jr., Lauri Markkanen, and Chandler Hutchison, the Bulls continue to improve under Billy Donovan and are showing signs of having a bright future.
On the other hand, Houston is amid a rough stretch looking to avoid dropping their sixth game in their last eight. With guys like Victor Oladipo, Christian Wood, and Demarcus Cousins unavailable, Houston had a daunting task of beating a surging Bulls team shorthanded. Despite a tremendous first-half effort, the Bulls erupted for 46 points in the third and eventually pulled away for the 120-100 win with a pair of Double-Doubles leading the way.
John Wall had the hot hand for the Rockets early, scoring the team's first five points to give them the early lead. A Patrick Williams three tied things up at 5-5 before Zach Lavine, and Wendell Carter Jr put the Bulls in front. Lavine has been on a scoring binge lately, looking to drop 30 for a fifth straight game. After trailing 5-2 in the early going, Coby White started to heat up as he helped the Bulls get on a 21-4 run to take a commanding 23-9 lead. Led by Eric Gordon and Wall, Houston closed out the first quarter on a 15-6 run to close within 29-24.
Despite Thaddeus Young's best effort to put an end to the run in the second, the Rockets were clicking on all cylinders at this point. Players like Justin Patton and Jae'Sean Tate were getting involved with Daniel Nwaba, putting Houston in front 36-33 following a 27-10 run. At this point, the Bulls were trailing for the first time since early in the first, but Williams and Lavine made sure that didn't last long. Add in some more contributions from Garrett Temple and the Bulls bench, and Chicago was holding a 54-48 lead at the half.
All season long, the Bulls have given fans glimpses of how great their offense can be. However, in the third quarter, the Bulls showed a style of play that fans could fall in love with. Not only did they deliver their best offensive quarter of the season, but they scored 46 points in that quarter, just eight off their entire first-half total.
It didn't matter who touched the ball as the hoop seemed like an ocean at this point. You had Carter Jr going to work on the inside, Lavine continuing to show his shooting touch from all over the floor, and White continued to scorch the net from deep as his three-point shooting has dramatically improved.
Zach LaVine's streak of 20+ point scoring continues.

His stats from last night:
21 PTS | 5 REB | 6 AST pic.twitter.com/eZAl840bBL

— Chicago Bulls (@chicagobulls) February 23, 2021
With the Bulls offense on full-go mode, Temple, Young, and Tomas Satoransky wanted to get in on the fun as their lead ballooned to 79-63.
More contributions from Williams put the Bulls up 20, leaving Houston with a puzzled look on their face. After a strong second quarter in his own right, Nwaba continued to play well in the third, but it was nowhere near enough to contend with a Bulls offense that seemingly couldn't miss at this point. Nwaba continued to do his thing to close out the quarter, but as more and more Bulls players got involved, Chicago was on cruise control leading 100-74 after three.
Got it done in Houston by 20 points last night ??@ConstellationEG | #BullsNation pic.twitter.com/XPvwqtzYvy

— Chicago Bulls (@chicagobulls) February 23, 2021
Typically, when the Bulls are resting their starters in the final period, they are on the losing side of a blowout. It was nice to be on the opposite side of that for a change. Satoransky continued his strong stretch of play in the fourth, with Carter capping off one of the Bulls double-doubles in the paint. Up 25 after another Nwaba bucket, White stretched the lead to 28 following his three-pointer as he led the way with 24 points in the game. With their biggest lead of the night, the Bulls brought the starters to the bench and allowed the bench to finish off the game.
Young and Satoransky were the leaders once again, but Denzel Valentine delivered a thunderous one-handed slam for the most exciting play of the night. Up 120-95 following a Ryan Arcidiacono shot, Houston finally took matters into their own hands with a few minutes left. Sterling Brown and Patton capped off the scoring for what was a long night, but Houston did show some signs of life down the stretch. Either way, it wasn't enough as the Bulls roll for the 120-100 blowout win.
The Bulls have scored 105 points in 12 straight road games, their longest such streak in franchise history pic.twitter.com/d8cr6aVzwR

— ESPN Stats & Info (@ESPNStatsInfo) February 23, 2021
The win moves Chicago to 14-16 on the season as they continue to inch closer to the east's eighth seed. Now losers of six of eight, Houston has fallen to 11-18 on the season. To make matters worse, they released Cousins following the game putting them down another player. White led all scorers on the night with 24 points to go with 10 boards as Carter Jr joined him with an 18-point 13 rebound double double of his own. Lavine added a pedestrian 21 points, with Young (17), Williams (14), and Satoransky (10) rounding out the double-digit scorers for the Bulls.
Houston was led by Nwaba and his 22 points off the bench, with Wall and Danuel House Jr leading the starters with 15 each. Brown added 16 of his own off the bench for another strong showing, with Gordon finishing the night with 13.
The Bulls will be back on the floor tomorrow against a reeling Minnesota team as they look to climb closer to 500.