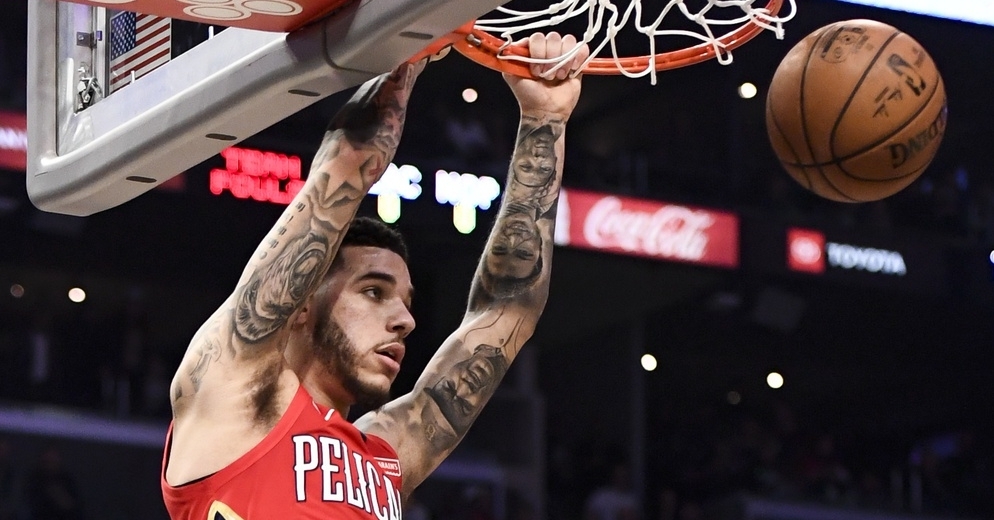 | | |
| --- | --- |
| Trade rumors: Bulls one of several teams reportedly interested in Lonzo Ball | |
---
| | | |
| --- | --- | --- |
| Thursday, January 28, 2021, 11:44 AM | | |
Despite their best start in four years, the Bulls still have lots of work to do. At 7-10, Chicago is currently sitting in 11th place in the Eastern Conference but are just one game out of the final postseason spot with lots of season left to play.
The defense has been a struggle this season, but offensively, Chicago has proven to be one of the better teams in the league, which is surprising when you look at the starting lineup. Outside of Zach Lavine and Lauri Markkanen, the Bulls starting five has struggled to find consistency this season. You have Coby White struggling from the floor, Rookie Patrick Williams learning on the fly, and now an injured Wendell Carter Jr being replaced by Daniel Gafford.
If it wasn't for the play from the Bulls bench, who knows where this team would be right now? Chicago is in a tough spot despite being better off than some expected them to be. Should changes be made to the starting lineup? Of course, but that second unit has so much confidence right now that breaking them up wouldn't be a wise decision.
As the season goes on, look for the Bulls to continue battling for that final playoff spot and look for them to monitor the trade market. That means both as buyers and sellers with Chicago aiming for a brighter future.
On Tuesday night, Shams Charania from The Athletic reported that the New Orleans Pelicans are open to listening to Lonzo Ball offers. While no teams were reported in on the discussions, the Bulls were quickly brought in as a team who may look to get him.
The Bulls are not alone as Orlando, Los Angeles Clippers, Toronto, New York, and Dallas appears interested in Ball. Chicago expressed their desire for a true point guard this past offseason, but that never came to fruition. After failing to land one via free agency, trade, or draft, the Bulls elected to go with White as their point guard.
White has always been viewed as a shooting guard, mainly especially when you consider his shooting and scoring threat abilities. The problem is, Lavine is the Bulls shooting guard, and that won't change. Bulls fans have seen White's ability to put the ball in the hoop, but this season has been a struggle as the shooting hasn't been consistent. Add that to issues running the point guard position, and you have a problem.
Chicago has many pieces in place that can give this team a bright future, but the lack of a true point guard is apparent. That is where Ball comes into play, and he is an intriguing option. Depending on who you talk to, people view Ball as a player yet to reach his full potential or a complete draft bust. I land him somewhere in the middle at this point.
Across his career, Ball has averaged 12.0 ppg, 4,7 APG, and 3.8 RPG.
Those are all great numbers when you are the one running the offense. His most significant issue is much like White's issues this season regarding inconsistent shooting. Take away last season in which Ball shot nearly 38% from deep, and you have a player who shoots 38.9% from the field, 29.1% behind the arc, and a putrid 58.3% from the free-throw line.
Those are all numbers that need to increase for Ball to reach his potential. Despite Ball having yet to prove he can shoot at the NBA level, he still has been an effective player in running the Pelicans offense. Not only does he have size for a PG, but he does a great job of getting to the rim and kicking the ball out to shooters. Given how fast-paced the Bulls offense plays, Ball's overall offensive play could improve with more chances to get everyone involved.
After failing to reach a contract extension last season, Ball will enter free agency this year. When that happens, more teams will be interested, and the price will be too much for the Pelicans and probably the Bulls to have. Chicago's best option to acquire him is to trade for him, but at what cost?
Chicago would not be wise to give up a starter or high draft picks for him, so what could you package? Would sending Otto Porter Jr New Orleans way make sense? After all, Porter is in the final year of his deal and makes the most of any player on the roster.
Sending him away creates lots more possibilities and financial freedom next season. The Ball rumors will be frantic in the coming months, and Chicago will be in the center of it all.