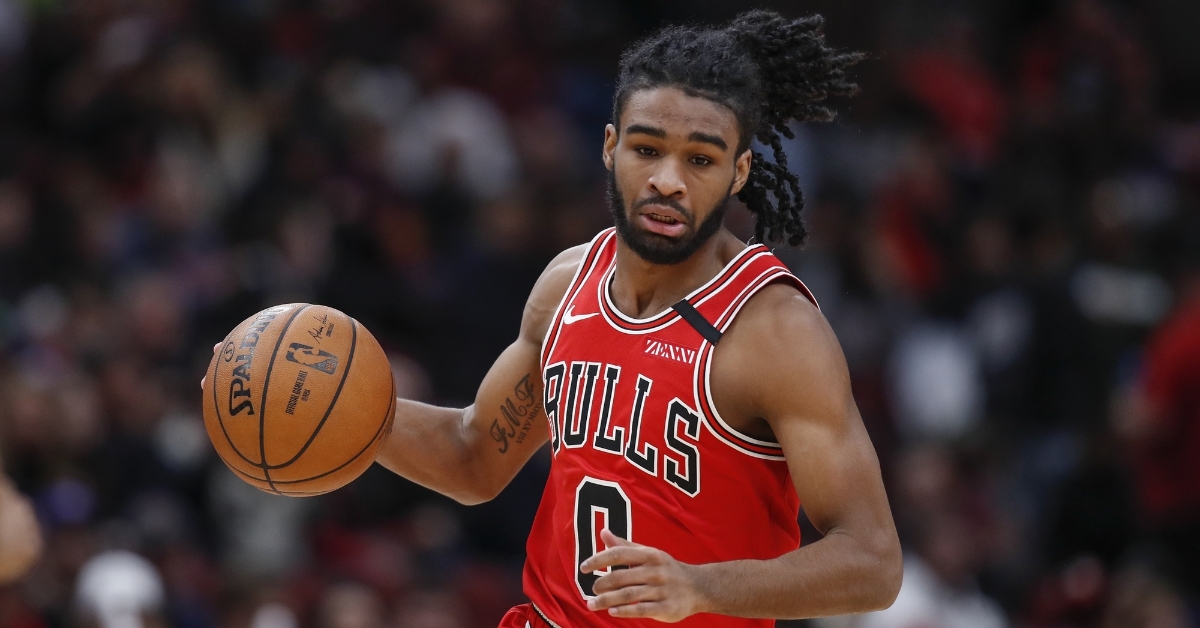 | | |
| --- | --- |
| Bulls News: 2020 Season Grade: Coby White | |
---
| | | |
| --- | --- | --- |
| Friday, April 10, 2020, 9:39 AM | | |
After going through a successful eight-season run that saw the Bulls make the playoffs seven times during that stretch, things have drastically changed as the Bulls have now been one of the worst teams in the East the last three seasons. While a rebuild was expected to some degree after the Bulls failed to cash in with their previous core, no one expected the constant whiffs and misfires from the front office as of late that seems to have halted any real progress of the rebuild stage.
That has led the Bulls to find a home at #7 in the NBA draft as that has been their selection the previous three seasons. While one of those picks, they didn't directly make, they have had some success drafting in that spot. Lauri Markkanen was taken by the Timberwolves in that spot three years ago but was sent to the Bulls in the Jimmy Butler deal. Wendell Carter Jr. was taken in that spot two years ago. While Markkanen took major steps back, this season and Carter hasn't been healthy for a full season last years #7 pick appears to be the real deal and could be the franchise building block long term.
That player happens to be rookie PG Coby White as he made quite an impression during his rookie season. Coming off a dynamic freshman season for the University of North Carolina in which he averaged 16.1 PPG, 3.5 APG, and 4.1 APG for the Tar Heels, White elected to forgo any more eligibility and declared for last years draft. While falling to the Bulls at #7 appeared to be a steal at the time, no one would realize how much of a steal it indeed was until White got on the floor this season.
Right from the very first Summer League game, you got a sense of the type of player White could be in the NBA. A fast, quick, shifty, and energetic guard who had a scorer's first mentality and could take over games with his range. Known for his speed in transition in college, White showed much better shooting touch during his first NBA season shooting nearly 40% from beyond the arc this year and giving the Bulls a spark off the bench they desperately needed.
For the season, White played in 65 games, seven which were starts, and all seven of those starts came during the final two weeks of the regular season. For the season, White averaged 13.2 PPG, 3.5 RPG, and 2.7APG all in just 26 minutes per contest. While those numbers are outstanding for not only a rookie but a primary sixth man/bench rookie, his numbers once he went to the starting lineup is where your impression on White changes.
Over his final ten games of the season, seven which were starts, White went on to average 26.1 PPG, including three consecutive 30-point performances with a career-high 35 points in the process. White failed to reach 20 points just once over that stretch with 19, but once inserted into the starting lineup, he indeed showed how dynamic he could be.
Not only did his scoring go up, but his shooting percentage and overall feel for the game improved as well. Granted, that was always going to happen with the more experience he got, but seeing what he could do as a starter makes me wonder why it took so long for him to be inserted into the starting lineup, to begin with. Had the NBA known this was the type of production White had the potential to give, there is no way he would have slipped beyond the fifth pick. As of now, the Bulls should consider themselves lucky to have him and should use him as the building block for the future.
Season Grade A: How can you not give White an A, especially after what he did over the team's final ten games. Yes, he had some streaky shooting performances at times. Yes, he made a lot of rookie mistakes and turnovers, but that is all part of learning the speed of the NBA game. The bottom line is White is a playmaker, scorer, and game-changer with the ball in his hand. Not only does he not hesitate to pop a shot, but his range got better as the season went on.
His court vision does have to get a little better, but the speed that he plays with makes it hard for teams run with him, which could be the team's new offense heading into next season. While Tomas Satoransky may have been signed to be the starting PG last year, there is no feasible argument you can make to tell me that White shouldn't be the starting PG next year and for the long term. Unless he is hurt, or the Bulls get a guy like Russell Westbrook, White is the PG the Bulls have been looking for since Derrick Rose flashed his MVP form.