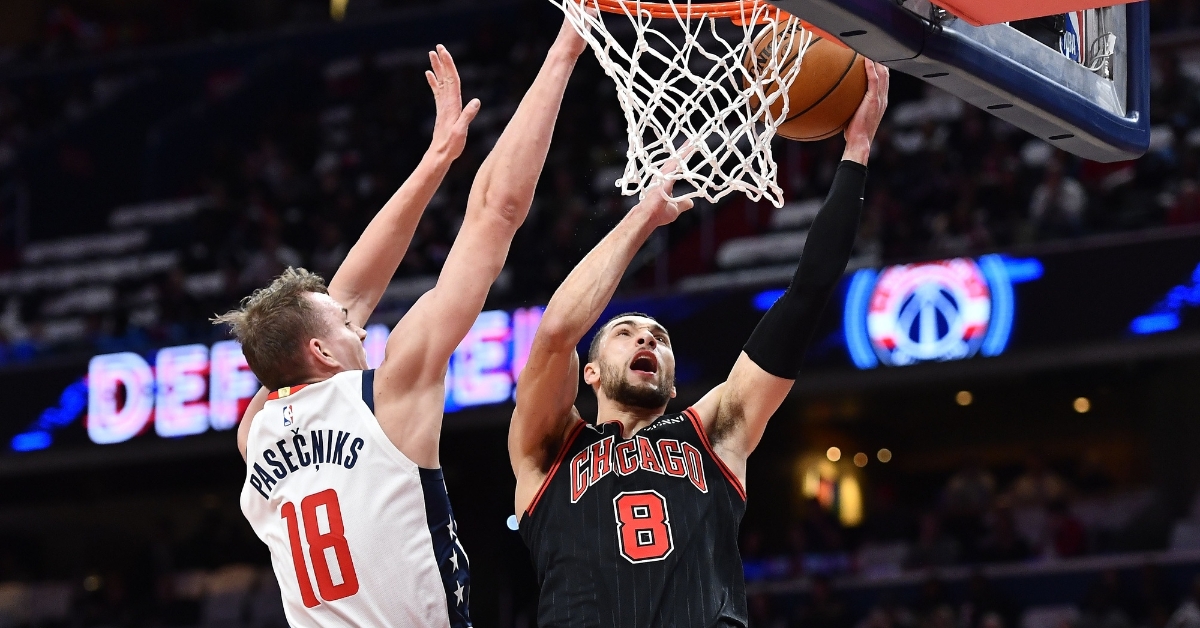 | | |
| --- | --- |
| All options on the table for Bulls | |
---
| | | |
| --- | --- | --- |
| Friday, October 9, 2020, 2:59 PM | | |
Upon taking the job as the Bulls new President, Arturas Karnisovas had a lot of work to do. That started with finding a new GM and hired Marc Eversley. Then it was finding a new head coach, and in comes Billy Donovan. Karnisovas and company now shift their focus to the roster as they look to see what they have.
As of right now, the Bulls are a few years away from contention, but bringing in a guy like Billy Donovan can certainly speed that up. Chicago doesn't have many stand out stars, but they have Zach Lavine and a cast of young stars who could make for an impressive core. Well core or not, it looks as if the Bulls new regime is willing to discuss trades with everyone as no name is safe on this team right now.
Immediately when you see something like that, it has the sense of another rebuild. However, Eversley has said how much he likes the pieces here and wants to view this as a retool, not a rebuild. If that is the case, why is everyone on the table to be traded?
Well, for starters, putting everyone on the table gives the Bulls a chance to rebuild this roster the way they want. They won't get rid of everyone, but it gives them a chance to see what they could get for Lavine and others, which could help this team moving forward. With Otto Porter set to take on a considerable option this season and other players nearing the end of their deals, the Bulls are in a position to unload and retool to better position themselves.
The consensus feeling is that this team is not going to go through very much change. Given their financial limitations right now and a new coach coming in, the front office may want to give their younger players more time to see what they can do with a new coach. Despite that, given what we have seen from Karnisovas in the past on draft night, we shouldn't rule out that many changes could ultimately come if it makes the team better.
One name that seems most likely at some point this season is Otto Porter. Since coming to Chicago, Porter has battled through injuries and has seen just 24 games of action. A good player when healthy, Porter has a 28-million-dollar player option, which he will take. That will make him the highest-paid player on the roster. Given the risk health-wise, the Bulls may not want that burden on their shoulders all season.
Another name to watch could be Wendell Carter Jr. Yes, I understand that Carter was a first-round pick two years ago, but he hasn't been healthy much like Porter. When healthy, Carter has shown flashes of greatness, but he is very undersized for a center and, in my opinion, is playing out of position. I would like to see him move to the four and see if his production increases. If not, he is a name that should fetch an excellent package.
Lauri Markkanen is another name that may come up a lot this offseason. Another first-round pick, Markkanen, took significant steps back last season after showing excellent skills in his first two years. At 7-1, Markkanen is ideal size for a center, but his skill set lands him as a stretch forward. Again, swapping Markkanen and Carter could be a good move if it somehow works in their favor.
The name that no one wants to hear is Lavine as he has been everything the Bulls could have asked for and more. Since coming to Chicago, Lavine has transformed himself from a pure dunker to an all-around scorer. That allowed him to sign a four-year 78-million-dollar deal to remain in Chicago. Knowing that Lavine has two years left and the roster's current state seeing him dealt would hurt but shouldn't come as a surprise.
He is the best scorer on the team, but his contract is reasonable when you look at some of the game's elite guards. That would allow for teams to not only take on his salary, but the Bulls would receive a lot in exchange for him. That is something that fans wouldn't want to see, but if it helps this team in the future, don't be shocked.
Karnisovas wants to win not just now, but for a long time. The staff he is putting together has the same viewpoint, and they will do whatever needs to be done to win. If that means getting rid of some of their young pieces to help the team, they will do it. All I can say to Bulls fans would be patience as the Bulls will be relevant again.