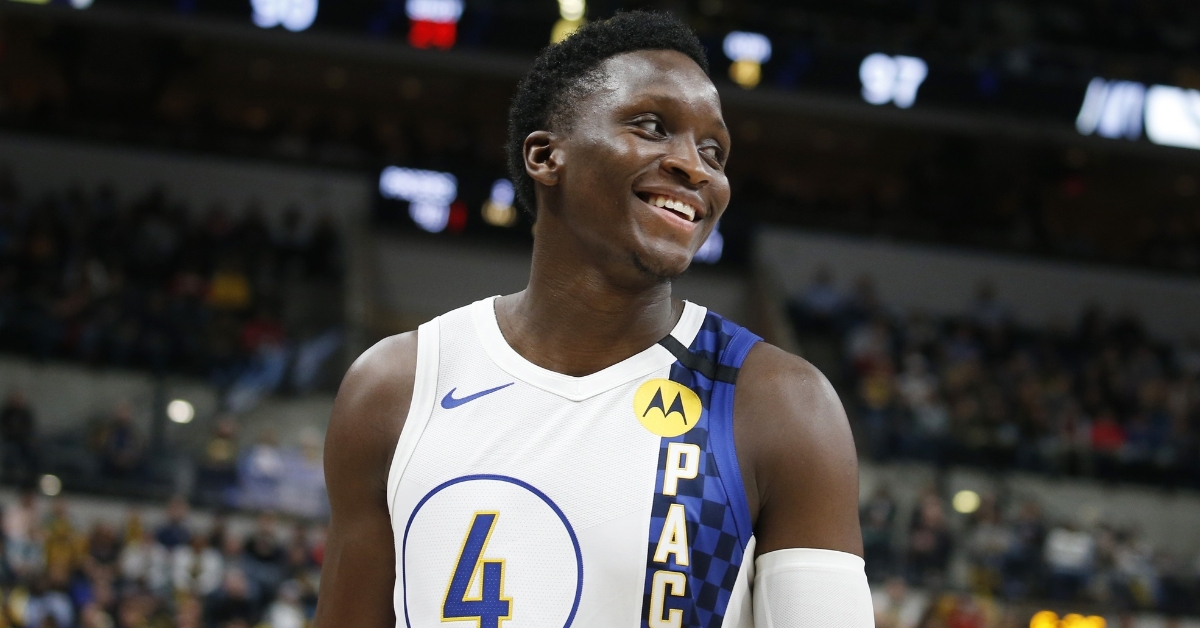 | | |
| --- | --- |
| Are the Chicago Bulls targeting Victor Oladipo? | |
---
| | | |
| --- | --- | --- |
| 2020-07-07 11:31:57.0 | | |
With the NBA starting to get underway, at least we hope it will be Chicago finds themselves as one of eight teams that will not be battling it out for the postseason. With that being said, the most Bulls chatter we have heard over the past few months has been regarding the front office and now a potential new head coach on the horizon.
However, Chicago is starting to make some more headlines as recently as Sunday when they have been linked to the Indiana Pacers for a possible Victor Oladipo trade. For a team that is in a rebuild, that may not be a wise choice, but for this new management group finding a potential trade target to buy low on for the right price would be a great decision.
Make no mistake about it, ever since Oladipo arrived in Indiana he has transcended himself into an elite player much like Zach Lavine did when he arrived in Chicago. After player solid, but not elite basketball with Orlando, Oladipo has turned himself into not just a premium scorer, but an all-star for the Pacers. That was until a scary fall shattered his knee and kept him out of action for over a year.
Now on the mend and on the verge of being 100% healthy once again, people are starting to wonder what a possible return to Oladipo's all-star form could look like. This may seem like a far fetched idea to trade perhaps your best player on the roster, but recent reports have made it clear that it most definitely is a possibility, and the Bulls know all too well what Oladipo can do when healthy. Could this be a move that a rebuilding Bulls team is willing and ready to make?
Earlier this season, we were informed that contract extension talks between Oladipo and the Pacers stalled, especially after signing Malcom Brogdon to the deal he got. With Oladipo's contract expiring following next season, the Pacers are strongly considering trading him away to at least get something back in return rather than lose him for noting in the highly coveted 2021 free-agent class.
What makes the contract talks so difficult in Indiana is the number of other standout players that the Pacers are looking to lockdown. Young like Myles Turner, Domontas Sabonis, and Brogdon are all critical pieces for the Pacers' future, so they are going to have to make a choice on which ones they view more valuable at this point.
Given that Oladipo is still recovering from his devastating injury in 2019, he is not close to his old self, which may give the Pacers an easy out to not bring him back. That is another tricky situation for Indiana because they cannot wait forever for him to get healthy, but they want to be patient enough to see if he can return to that level of play. While the two sides appear to be in a wait and see mode right now, this could allow other teams like the Bulls to check in on what a price tag for Oladipo would cost.
The second part of this, which could be in the Bulls favor, is that the Pacers will be without Oladipo once their season resumes as he is staying home to rest his body. That means teams will have to wait for an entire offseason to see him on the court again and see how much more he has improved. In 13 games since returning this season, Oladipo was far from his normal self-averaging 13.8 PPG, 3.2 RPG, and 3.0 APG. Those would be great numbers for a bench player, but not for a starter.
If the Bulls are indeed interested in trading for him, the question remains who they would part ways with. Ideally, if Oladipo was healthy, you can expect Lavine to be a foregone conclusion considering how they play the same position, and Lavine is under contract for two more seasons. Without knowing if Oladipo will return to form, I don't think Lavine would be an option, but we could see players like Otto Porter Jr and or Thadeous Young be names that are tossed around.
If the Bulls find the right deal to make, what position will Oladipo play? He is a guard who can handle the PG duties, but given what we saw from Coby White at the end of the season last year, I want him to get a fair shot as the starting PG and go from there. Then you look at the SG position, which is occupied by Lavine, and unless something drastic happens, that is Lavine's job to lose, leaving Oladipo as a bench player.
That wouldn't fly with Oladipo, and chances are he would clash with both Lavine and the coaching staff if he were subject to the bench. The Bulls could do what the Rockets to get the most out of him by going with a small-ball lineup. If that is the case, you would see a lineup of Lauri Markkanen and Wendell Carter Jr. in the frontcourt with White, Lavine, and Oladipo occupying a three-guard backcourt. That would not only take the pressure off Lavine but would give the Bulls that secondary offensive threat that they have desperately been searching for.
Like said, this is all just smoke and mirrors at this point, and nothing is even close to being finalized. However, when you have smoke, there usually is fire. If the Bulls new and improved front office wants to make a splash, now would be the time to do so. Keep an eye on this move as the offseason gets closer.