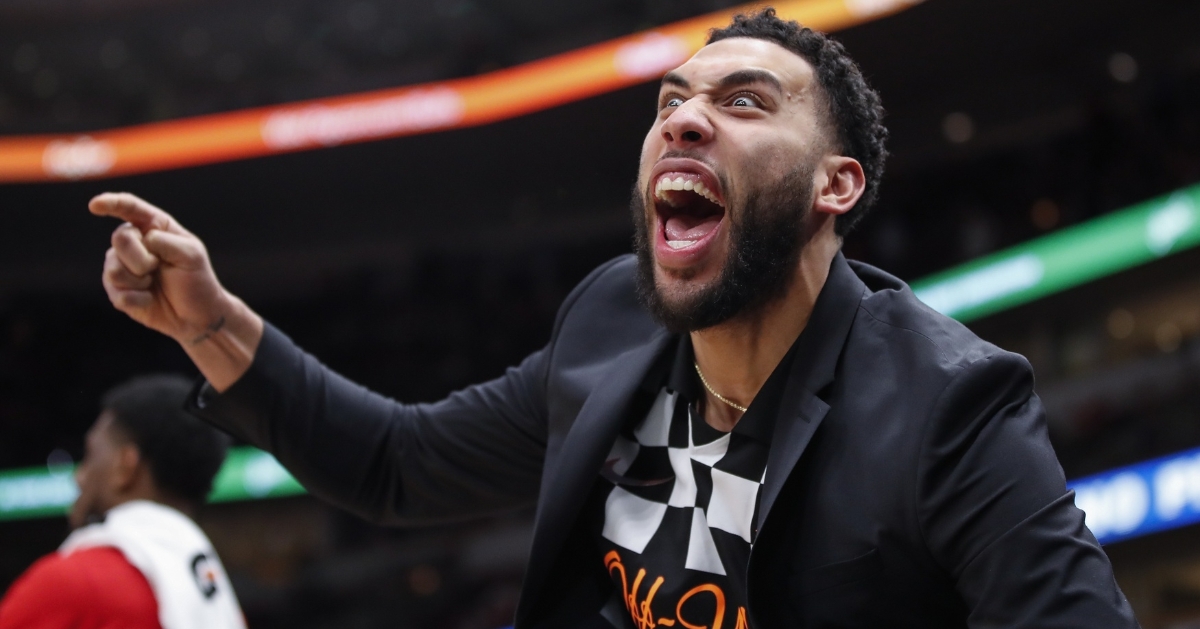 | | |
| --- | --- |
| Bulls News and Notes: Bulls lose fourth straight game, Adam Mokoka, Retro Bulls, more | |
---
| | | |
| --- | --- | --- |
| Sunday, February 9, 2020, 9:42 AM | | |
The Chicago lost their fourth straight game in the 125-119 loss to the New Orleans Pelicans on Thursday.
Zach LaVine finished with 22 points while Chandler Hutchinson helped out with 16 points and 8 rebounds.
Adam Mokoka had 15 points in only 5 minutes of action going 6-for-6 from the field.
"My mother just got here today (from France)," he told reporters. "To score in front of her to play against this team and make my first (NBA) bucket in front of my mother is a blessing."
Final in Chicago.

Adam Mokoka puts up 15 points in 5 minutes of play, shooting 6 of 6 from the field. pic.twitter.com/36UP27n0Zn

— Chicago Bulls (@chicagobulls) February 7, 2020
5 minutes.
15 points.
6/6 au shot, 3/3 à longue distance.

Adam Mokoka ????

Depuis 1955, aucun joueur n'a inscrit +15 PTS en 5 minutes de jeu.#BullsNation | @ChicagoBulls pic.twitter.com/AGqAND1sLV

— NBA France (@NBAFRANCE) February 7, 2020
Next up for the Bulls is the Philadelphia 76ers on Sunday at 5pm CT at the Wells Fargo Center.
John Paxson and Co. didn't make any moves during the Trade deadline and many Bulls fans are upset on social media:
#firegarpax #fireboylen pic.twitter.com/IohV6f9K5O

— Dr.i832 (@Dr_i832) February 7, 2020
I've been to a Bulls game in Chicago one time since January 2017.

I'm a lifelong Bulls fan and live in the city.

The Reinsdorfs, Gar Forman, and John Paxson have made me take a stand to not give them money.#FireGarPax

(saw them lose in Phoenix and Milwaukee in this timespan)

— Tankathon.com (@tankathon) February 7, 2020
I have been to 11 combined Chicago Bulls and Windy City Bulls games this season. They are 0-11 in those games. And no it's not my fault. ??

— Sam Panayotovich (@spshoot) February 9, 2020
Check out this recreation of the 1988 Slam Dunk contest between Michael Jordan and Dominique Wilkins:
The Bulls Elevators dunk team recreated the 1988 Slam Dunk contest between MJ & Dominique Wilkins ???? pic.twitter.com/aoD4ftkFuE

— Chicago Bulls (@chicagobulls) February 7, 2020
These retro Nike Air Force 1 Jewel colorway is a tribute to the 1997 Bulls:
This Nike Air Force 1 Jewel colorway pays homage to the 1997 Chicago Bulls pinstripe uniforms https://t.co/OcqKyxdUDt pic.twitter.com/QlyO5rvl2w

— Sneaker News (@SneakerNews) February 7, 2020
More shoes that are Bulls related:
The Nike Kyrie 6 Trophies Celebrates the Chicago Bulls' 1996 Championship - https://t.co/vzoYT5jh8T pic.twitter.com/lHKctteThw

— KicksOnFire (@kicksonfire) February 9, 2020
Chicago native Jannero Pargo is getting another shot in the NBA:
Chicago native and brother of Bulls legend Jannero Pargo getting another shot at the league at age 33. Very cool. https://t.co/ULKh4GKcBX

— Matt Peck (@Bulls_Peck) February 7, 2020
A few Michael Jordan tidbits:
My all-time favorite Michael Jordan fact:
30 steals with the Birmingham Barons in 1994

Then he returned to basketball and had..

30 steals with the Chicago Bulls in 1994-95 pic.twitter.com/Gkhm9Kd1sY

— Christopher Kamka (@ckamka) February 7, 2020
This week's Rising Player is Bulls guard Coby White:
Coby White handed out a career-high nine assists on Thursday, the most by a Bulls rookie since Derrick Rose in 2009. He also recorded his 30th double figure scoring game of the season, the second-most among rookies coming off the bench.

This week's @Calamos Rising Player: pic.twitter.com/JxTzr93a33

— Chicago Bulls (@chicagobulls) February 8, 2020
Kobe Bryant and Michael Jordan in the same All-Star game in 1998:
"This may be as close to a torch-passing as we see."

Kobe Bryant made his All-Star game debut while MJ played his final ASG as a Chicago Bull on this day in 1998. pic.twitter.com/7pGPUp1NSm

— Chicago Bulls (@chicagobulls) February 8, 2020