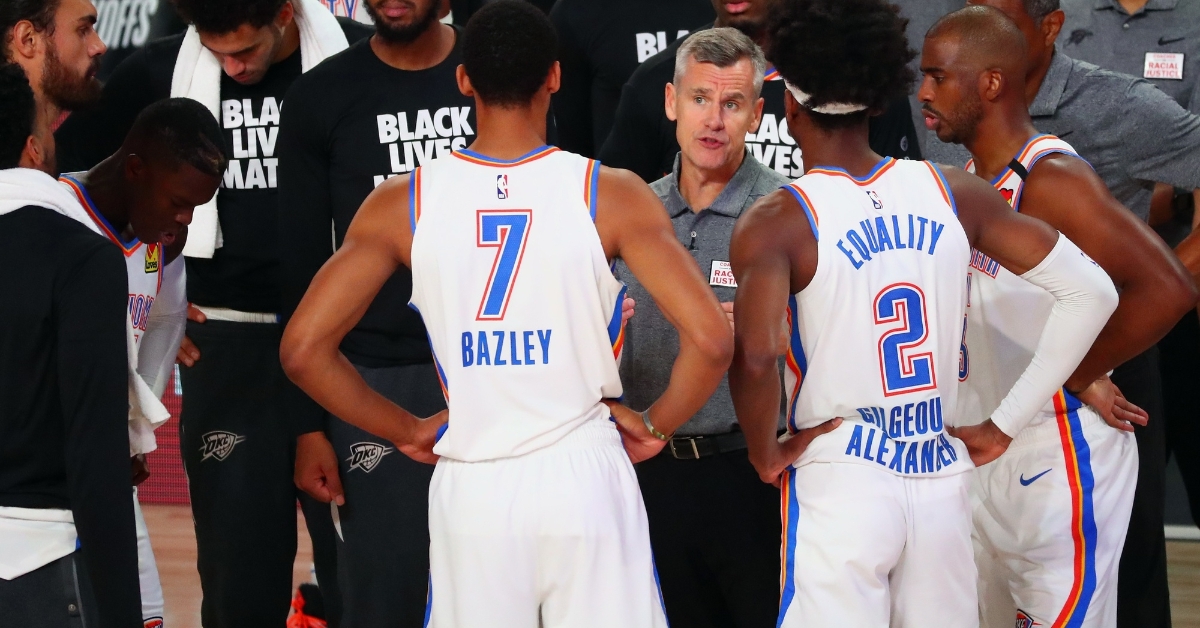 | | |
| --- | --- |
| Bulls have Their Man in Billy Donovan | |
---
| | | |
| --- | --- | --- |
| 2020-09-30 12:13:34.0 | | |
Yesterday, news broke that the Bulls hired their next Head Coach. Earlier in the week, it was reported that Ime Udoka, Wes Unseld JR, Darvin Ham, and Kenny Atkinson appeared to be the front runners for the open position. While those names may have been in consideration, Billy Donovan gets the gig as he has agreed to become the Bulls, next head Coach.
After leading Oklahoma City to the playoffs this season and losing in seven games against Houston, Donovan elected to not take a contract extension with the Thunder, thus letting him hit the open market. While many viewed top assistants as the most likely destination for the Bulls, Arturas Karnisovas and CO elected to go with success over youth and plucked Donovan up before anyone else could.
This was the candidate that I wanted the Bulls to grab, and the front office decided to go in this direction, signaling the beginning of a new era. Donovan has six years of NBA coaching experience under his belt with the past five seasons as the Head man for the Thunder. Donovan was also an assistant on the Knicks bench in 1987, but the past five years is where he made his name.
Five years' experience certainly doesn't sound like the most experienced person, but looking at what he did the past five seasons with OKC, Donovan has proven that he can lead a franchise. During his run with Oklahoma City, Donovan never had a losing season winning 44 games or more each season. After averaging 48 wins or more the first four years, his team dropped to 44 games this season but still managed to earn a five seed in the postseason bowing out in seven games to the Rockets. Donovan has accumulated a 608-winning percentage as an NBA Head Coach.
Before becoming an NBA head coach, Donovan was one of the more successful NCAA coaches in the Country after starting as an Assistant for Kentucky. After five seasons on the Bench, Donovan became the youngest coach in the NCAA in 1994, where he took the lead of the Marshall Thundering Herd. Across his two seasons in Marshall, Donovan posted a 35-20 with one conference championship.
Donovan made the biggest name for himself in 1996 when he left the Thundering Herd to join the Florida Gators. Donovan led the Gators for nearly two decades, patrolling the sidelines for 19 seasons in Gainesville. While leading the Gators, Donovan posted a 467-186 record, good for a 715-winning percentage. That included a 202-109 mark in the SEC, which was anchored by Seven SEC conference titles.
Donovan also had a knack for NCAA tournament success as the Gators made the tournament 17 times across his 19 seasons with just his first and last seasons with the team as the lone years, they didn't make it. Not only did Donovan make three final fours with back to back NCAA titles, but he made seven sweet sixteen appearances with six elite eights. Donovan certainly has the resume to make the Bulls relevant again.
A large part of Donovan's success has been the players he has had the opportunity to coach. Going back to Florida, where you had the likes of Al Horford, Joakim Noah, and Bradley Beal, to the NBA, where we worked with Russell Westbrook, Kevin Durant, Chris Paul, Paul George, and others. He knows what elite players look like and knows how to coach and build up a roster.
That is precisely what he is going to have to do with this Bulls roster. Sure, the Bulls don't have players like Durant or Westbrook on their roster. What they do have is youth, led by a budding Zach Lavine who is looking for a second and third scorer. The youth is in place; now, it is time for a leader to bring the youth together.
The moment Donovan left OKC, his name quickly became the most sought out name among available coaches. However, his services will not come cheap, and the Bulls knew that when they decided to bring him in. Teams like Philadelphia and Indiana have win now rosters and may have been better short-term solutions for Donovan, but the Bulls roster has the potential to be great long term.
Donovan is a proven winner and has shown that ever where he has gone. The Bulls are an organization hungry to win. This seems like a match made in heaven. With Donovan now at the helm, Chicago suddenly goes from a team in rebuild mode to one on the cusp of playoff contention with a few moves. Chicago may have an opportunity to be big players in the free-agent market, as I'm sure there are plenty of free agents who would love to play for Donovan.
We have seen how the new regime is handling business since taking over, and they mean business. This was the biggest decision they have had to make thus far, and get no less than an A grade for the decision. They proved they are in this win it and took a huge step achieving those goals yesterday.