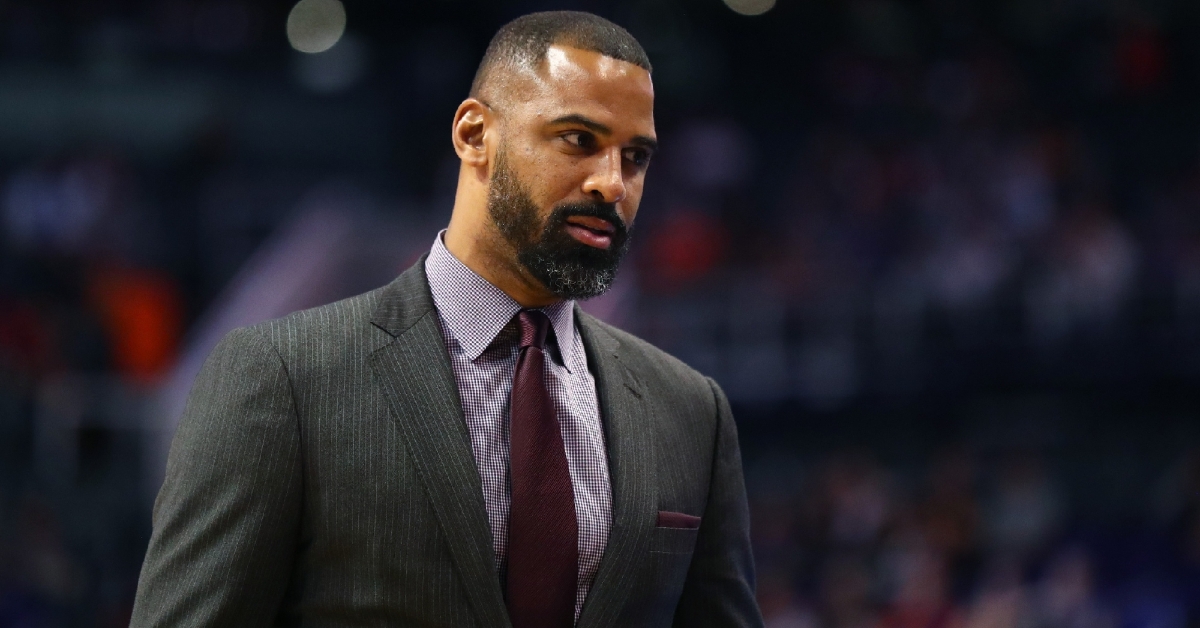 | | |
| --- | --- |
| Bulls News: Coaching Profile: Ime Udoka | |
---
| | | |
| --- | --- | --- |
| Wednesday, September 9, 2020, 12:47 PM | | |
When you talk about top assistants ready to lead a franchise, Ime Udoka is a name that comes to mind. The current assistant for the Philadelphia Sixers is among the names the Bulls are inquiring about and is a highly respected name across the NBA landscape. The problem I see with this hire is what is going on in the Philadelphia organization. With Brett Brown no longer leading the team, Philadelphia may offer the job to Udoka.
Udoka is one of the hot assistants on the open market, looking for his first head coaching gig. As a former coach under Greg Popovich with San Antonio to the Sixers' current assistant, Udoka has been under the tutelage of one of the best coaches in NBA history and a coach that came from the Popovich tree. Not to mention, he has some experience with the US National Team, and you can see why his name is a hot commodity right now.
Udoka doesn't have as much experience as some of the coaches on the Bulls list in terms of experience. The experience he does have from the coaches he has worked under is top-notch. Udoka also has playing experience under his belt, where he spent a decade overseas before finally making his way stateside.
Following the final stop of his playing career in San Antonio, Udoka then went on to work for the Spurs from 2012-19. As part of Popovich's staff, Udoka earned the seal of approval, which is of excellent standing coming from Popovich. That allowed him to move to the Sixers this past offseason to become their top assistant, and now he could be in line to coach his first-ever franchise.
Udoka was not a known commodity in the past, but after helping the Spurs to their 2014 title, he has slowly worked his way onto the head-coaching radar. Many people expected him to get a job last offseason, but instead went to the Sixers bench for one season under Brown and will now be sought after for more job opportunities.
The move to Philadelphia was to make Udoka the top assistant for Brown. Not only that, but he is also one of the highest-paid assistants in the league and signed a three-year contract in the process. Despite that three-year contract, there is a chance Udoka could be out the door for another franchise unless Philadelphia does have the intention of making him their new coach.
Udoka only has two stops under his coaching resume thus far, but when you spend eight years with one of the best coaches of all time, that is equivalent to 20 years of experience. If he wasn't a good coach, there is no way he stays on Popovich's staff that long before becoming one of the highest-paid assistants in the game.
Not only are the Bulls considering him for the job, but Udoka had an interview with the Knicks before they signed Tom Thibodeau. Udoka is also under consideration for the Pacers, Pelicans, and the Sixers, among others. That list could get longer over the next few weeks, so expect his services to be highly sought after.
Even if other teams join the mix, which is certainly a possibility, the Bulls and the Sixers are the two teams to watch in terms of hiring him. Not only has he been on the Bulls radar since early April, but he emerged as the favorite for the Bulls job in June even before Jim Boylen was fired. That right there shows you how much the Bulls organization likes the man.
I know as fans, you may want an experienced coach over a first-time coach, but Udoka is a good fit. Not only does he have a relationship with current Bulls GM Marc Eversley, but Udoka knows what a winning franchise looks like. He also knows what a team filled with young stars look like, so he can bring a lot to the table.
The thing that wants me to urge on the side of caution is that not all of Popovich's staff have been successful. Remember, Boylen worked under him in San Antonio also, and we saw how that worked out. With that being said, Udoka does fit the mold of what the Bulls are looking for in a head coach.
Arturas Karnisovas wants someone who will not only coach and develop these players, but someone who can communicate with them on a more personal level.
Udoka is not only a former player, but at just 43 years old, he should be able to gain immediate respect from a younger roster. While his player development skills may not be as good as other coaches, Udoka does have a way to motivate his guys, and that alone is a big positive.