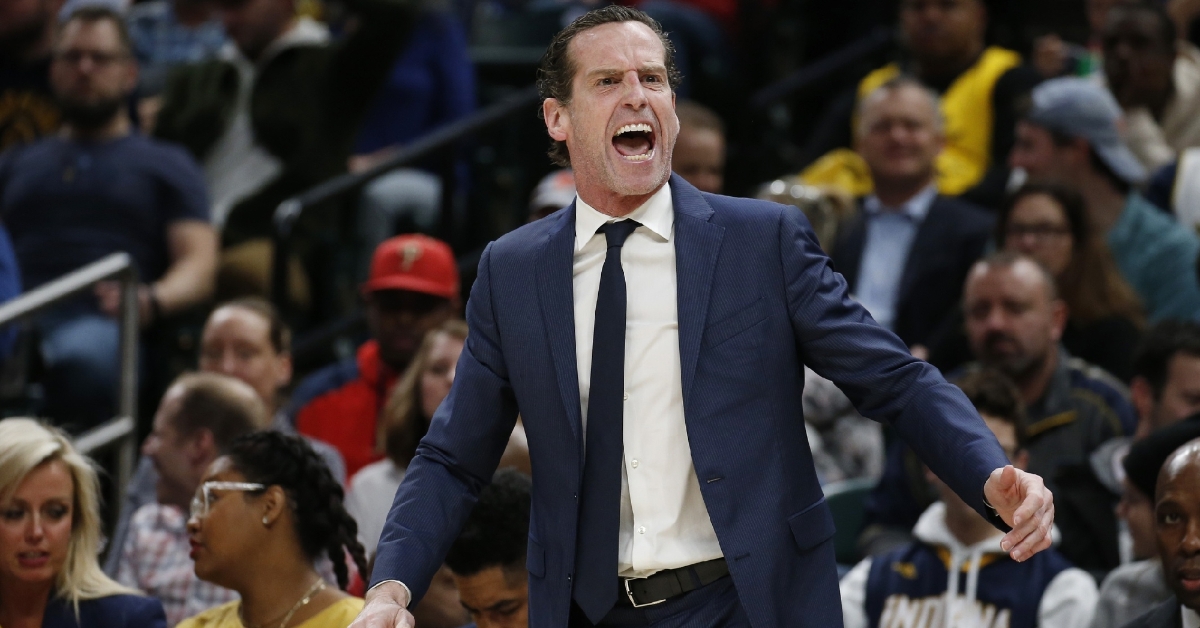 | | |
| --- | --- |
| Bulls News: Coaching Profile: Kenny Atkinson | |
---
| | | |
| --- | --- | --- |
| Tuesday, September 8, 2020, 1:18 PM | | |
The Chicago Bulls have an opening for their next Head Coach, and it will be a highly sought-after position. Not only are they in a big market, but the Bulls will have some money to spend soon, have a young roster ready to compete, and have a historic franchise that anyone wants to be a part of.
Taking all those factors in place, this seems like an ideal situation for a rising assistant to come in and make their mark as a head coach. The problem I see is this. Chicago is in the middle of a rebuild that may be restarting before finishing. Would you want to put that kind of pressure on a first-year head coach?
While most of the talks surrounding the Bulls Head Coaching vacancy are circling assistants, some former NBA Head Coaches are looking for work whose names may be popping up. One of those names is that of former Brooklyn Nets Head Coach Kenny Atkinson as I expect him to be one of the favorites for the job.
For those unfamiliar with Atkinson, he was released by the Nets on March 7th of this year following the team's 139-120 win over the Spurs. Not only was that a harsh decision, but when your star players Kevin Durant and Kyrie Irving missed more games than they played and D'Angelo Russell no longer with the organization, this seems like a management issue more so than a performance issue.
Not only was Atkinson surprisingly fired, but he had the Nets battling for a postseason spot, so it wasn't like he was doing a horrible job. Atkinson knows all about rebuilding a franchise, which is why I think he would be an ideal fit for a team in rebuild mode. In his three-plus seasons with the Nets, Atkinson put on full display what it means to rebuild.
His first season saw the team win just 20 games and finish with the eastern conference's worst record. Only two seasons later, Atkinson took that same team to 42 wins and the sixth seed in the east before bowing out in the first round in the playoffs. This year was not as successful as last season, but Atkinson had his team in position to make the postseason once again. That would have been a massive accomplishment given what this roster was lacking this season.
The more the Nets improved this season, but over the past three years, the more Atkinson's reputation as a player development type of coach began to take center stage. With a young roster of their own lacking identity, this would be a must in the hiring process for the Bulls. While many people loved Atkinson and what he did with the organization, a lot of talks circled both Irving and Durant as a big part of his departure. The team went from rebuild mode to win-now mode, so maybe they wanted a coach who knows how to win.
Before taking the Head Coaching job in Brooklyn, Atkinson served as an for Mike Budenholzer in Atlanta. He was on the bench for four seasons in Atlanta and watched the Hawks make the playoffs every season. That right there not only taught him the experience he needed, but he learned the player development process also. Atkinson also worked under Mike D'Antoni in New York, so he has learned from two successful minds.
Atkinson certainly doesn't have the eye-popping experience that you look for in some head coaches from an experienced side of things. Instead, he has years of experience from Coaches who have been doing this their entire life. He also has the reputation of being great at player development, something Jim Boylen lacked during his tenure. The Bulls have talent on this roster, but the talent has developed the way anyone expected. Maybe Atkinson can be the guy to get them to take that next step.
This is a team built on young talent, and the Bulls need a mind that can tap into that talent and help them reach their full potential. Atkinson proved he could do that with players like Russell, Jarrett Allen, Caris LeVert, Joe Harris, and Spencer Dinwiddie as he turned them into all-star type players. There is no reason he wouldn't be able to do that here.