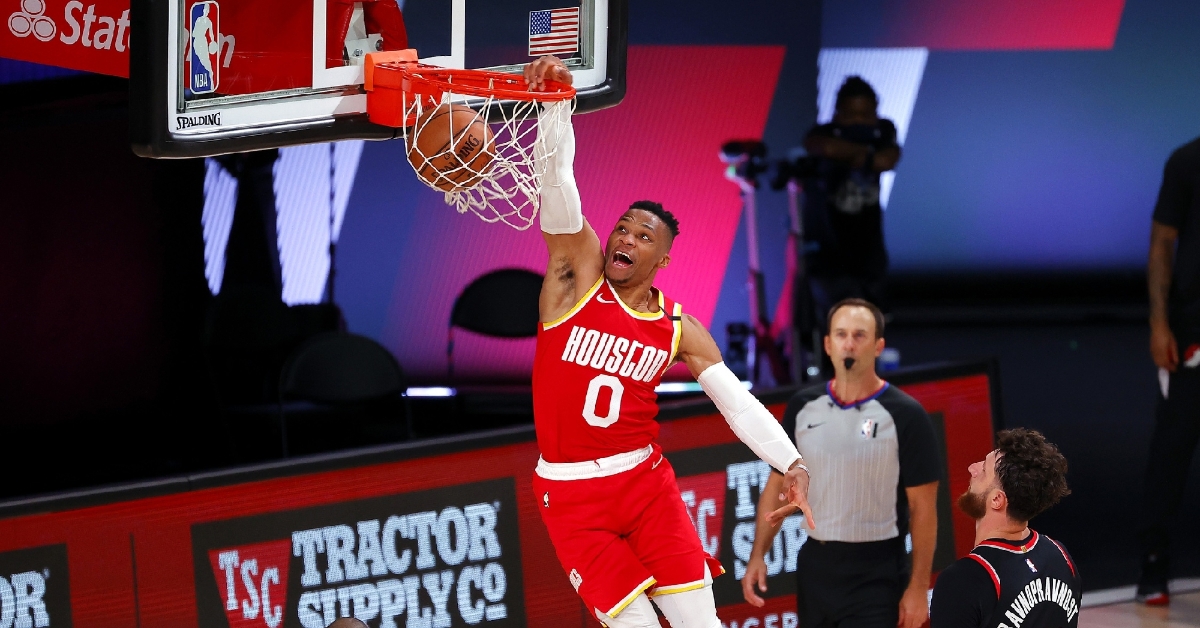 | | |
| --- | --- |
| Bulls News: Could Russell Westbrook reunite with Donovan? | |
---
| | | |
| --- | --- | --- |
| Thursday, November 12, 2020, 10:15 AM | | |
This NBA offseason for the Rockets has been turned upside down.
After putting together another strong season with Houston, Mike D'Antoni found himself without a job as he elected not to sign an extension with the Rockets. A few weeks later, the then GM Daryl Morey found himself heading to Philadelphia as the Rockets went through a significant shakeup.
That shakeup has now trickled down from the coaching staff to the players as some of the Rockets' current roster want out of Houston.
The most notable of those names is Russell Westbrook, who is looking for a fresh start after just one season in Houston.
Westbrook is a polarizing star in this league who has been one of the best and most popular players over the past decade. He is freakishly athletic for a point guard and does things on the court most guards can't. Not only is he a big-time scorer, but he knows how to pass and rebound as he is averaging close to a triple-double across his career.
While the Rockets don't necessarily have to trade him away, given Westbrook's request, it seems very likely they will have no choice but to let him walk and get something in return. This news was made public days after James Harden expressed his desire to stay put and backs whatever new regime is coming in. Westbrook doesn't feel the same.
With Houston about to enter a new era, news about Westbrook wanting out should be a surprise. The Rockets brought in Westbrook to pair with Harden in hopes of becoming an offensive force in the Western Conference. That didn't happen as Houston struggled to make it past OKC in the first round before bowing out to the Lakers in five. They still managed to take fourth in the West, but that seems extremely lucky.
HBD Russell Westbrook!

? 3-Star prospect in HS
? Freshman backup at UCLA
? 4th pick in the NBA Draft
? 2 x Scoring Champ
? 2 x Assist Leader
? 8 x All-NBA
? MVP
? Averaged a triple-double FOR 3 STRAIGHT SEASONS!!! pic.twitter.com/CKYt4Zoaeq

— Ballislife.com (@Ballislife) November 12, 2020
At this point, there is no clear front runner for Westbrook, but several teams have been listed to have been in contact with him. The Hawks, Hornets, Pistons, Clippers, Lakers, Grizzlies, Suns, Knicks, Heat, and Bucks have been listed reportedly. The biggest surprise shows the Bulls as another team on this list, which makes things interesting.
I don't understand why the Bulls would even be in on this list, especially when you consider the franchise's current state. Maybe this is just a financial fit where the Bulls could make things work with Westbrook. Or could there be more behind why the Bulls are being mentioned?
The one thing to keep an eye on is Billy Donovan is now running the show in Chicago. Donovan was Westbrook's coach for four seasons in Oklahoma City, so the two know each other exceptionally well. Westbrook also had some of his best seasons under Donovan, so there is some continuity there.
Another reason for the fit is that the Bulls need a point guard, precisely what Westbrook can give them.
Not only is he a point guard who can pass and rebound, but he is an elite scorer who would look great next to Zach Lavine and Coby White. He is the type of player that makes everyone around him better, and adding a guy like that to a young roster looking for veteran leadership could go a long way.
When you look at the Bulls current trajectory and their overall cap situation for next season, acquire Westbrook doesn't seem like a good idea in the short run. Arturas Karnisovas likes many of the pieces that the Bulls have in place, so he and Donovan are more focused on developing the players they have over bringing someone like Westbrook in.
Still, it is worth talking about when you consider Chris Paul's name was mentioned a few weeks ago for the same kind of connection to Donovan. Given the position the Bulls are in for the upcoming draft, they have the cards at their disposal to make a big-time move. Maybe that move is trading the No. 4 pick to Houston to acquire Westbrook. Who knows at this point, but what I do know is that Westbrook would look great in a Chicago uniform.