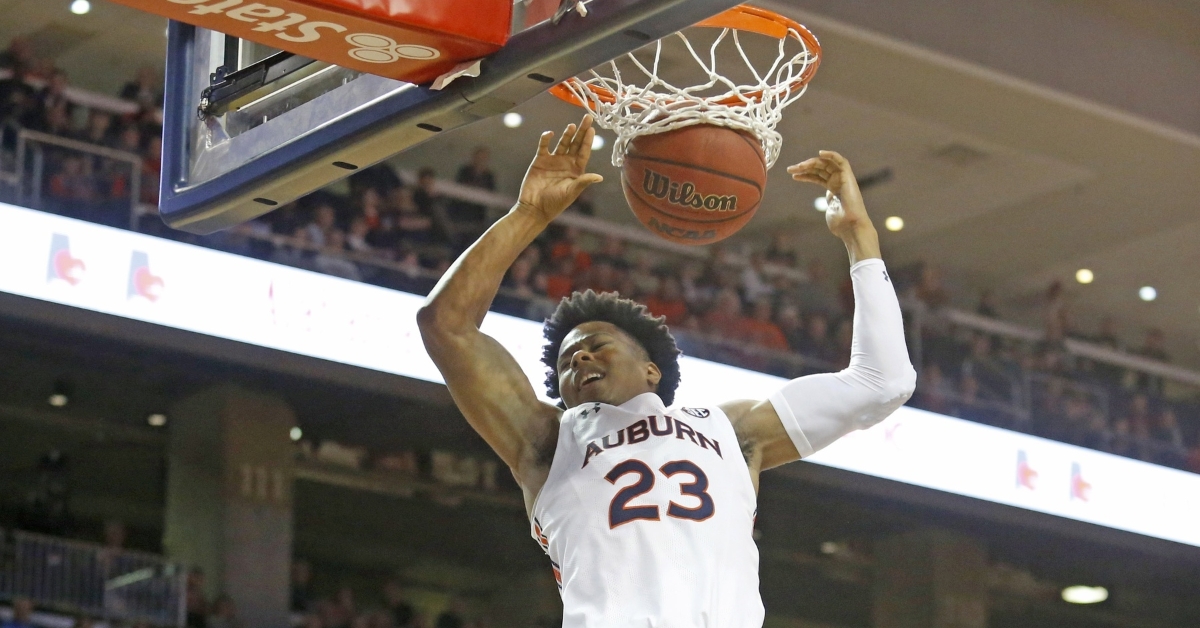 | | |
| --- | --- |
| Bulls News: Getting to Know Draft Prospect: Isaac Okoro | |
---
| | | |
| --- | --- | --- |
| Thursday, September 3, 2020, 12:02 PM | | |
The Chicago Bulls will be entering the season with Otto Porter Jr and Chandler Hutchison as potential candidates for the small forward position. However, Porter Jr is an unknown if he will be back, and Hutchison is not ready to contribute in a starting role. That could leave the Bulls in the market for a new small forward ahead of next season.
There is no better time to fill that need than in the NBA draft with Isaac Okoro from Auburn. A bit undersized when you look at most small forwards in the league, Okoro plays bigger than his 6-6 frame and played a significant role for the Tigers the past two seasons. Okoro has also been linked to the Bulls in numerous mock drafts. The selection does make a ton of sense.
Usually, when I see players linked to the Bulls, I am happy about it when it comes to a position of need, but if Okoro is on the Bulls radar, it would not be a wise selection. Don't get me wrong, I think he will have a solid career, but see him more as a reserve and role player than a starter. Okoro is not as highly skilled as some players in this class, but he can be an excellent defender like Patrick Beverly, which is why the Bulls are linked to him.
Right now, Okoro is a slashing transition type player who some feel could transform into a Draymond Green type of player. Green is a great player in his own right, but look at the surrounding cast he has around him in Golden State. Chicago does not have those weapons, so Okoro may not be able to put his game on full display.
Given the Bulls had a good defensive team last season, they may be looking to form an elite defensive squad moving forward, where Okoro would fit. With guys like Kris Dunn, Wendell Carter Jr., and even Shaq Harrison, adding a guy like Okoro could give the Bulls a physical lineup like the 1990's NBA style.
If that is indeed what the Bulls intend to do, Okoro would be a fit, but Chicago needs to become a better offensive team to make that work. Outside of Zach Lavine and Coby White, at times, Chicago doesn't have anyone who can take a game over. Even if you slow the game down and make teams work, you still need to score points, so Chicago must think about this selection.
As mentioned above, Okoro may be smaller height-wise in terms of small forwards, but his 220-pound frame leaves him with the ideal size to play the forward spot. He is strong with some athletic ability and uses his size to complement his skill set well. If Okoro can get to the rim, he is a strong finisher with either one hand or both. Okoro is also a selfless player and shows a willingness to pass first over scoring.
The problem with selecting Okoro this high is that he is a work in progress and may take a few seasons to reach his potential. They already have some players in Dunn and Markkanen that haven't developed as the Bulls would have liked, so can they afford to wait for another. Okoro has a lot of work to do on his game's offensive aspect unless he gets close to the rim.
His shooting ability needs a lot of work as he made just 28% of his three's last year. Okoro does show some great touch, but that is mirrored by poor shooting mechanics, which often lead to inconsistencies with his shot. Okoro has also struggled at the free-throw line making him a late-game liability. Unless he can prove to be a knockdown shooter, teams will give him open looks all day.
Okoro is a mix of many different players, but two stand out for me. Offensively, I think he is similar to either a Caron Butler or Udonis Haslem. Both players have had lengthy NBA careers as role players who knew their job on a team. At times, they displayed the ability to make shots, but they did what they were asked to do for the most part.
Defensively, look no further than Beverly or Keith Bogans. Both men are known as defensive specialists who look to neutralize some of the best players. Okoro has the potential to be another one of these players. Regardless of the role he plays, he is going to be a work in progress.