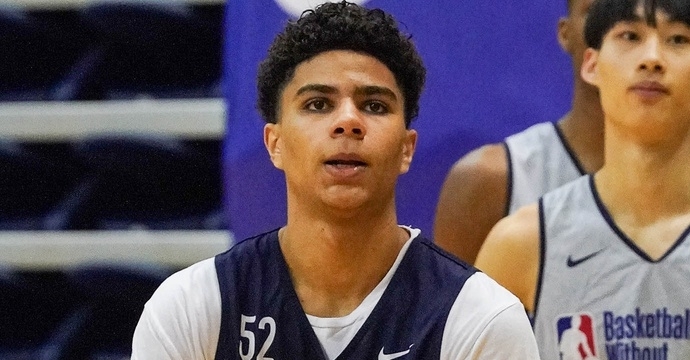 | | |
| --- | --- |
| Bulls News: Getting to Know Draft Prospect: Killian Hayes | |
---
The Chicago Bulls certainly have needs leading up to the NBA draft this season. Some of those needs could be filled via free agency, but if there is one need to focus on in the draft, it would be at the point guard position. Don't get me wrong, the Bulls have some options for a point guard on the roster, but none of them are capable of leading the charge long term.
Enter Killian Hayes from France. The 6-5 international point guard is exactly what the Bulls need in terms of a point guard. We discussed Tyrese Haliburton earlier in this series, and Hayes plays a similar style to his game, only a left-handed version. Hayes is a good athlete but isn't great when you look at some of the point guards in this league. However, he makes up for it with good size as his 6-5 frame would peg him as one of the tallest guards in the game.
Take his athletic ability out of the equation for a minute, and you will see a player with tremendous shooting range and knows how to run a team through a pick and roll style of offense. Unlike most NBA players, Hayes is very left hand oriented and will work off the left side of the floor more often than not. That leads me to believe he could fit into a James Harden mold as a player, but not quite the same scoring mentality.
Hayes is young and may not be quite ready to run an NBA team yet, but he easily could be the future for the Bulls. Should the Bulls draft him, Hayes will most likely come off the bench to start the season but should have no issues growing into point guard instincts with experience. Should the Bulls hang onto Kris Dunn, you could have Dunn acting like a Keith Bogans from a few years ago, giving Chicago a defensive-minded guard to anchor the defense.
Although born in the US, Hayes has spent most of his playing career in Europe, seeing time in Germany and now France. Immediately when you watch his game on film, you notice his ability to score in isolation. Not only is that one of the most challenging things to do, but outside of Zach Lavine, the Bulls don't have anyone who can take you off the dribble and put up points. Not only can Hayes do that, but he can score points in bunches in isolation offenses.
His 210-pound frame allows him to use his shoulders to get by defenders, and he is crafty when doing just that. Left-handed shooters are hard to come by, especially when looking at Point guards. Hayes not only is left-handed but has developed into a great shooter, especially when it comes to the step-back jumper. His sound footwork, excellent ball skills, and the ability to take you off the dribble allow him to create his shot and make difficult contested shots.
As much as like him being left-handed, that is also a glaring weakness for him. He favors that hand way too much. Teams will pick up on that immediately and force them to go right, which could throw him off his game. Another concern for scouts is his inability to hit the open shots consistently. We all know he can pour shots in with the best of them off the dribble, but Hayes has work to do when it comes to catch and shoot situations.
Hayes has been known as a great three-point shooter, but only converted on 18% of his threes in a catch and shoot situation. Given the way the NBA game is played, he needs to get better at that if he wants to make shots in transition. While his shooting is still a question at times, he is lucky to be hitting 91% of his free throws. That right there makes him someone you want on the court late in the game with plans of sinking free throws the stretch.
Despite being a player that may not start right away, Hayes will still be a top 10 pick and could go as high No. 3 or four. Hayes loves to use the pick and roll game, and with guys like Lavine, Otto Porter Jr, Wendell Carter Jr, and Coby White, Chicago could certainly use that to their advantage in creating offense. If you want to look at a current NBA player to draw comparisons, D'Angelo Russell immediately comes to mind as both play with a similar style. Russell has continued to improve his game to emerge into an All-star, a path Hayes could be destined to follow.