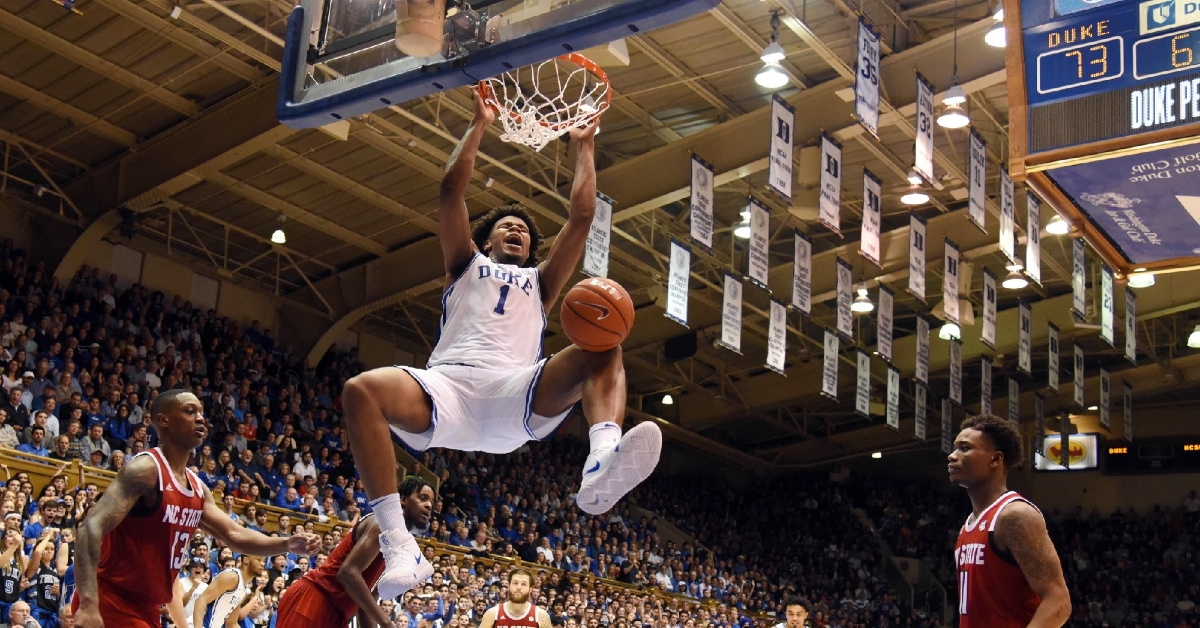 | | |
| --- | --- |
| Bulls News: Getting to Know Draft Prospect: Vernon Carey Jr. | |
---
| | | |
| --- | --- | --- |
| Saturday, September 5, 2020, 2:26 PM | | |
The Bulls have a good center on their roster in Wendell Carter Jr. The problem is, Carter is undersized to be a center and would fit better as a power forward. From a size standpoint, the Bulls have Lauri Markkanen, who could slide into the center, but his game is more suitable as a stretch forward, so he is the No. 4.
While the center is not a glaring need now, the Bulls do lack a true center and may want to grab one in this year's class. James Wiseman is the premier center in this year's class, but don't expect him to slide to No. 4. Another name that I am surprised about isn't as high as you would think of former Duke Center Vernon Carey Jr.
The top High school player in 2019, Carey, is the perfect size to play center at the next level. Not only is he 6-11 or 7-0, but his 268-pound frame makes it easy for him to get in position and push his opponents around. Add in the soft shooting touch, and his left-handed approach to the game and Carey is a value pick who has top 10 talent but could sneak into the top five.
As a freshman last season, Carey led Duke with 18.7 PPG, 9.3 RPG, and added nearly two blocks and two assists. His defense was in question at times, but he displayed an outside shooting touch that no one knew he had. Carey also shows great athleticism on the floor and uses his left hand quite well, making him a tough matchup for so many players.
When you watch Carey play, it is hard to pick out one strength because there are many strong components in his game. For starters, his overall strength stands out the most, and he uses that to his advantage on the floor. At 6-11 and 270 pounds, Carey is a big man to contend with, and unlike most centers who are starting to shift to the perimeter, he knows his role and embraces it.
Carey is what I like to call an old-fashioned center. He lives in the paint and loves to play around the rim. Don't get me wrong, Carey does have the capability to knock down a few jumpers, but he doesn't rely on that as much as others do. Along with his strength, Carey possesses a good set of hands, which is essential for his role. Those hands allow him to catch a lot of tough passes down low while also showing the rim's ability to finish softly.
As mentioned above, with more and more centers going with a perimeter first game, some don't know how the inside presence will translate at the next level. That shouldn't worry teams as Carey will benefit from teams not switching players on him all the time. That will allow him to be who he is.
Carey showed me a lot offensively last year, even more than I expected, but he still needs to fill some holes. Carey mostly plays a bully style of basketball as he tends to be one of the bigger bodies on the court. To make it at the next level, that bully ball needs to be crafted into a complete ball, which would allow teams to use him differently.
Not only is Carey a force around the on offense, but he is a force on defense also. That is unless you can get him away from the basket. Given his size, Carey plays flat feet away from the rim and is often slow to recover on quicker defenders. You can get away with that in college, but not at the next level. He will need to get some quickness on the defensive end.
I would say the biggest concern I have with his offensive game is that he is mostly a one-trick pony. What that means is Carey is a one-man show if you can get him on the block. When it comes to him being a playmaker, he needs help. Carey is not one of those centers that can take someone off the dribble and make something happen. He needs support around him to create space and let him play his game. I am not saying he can't adapt, but he needs to be in a system that uses the paint as much as the three-point line.
Most people peg Carey as a mid to late first-round pick and someone who will provide a strong scoring option off the bench. While I don't think he is worthy of a top-five pick, the Bulls could take him at No. 4, mainly cause of his size and upside. Getting a true center in this league is hard to find but getting one who lives around the rim is harder. Carey provides both of that for Chicago and would be an excellent option to pair with Carter on the interior.
Player Comparison: There are not many left-handed centers in the league, so I didn't know where to go with this, but I look at him being a similar player to Derrick Favors. From an athletic side of things, Carey will not come close to what Favors can do. However, from a style of play, I think his game is very similar to Favors.
Carey is a guy that may not start right away but could over time. He is someone I see averaging 15 points and seven or eight rebounds per game, which is all you can ask for from your big man. Should he be able to improve on defense a bit, you're also adding another rim protector.