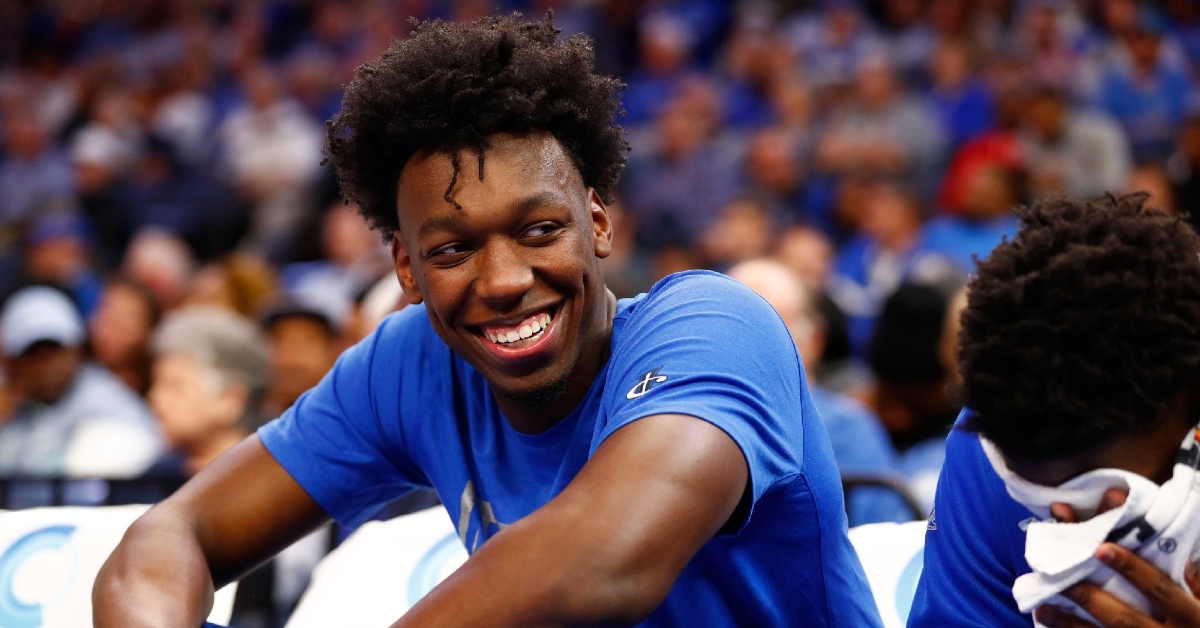 | | |
| --- | --- |
| Getting to know NBA draft prospect: James Wiseman | |
---
| | | |
| --- | --- | --- |
| Tuesday, August 25, 2020, 9:06 AM | | |
Perhaps the best overall prospect is also the most interesting in that of James Wiseman. Entering his freshman season last year, Wiseman was viewed as the consensus No. 1 pick and played like that through 10 games. It was then that things changed as the NCAA ruled him ineligible for the remainder of the season and suspended him from play. Wiseman then elected to leave Memphis to prep for the draft.
Had these events not taken place, Wiseman would be the top pick in this draft without question. There is still a chance he goes No. 1, but with the Timberwolves on the clock, it doesn't appear that will be the route they go. Should Wiseman sneak outside the top three, the Bulls need to take him at No. 4 because he would be a flat-out game changer.
At 7-1, Wiseman is the perfect size to play the post position something the Bulls don't have. Wendell Carter Jr has been their center the past two seasons, but at just 6-10, he is very undersized height-wise. Lauri Markkanen stands 7-1 and is an option for center, but he is not even 250 lbs. which makes him more of a stretch than a real post player. The Bulls haven't had a true post player in years, and Wiseman would undoubtedly change that.
Wiseman fills a massive piece that the Bulls are missing and would dramatically change their offense flows. The long and athletic big man can match up with some of the game's best post players the moment he steps on the floor. Not only is he a big-time athlete, but he is exceptionally skilled and very talented. Carter does have the potential to be a true center, but when you lack about three inches in height and some of the explosiveness that Wiseman has, you may want to rethink that long-term strategy.
Can you imagine a starting lineup of White, Lavine, Porter Jr., Markkanen, and Wiseman with Carter Jr. coming off the bench? That is an impressive starting five, although the Bulls still wouldn't have a true point guard on the roster. Chicago does have other options at the point guard spot as both Tomas Satoransky and Kris Dunn have shown potential, but just needed more time to fit in with the players surrounding them.
If I am picking fourth and Wiseman is on the board, the pick wouldn't take more than 30 seconds to give to the commissioner. His tools are impressive, and standing 7-1 with a 7-6 wingspan, he becomes a nightmare matchup for any big in the paint. He has all the length you could ever want in a center and will only add strength to get better.
The mix of pure athleticism and his ability to control the paint makes him the premier center of this year's class, and it isn't even close. One of the biggest things in the NBA game today is keeping opponents off the three-point line. Given his ability to block shots, teams will think twice about putting shots up in his vicinity.
His shot-blocking ability will translate very well at the NBA level, but there are still some holes in his game defensively as there are with most prospects. His lateral movement or moving side to side on the defensive end is something he isn't comfortable with, so don't expect to see him switch to guards all that often. While the height is there, the muscle mass and size aren't there as that is a cause for concern when he goes against physical centers in the paint.
On the offensive side of things, Wiseman can dominate the paint, but he plays like a wing, which makes him hard to project how he will fit offensively. That has coaches questioning his ability to be a pure playmaker in isolation as he often had trouble reading defensive fronts on the court. Regardless of these flaws, expect him to go anywhere from picks 3-8 as he is too good to pass up.
Player comparison: From a pure height standpoint, Dwight Howard immediately came to mind, but their games are vastly different. Wiseman is going to score no doubt about it, but he will be more of a defensive anchor at first using his shot-blocking ability. That leads me to believe he will play like a Hassan Whiteside who is the premier shot-blocker in the NBA. Wiseman is far more offensively gifted than Whiteside, but until he learns to play more in the paint versus the wing, he will have trouble putting his tools together.
Getting him on the Bulls who were an outstanding defensive team last season would only make them better. After all, the defense is what ultimately wins championships, and adding to an already solid defense will make the new head coach happy.