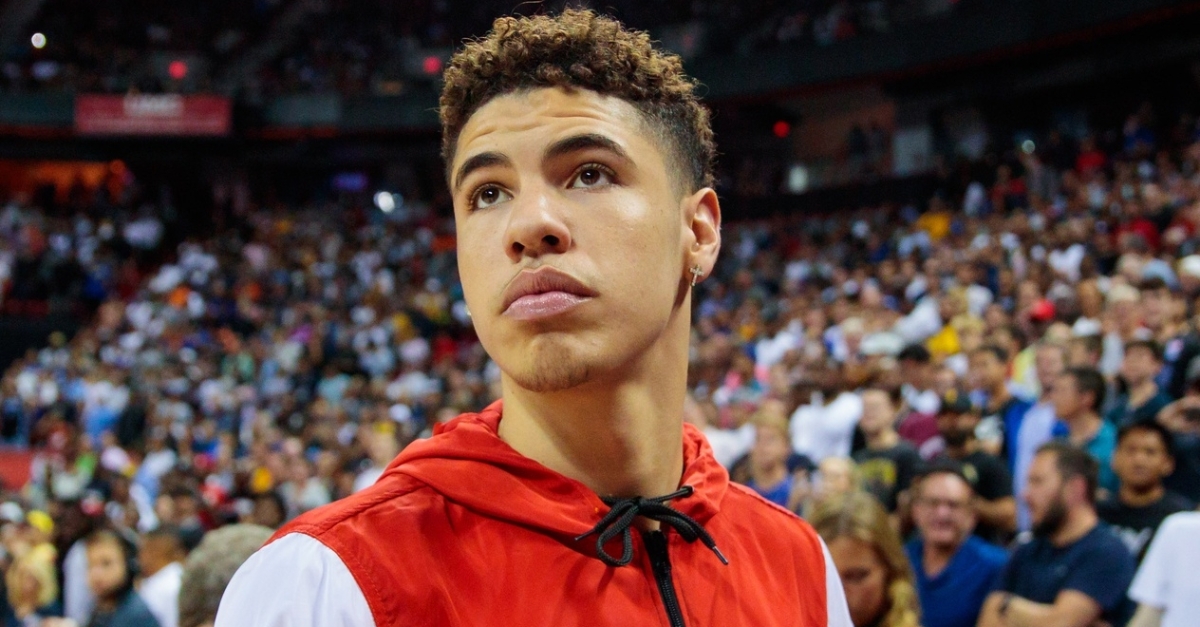 | | |
| --- | --- |
| Getting to know NBA draft prospect: LaMelo Ball | |
---
| | | |
| --- | --- | --- |
| Thursday, August 20, 2020, 8:59 AM | | |
I know what your thinking. You immediately think Lavar and all the crap he has done in the media any time you see the last name Ball regarding an NBA player. Granted, his son Lonzo is starting to turn out into a solid NBA player, but the Ball family is about to have two sons in league with LaMelo in this year's draft class.
We continue to listen to Lavar run his mouth about his sons being better than either Michael Jordan or LeBron James. That is so asinine it isn't even funny, but kudos to the Ball family for having that sort of confidence in their kids. I still don't believe Lonzo will be an elite player in this league, but his brother LaMelo, well, that's another story.
It has been a while since the Bulls were a story around the NBA. You could argue that the Derrick Rose MVP year was the last time they were the talk of the league. Adding a player like Ball will undoubtedly make them one of the stories once again because you know Lavar will be involved somehow.
LaMelo is not going to be the most talented kid in this year's draft, and no one would argue that. However, he is the most talented of the Ball brothers and has been the most-watched brother given his rise to stardom since age 14. Ball has a lot of intrigue and interest in this year's draft, but it will not be the same interest that Zion had.
If we are honest with ourselves, the Bulls could use some talent which Ball brings to the table, but they also could use some eyes to make their franchise relevant again. Ball also happens to play a position of need for the Bulls as he defines a pure point guard. For the record, the Bulls have far more talented players on their roster than Ball, but none of them can make the team better. Ball is the type that can come in and make the team better with his impressive passing skills to free up shooters.
Much like Lonzo, LaMelo is not a great shooter, but at this stage of his career has been better than Lonzo, which is a good thing. Although a large PG in terms of size, Ball is the kind of player that would immediately step in at the PG position to run an offense. That would ultimately push Coby White to Shooting Guard and Zach Lavine to Small Forward or a three-guard offense. That may not be good for defensive purposes, but it would be huge in terms of scoring.
We have seen both White and Lavine play some point in the past, so this scenario becomes very intriguing. Should the Bulls draft Ball, look for Lauri Markkanen and Wendell Carter Jr. round out the starting five in the frontcourt. Then we look at Otto Porter JR should he remain the starter. That would then push White back to the bench as a Jamal Crawford, Ben Gordon type of sixth man who would be given the green light whenever he was on the floor. That is not a bad option for the Bulls and a huge boost off the bench.
Getting a player for a position of need will be essential for the Bulls, and Ball is one of the best at his position. He matches up well against other guards because he possesses plus size and length for that spot. Although not a great shooter, he can shoot off both the catch and dribble and has dramatically improved his three-point game. With that being said, passing will always be his specialty as he could ultimately become a Rajon Rondo for the Bulls as a point guard who does it all.
As with most prospects, Ball's game is far from perfect, and there is a lot he needs to redefine for him to become an elite player. For starters, he is a good athlete but lacks the overall explosion most point guards have. That can be improved with speed training, but you get what you get from an athletic standpoint.
Going back on his shooting, Ball has a low release, which has led to both inconsistent shooting and poor shot selection. Both can be improved in training camp, so that shouldn't scare teams away. Finally, Ball thrives in a high-paced game, but that can result in too many turnovers. The Bulls are not known for high-pace play, but they can easily do with the athletes they have on the floor.
Player Comparison: Shaun Livingston/Rajon Rondo: From a body standpoint, Ball is very similar to Livingston, a former first-round pick out of high school. Both were tall and lengthy Point Guards who were good athletes, but not great. Despite dealing with a horrific knee injury early in his career, Livingston went on to have a solid NBA career that lasted over a decade.
From a style of play side of things, I compare Ball to Rondo in many ways. Both are incredible passers and are pass-first type of players. Both are inconsistent shooters but have shown the ability to make shots when needed. They also know how to run a team. Granted, I expect Ball to score more points than Rondo on a nightly basis. He will also be someone that can dish out seven-plus assists while hauling in six rebounds.