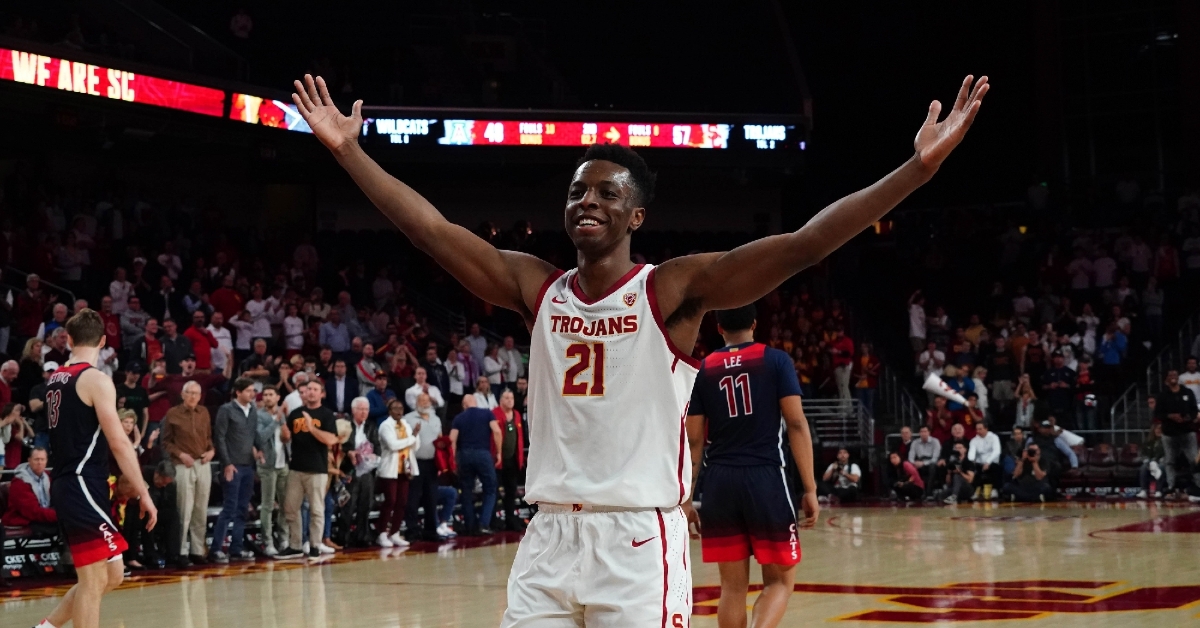 | | |
| --- | --- |
| Getting to know NBA draft prospect: Onyeka Okongwu | |
---
| | | |
| --- | --- | --- |
| Wednesday, September 2, 2020, 12:36 PM | | |
We know the Bulls are about to enter a busy offseason as they search for a new head coach. Along with that coach, Chicago must navigate through free agency tight on cap space, but open-minded on possibilities to make the team better. Further down the line, the Bulls will also need to focus on the NBA draft and what to do with the fourth pick.
We know the Bulls have a few needs, including a true point guard, center, and power forward help. USC power forward Onyeka Okongwu can undoubtedly be a player that helps with one of those areas. At 6-9, Okongwu has played center much of his time at USC, but he could move to power forward if needed. With an already undersized center in Wendell Carter Jr. on the Roster, why would the Bulls think about making that type of selection again?
Well, for starters, Okongwu is not your typical center. He is a freak and is scary physically, much like Montrezl Harrell of the Clippers. He is also far more athletic and lengthier than current Miami Heat center Bam Adebayo so the possibilities are endless with where he can play and what he can do. Not only would he provide the physical compliment next to Lauri Markkanen, but could provide the defensive process and rim protector, the Bulls, have been looking for.
Should Chicago elect to hold onto Kris Dunn, you could pair him with Dunn to give the Bulls defense a similar look to what the Clippers do with Patrick Beverley and Harrell. Okongwu is very effective in a pick and roll style of offense and would play well with a guard like Dunn. That would allow Coby White to run his unit offensive with players more suitable to White's style.
For the most part, Chicago had a strong defense last year, but adding Okongwu to that unit could vault them into a top 10 defensive team. He becomes more valuable by the minute, bringing position versatility to the table, which could allow the Bulls to do so much more defensively and make him a matchup nightmare across the board.
We already talked about his size and athleticism being a strength, but his most significant strength is his rim-protecting ability. Not only can he block shots with one on one defense, but if adequately helped on defense, he can erase shots across the floor. Yes, he lacks the overall size to be a true center in the NBA, but he makes up for it in length, strength, and overall physicality in the paint. He knows how to finish with both hands at the rim and is very comfortable moving across the paint to get into proper position.
Being a physical player around the rim can only get you so far, and for him to take that next step as a player, he needs to polish his offensive game. He relied upon his physicality to overpower college players, but he needs more than that at the NBA level. Skill and finesse will come into play, which he needs to work on to be better.
Often, he tends to play out of control and relies on second-chance points after first shot misses. While that is an excellent quality to have, teams, don't want players to rely on that offensively. The one thing holding him back is his outside touch as he lacks any feel outside the paint. Without a consistent jump shot, teams will force him out of the paint and either give him the jump shot all day or force him to put the ball on the floor. Without being a great ball-handler, that is a recipe for disaster.
I see him as a lottery selection in the top 10, but most experts have him going around fourth or fifth. That is a significant spot because the Bulls happen to pick fifth, but do they need another undersized player on the Roster to play out of position. That is the question I have if they make this pick.
Player Comparison: We mentioned two names above in Harrell and Adebayo, but another name comes to mind in John Collins of Atlanta. All three have the common theme of being undersized centers but find ways to get it done on the court. Whether being physical like Harrell, being the rim protector like Adebayo, or finding ways to score like Collins, Okongwu is somewhere in the mix of these three. That is good company to be a part of, and someone, the Bulls, would gladly take.