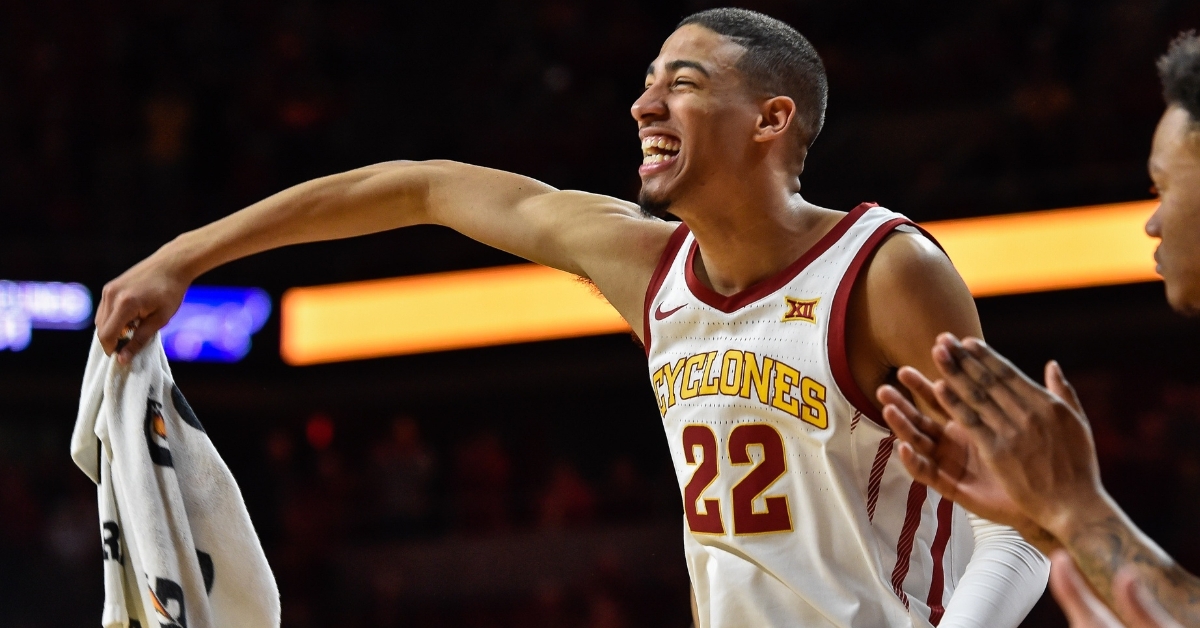 | | |
| --- | --- |
| Getting to know NBA draft prospect: Tyrese Haliburton | |
---
| | | |
| --- | --- | --- |
| Wednesday, August 12, 2020, 11:31 AM | | |
As we continue to enjoy the NBA returning to our televisions, not much news has lately surrounded the Bulls. We have discussed head coaching changes, free agents, and the upcoming draft, but what about some of the prospects in the draft class. We still don't know where the Bulls will be picking in this year's draft, but as of right now, the Bulls would be picking seventh if it was based on overall record.
As we wait to see where the Bulls land in the lottery, I figured now would be as good of a time as any to start looking at some of the prospects the Bulls could be targeting should they land in the top 10 once again. The first one we will look at is the one I am most familiar with in Tyrese Haliburton. I grew up 25 minutes down the road from where he played his high school ball and followed him through his two years at Iowa State.
Coming into this season, Haliburton was viewed as a first-round pick somewhere in the 14-19 range. Now, many scouts have him as a legitimate top-five prospect, and some have him going No. 4 to the Bulls if they were to land that pick. At 6-5 and just 182 pounds, Haliburton lacks the overall size you would like to see out of an SG/SF. Instead, he makes up for it with tremendous basketball IQ, great length, and above-average athleticism that makes him a complete player.
Looking at the draft class this season, it appears to be six-players deep in terms of elite talent, which sucks for the Bulls currently sitting at seventh until the Lottery goes. That doesn't mean teams won't go away from the plan, or the Bulls get a better pick. Haliburton is undoubtedly the type of player I would love for the Bulls to have.
Although Haliburton may not be in that first tier of crop players, he is undoubtedly the best of the second-tier players and could land in the first tier given what scouts have been raving about his game recently. He is an excellent shooter, especially from three, plays excellent defense, is a complete playmaker both with the ball and without the ball, and could be overlooked as a legitimate starter.
Haliburton is not the greatest in terms of athletes, but if he were to add 10-15 pounds of muscle, I see no issues moving to the point or at the very worst giving some bench minutes to both Zach Lavine and Coby White immediately. If the Bulls do go after Haliburton, Lavine could easily slide down a position as could White. Haliburton is a great shooter and gives the Bulls another offensive weapon that they desperately need.
Chicago has truly been looking for that third option, which they could have if Otto Porter Jr. returns healthy this season, and Lauri Markkanen comes back into form. Adding a guy like Haliburton would add to their future, giving the Bulls tree legitimate scorers capable of going off. Put those three together, and you could have an offense being run like that of the Golden State days with Steph Curry, Kevin Durant, and Klay Thompson, with better passing and movement.
Player comparison: From an athletic build, I compare him to Lonzo Ball of the New Orleans Pelicans. Both are bigger guards for their position who are lean, lengthy, and know-how to pass. The difference is Haliburton is a much better shooter and could turn into a better scorer somewhere along the lines of a Dante Exum. The biggest question surrounding him remains his overall strength, but thus far, it hasn't affected him too much as he has emerged as a swiss army knife type of player. He is precisely the type of player the Bulls need, and someone I think could put up similar numbers to that of Jimmy Butler or Luol Deng. Haliburton should be able to score 15-17 points per game while dishing out five-plus assists and about the same amount of rebounds.