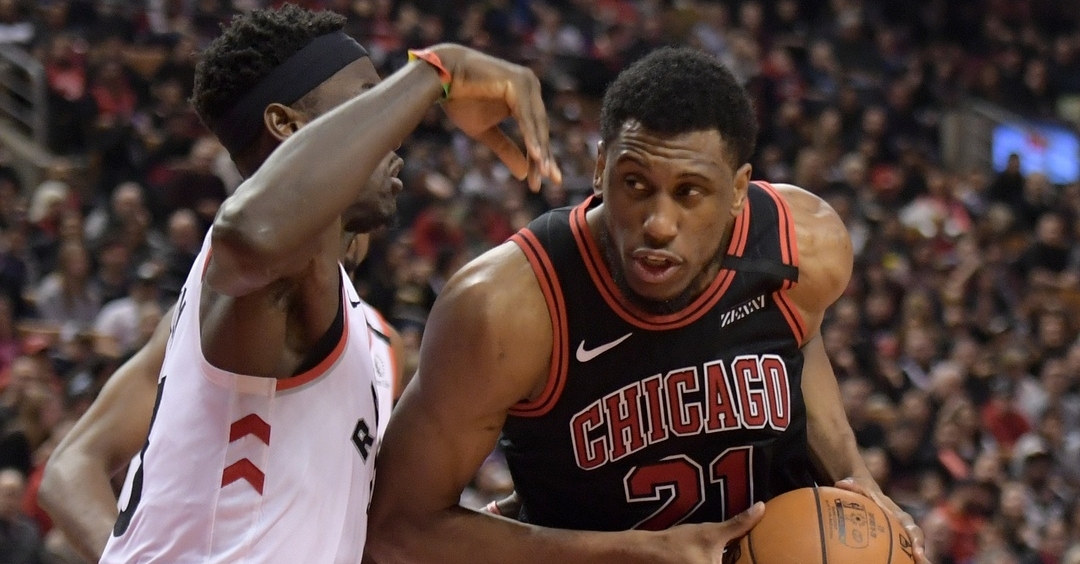 | | |
| --- | --- |
| Hits keep coming as Bulls fall again | |
---
| | | |
| --- | --- | --- |
| Monday, February 3, 2020, 3:03 PM | | |
Despite their 19-33 record, the Bulls are very much alive in the Eastern Conference playoff picture as they continue to battle for the eighth seed. However, the next question is how long the Bulls can keep this up as the injuries continue to mount.
With Otto Porter Jr, Wendell Carter Jr and Lauri Markkanen already out with sustained injuries, Kris Dunn was added to that list before Sunday's game against a Raptors teams seeking their 11th straight win. Getting Daniel Gafford back was a plus, but even he isn't going to ready to go for quite a while.
Chicago once again dropped a lopsided 129-102 decision on the road, but they also showed plenty of promising signs, especially in the first half. Chicago not only came into the defending champions house but managed to lead 53-50 at the break, mainly in part to Thaddeus Young and his 17 first-half points. Young finished with a team-high 21 points as Zach Lavine's streak of 20 plus point games came to an end.
Chandler Hutchinson continued to play well since being inserted into the starting lineup, and Chicago even got 12 points from Ryan Arcidiacono off the bench, which was much needed. The problem for the Bulls was their inability to stop a Raptors team that was clicking on all cylinders even without Marc Gasol and other vital components.
Kyle Lowry got off to a hot start, Fred Van Vleet and Serge Ibaka played well, and Pascal Siakam continued to patrol the paint as those four finished in double figures with Siakam leading the way with 17 points for the starters. The difference in the game came in the second half, where the Bulls were outscored by thirty, 79-49 courtesy of two unknown factors.
Those players were Terence Davis and Chris Boucher, who combined for 46 points off the bench, including 28 in the second half with Davis leading all scorers with 31 on the night. Chicago shot 38.9 % as a team and just 31% from deep while Toronto was on fire, shooting 56% from the field and 47% from deep. Chicago returns to the court Thursday as they host Zion Williamson and the New Orleans Pelicans.