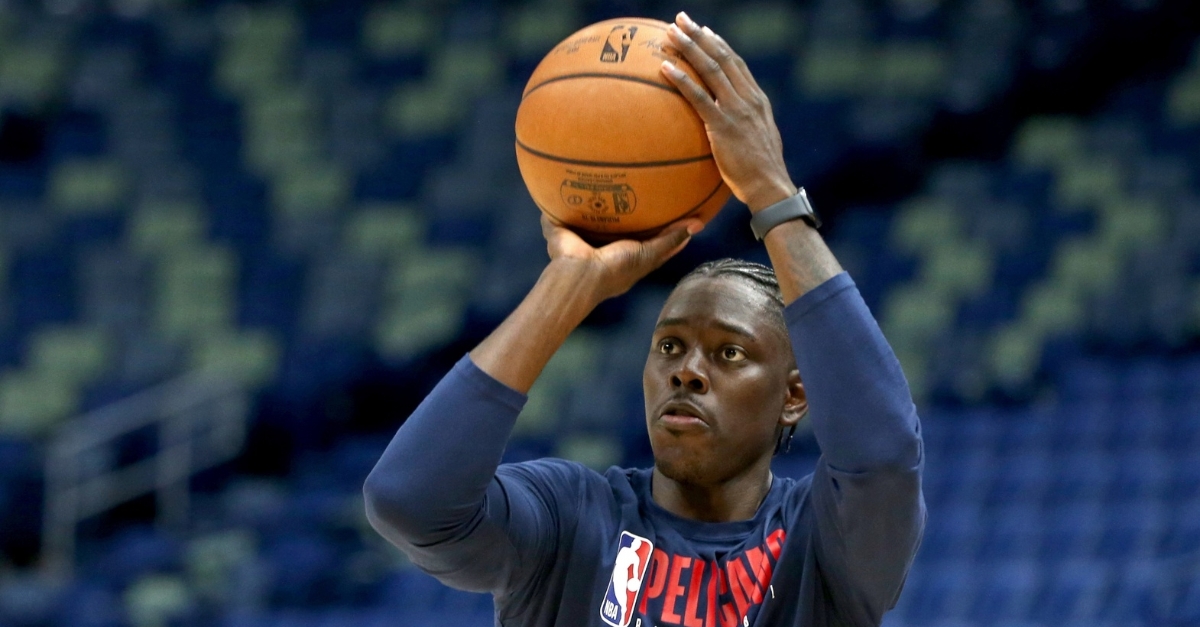 | | |
| --- | --- |
| Bulls News: Holiday shopping: Pelicans open to moving standout guard | |
---
| | | |
| --- | --- | --- |
| Thursday, November 5, 2020, 9:53 AM | | |
As we inch closer to the draft, get ready for lots of rumor and prospect news from now until then. It has been reported that if available at the NO. 4 pick this season, the Bulls primary target at this point appears to be Deni Avidja. The European born guard who is drawing comparisons to Luka Doncic.
Point guard is undoubtedly a need for this team, but there are other needs that this team also has. As good of a fit Avidja would be for the Bulls, they may be better off drafting different needs positions and focusing on finding a veteran leader through free agency or the trade market. If that proves to be the direction the Bulls take, Jrue Holiday from the Pelicans should be available as New Orleans is now shopping him.
The New Orleans Pelicans are openly discussing star Jrue Holiday in trade talks and several contending teams are pursuing, sources tell @TheAthleticNBA @Stadium.

— Shams Charania (@ShamsCharania) November 4, 2020
Holiday may not be the most recognized name in terms of guards, but he is quietly one of the more underrated guards in all the NBA. The former All-Star has had a solid career, especially the last few seasons in New Orleans. Due to salary cap issues, Holiday could be on the way out as several contending teams are calling about the Point Guard. The Bulls may not be contenders yet, but should they inquire about Holiday, that would be the next step.
As mentioned above, Holiday may not be the name to attract fans, but when you look at his numbers from last year, that tone may change. Holiday is coming off a season in which he averaged 19.1 ppg, 6.7 APG, 4.8 RPG, and 1.6 SPG. All of those are solid numbers and would immediately make him the team's potential No. 2 scorer behind Zach Lavine.
Owned not only 25 million this season, but a 26-million-dollar player option on the table for next season, adding Holiday won't be easy as the team will have to take on that sort of financial commitment. Looking at the Pelicans' state, you can see why they want to do this deal. The team is built around young stars Zion Williamson and Brandon Ingram and narrowly missed the postseason this year. Trading Holiday will not only clear up cap space, but it would allow them to get younger by adding some nice pieces to an already improving roster.
Right now, it appears that Miami, Denver, and Brooklyn are the front runners to land Holiday, but don't count out the Bulls from at least trying to talk to New Orleans. Chicago has a young roster like New Orleans but doesn't have a true leader to run things offensively. Holiday could be that piece, and he immediately would make everyone around him better.
I encourage Bulls fans not to get their hopes up too much on this one as Holiday doesn't seem to fit their current plans. However, it still is worth talking about since he does fill a position of need. To get some deal done, the Bulls would need to clear out some cap space of their own, meaning Otto Porter Jr would most likely be on the way out. Chicago would also need to give up a potential future draft pick, which may not be the best option for a retooling team.
Holiday is one of those players that will never get too high but will never get too low. He is as durable and reliable as they come, so it is amazing how undervalued some consider him. Should Chicago somehow be in the running and pull off a deal, it would dramatically speed up their rebuild and would give the Bulls the floor general they have been looking for since Derrick Rose.