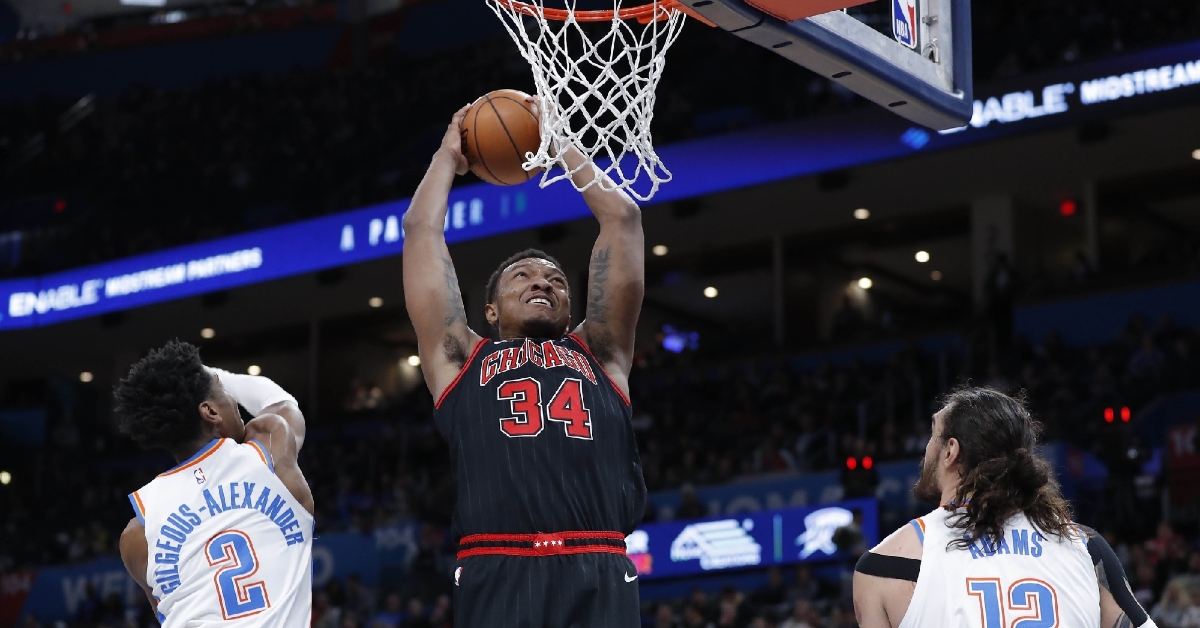 | | |
| --- | --- |
| Report: Bulls trying to trade up to No. 2 overall pick | |
---
| | | |
| --- | --- | --- |
| Wednesday, November 18, 2020, 11:20 AM | | |
We finally made it to draft day and let the rumors and fun begin.
After much discussion about what the Bulls may be thinking regarding the No. 4 pick, it seems as if they are not alone. According to Kevin O'Connor of the Ringer, Sources close to him have told him that the Bulls and Warriors are discussing a trade that would give the Bulls the second pick in exchange for the fourth pick and another player.
That player happens to be third-year pro and former first-round pick Wendell Carter Jr. A lot of talk regarding the Bulls has been their desire to draft or find a point guard. Well, after it appears the Bulls are more likely to add a veteran guard via free agency or draft, it looks like they have another position in mind come draft. Given where the Warriors pick and who is involved in discussions, it might be easy to guess who the Bulls are looking at.
That player is James Wiseman, who was often viewed as the top prospect heading into the draft. The Warriors are weighing the option of whether to accept this trade, but the fact that Carter Jr is part of the deal shows they are willing to move past him in exchange for perhaps a more NBA style center.
Carter was viewed as a legitimate prospect when the Bulls took him seventh overall in 2018. The problem over his first two seasons is that he has not been able to stay healthy and hasn't developed into the offensive force they thought he would be. Defensively he is excellent, which is surprising when you consider he is a bit undersized for a center, but it is clear the Bulls are thinking offense here.
He averaged 11.3 points, 9.4 rebounds, and 0.8 blocks in 43 games last season.
When talking about this trade, this is equivalent to offering Carter Jr. for Wiseman straight up if that is indeed the Bulls' plan. Is that a good enough deal to entice the Warriors? The two names surrounding Bulls camp over the past two weeks have been LaMelo Ball and Deni Avdija. Could the Bulls like Wiseman more but have elected to remain quiet about it until now?
That ultimately could be the case, but who's to say the Warriors would even take Wiseman at No. 2 should Anthony Edwards and others be available? This could be more of a case where the Warriors are looking to get out of the No. 2 pick, and the Bulls are ready to pounce on the opportunity.
While the Bulls' plans throughout the draft process have been quite a mystery, the Warriors taking Wiseman was almost a foregone conclusion if he was available. That may not be as clear cut as some thought if these discussions are being had.
Carter Jr. still has a chance to be a great player, but can you rely on him to stay healthy. Wiseman, on the other hand, could be a once in a generation style center. Since DeAndre Ayton, he may be the most NBA ready center as the game is leaning away from the typical big man. Wiseman is the old school center who loves to play around the basket but can also step out and knock down a jumper.
Hold on tight as there will be tons of rumors going on all day.