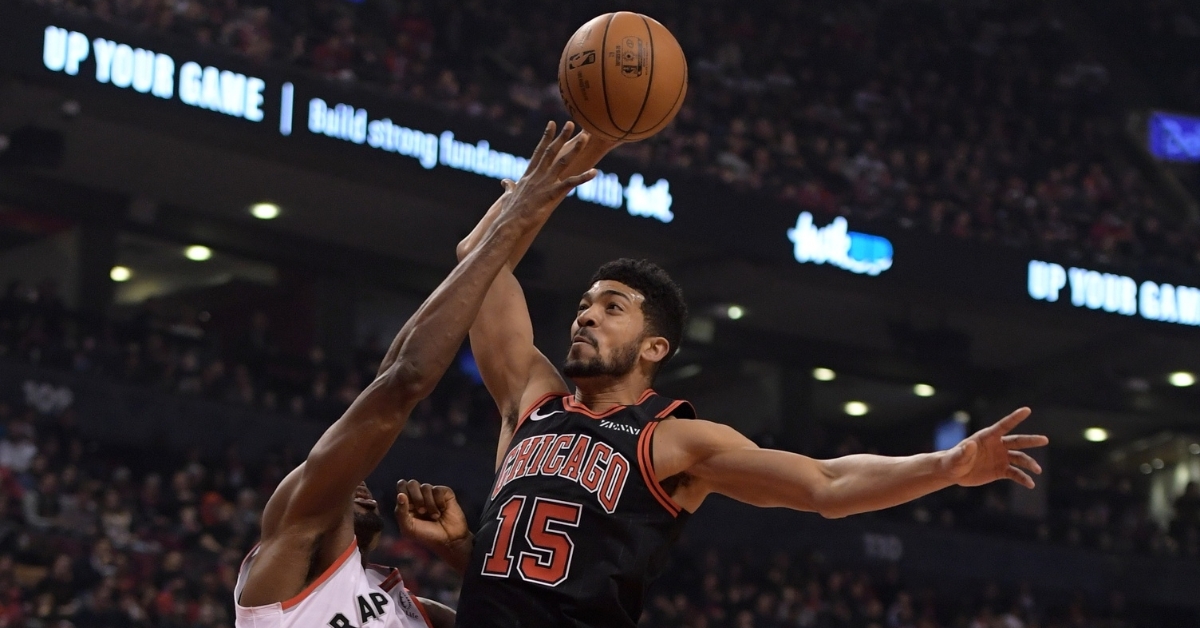 | | |
| --- | --- |
| Bulls News: Season in Review: Chandler Hutchison | |
---
| | | |
| --- | --- | --- |
| Tuesday, April 21, 2020, 10:46 AM | | |
Chicago will be an exciting team to watch going forward for a couple of reasons. First and most important, the Bulls have just gone through a complete overhaul of the front office as the team looks to figure out a long-distance plan to put in place.
Secondly, the Bulls need to decide if current Head Coach Jim Boylen is the answer for this team going forward as it seems he is in over his head with the way the roster is constructed. The third thing to watch and what is becoming the most intriguing part of this all is the roster itself and what direction the Bulls will be heading and what the team will look like going forward.
The Bulls are a very young team at this point and are the third-youngest team in the NBA. However, that is no excuse to be as bad as they have been the past two seasons. Yes, injuries have played a significant role in the results, but the Bulls have talented players that for some reason haven't been able to put consistent quality on the floor. Maybe that comes down to coaching, or perhaps the style of play doesn't fit some of these players. Whatever the reason, things need to change now.
One of the talented pieces on the Bulls roster is the 2018 first-round pick Chandler Hutchison. He was taken No. 22 overall and the second pick in the first round for the Bulls that season, Hutchison has battled his share of injuries since joining the Bulls, but has shown great promise when on the court. At 6-7 210 lbs. Hutchison provides a ton of length defensively to disrupt players while offering terrific athleticism on the offensive end of the floor.
The former Boise State forward got off to a slow start his first two seasons in college, before erupting for 17.4 PPG as a junior and 20.0 PPG as a senior to go with 7.8 RPG. For his career, he averaged 12.0 PPG, but that is largely due to minimal production in his freshman and sophomore year. Should Hutchison follow his college trend to the NBA, then year three should be the year where we see what he is all about and if he is genuinely a future fit for this team.
Hutchison dealt with shin and foot problems in his rookie season, which limited him to 44 games (14 starts). When on the floor, he averaged 5.2 PPG and 4.8 RPG, but those numbers increased to 8.7 PPG in the starting lineup. This season was a similar type of year for Hutchison, as an early-season injury forced him to miss the first part of the season before a shoulder injury later in the year forced him to miss the team's final two weeks before the season was called.
Once again, those injuries limited his time on the floor as he saw just 28 games this season and 15 starts. The good news, however, is that Hutchison did improve his game as his scoring increase to 7.8 PPG while his rebounds remained consistent at around 4 RPG. Once inserted into the starting lineup around January, Hutchison began to show what he can do on the floor, averaging 10.9 PPG and 5.7 RPG over a 12-game stretch, which gives the Bulls hope for the future. It is that type of play that needs to continue next season as he needs to be healthy.
Season Grade B-: Hutchison was a hard grade for me, mainly because he has dealt with injuries. I almost gave him an incomplete because he failed to play 30 games, but when you look at the body of work, I had to grade him out a bit higher. Everything about his game improved this season, from scoring to defense to ball handling.
While his shooting percentage is still inconsistent, more often than not, Hutchison put the work in to develop a better shooting touch, which was clear. His slash to the bucket mentality continued to pay off also, as his athleticism allowed him to get to the hoop to convert on several key buckets in the lane. Depending on what happens to specific players on the roster, Hutchison could find himself as the starting SF next season or, at the very worst, the sixth man. As of now, he will continue to contribute when called upon if he remains healthy.