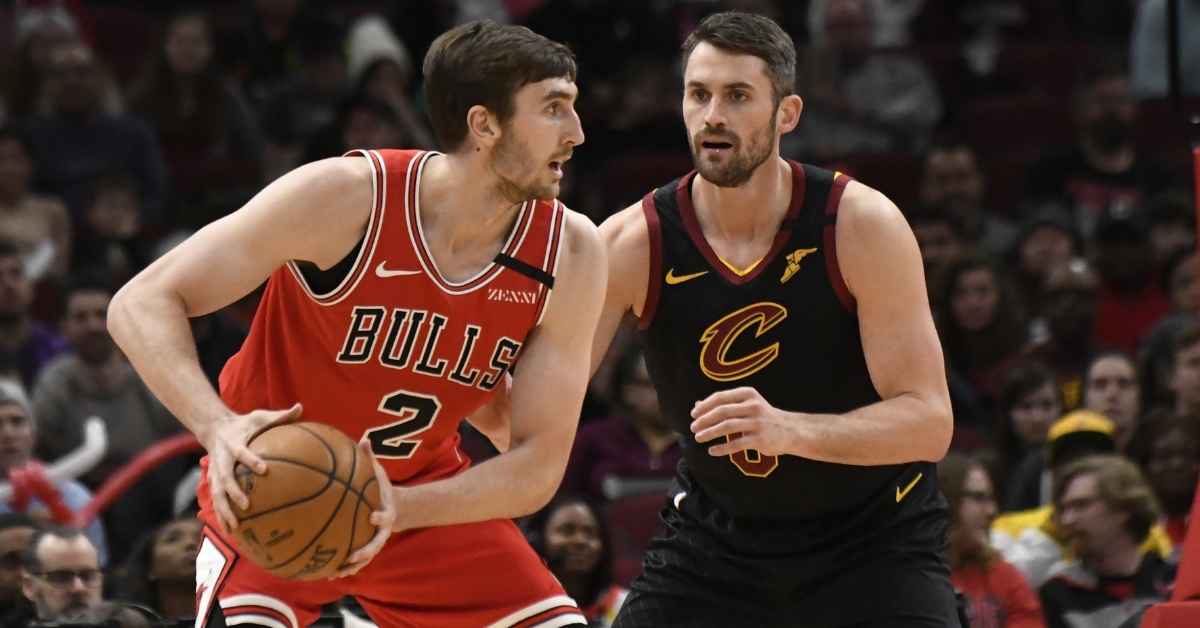 | | |
| --- | --- |
| Bulls News: Season in Review: Luke Kornet | |
---
| | | |
| --- | --- | --- |
| Thursday, April 30, 2020, 8:14 AM | | |
Although the Bulls didn't sign a ton of players last offseason, one of their under the radar veteran signees was that of former Vanderbilt University big man Luke Kornet. The 2017 undrafted center spent his first three seasons on the Knicks roster before joining the Bulls this offseason on a bargain deal.
At 7-2 25 LBS. Kornet is the tallest player on the Bulls roster, but much like a lot of big men in today's game, he isn't your prototypical center. Going back to his Vanderbilt days, Kornet never used his size to his advantage as he wasn't the scorer you would expect at the collegiate level. In his four seasons for Vandy, Kornet averaged 8.9 PPG and 4.8 RPG, but his 13.2 PPG and 6.2 RPG during his senior season at least gave teams something to hope for come draft night.
The Knicks elected to take a flyer on him, and his production was consistent, although minimal in two seasons in New York. Kornet played in 66 games (19) starts during his tenure with the Knicks, where he averaged 6.9 PPG and 3.0 RPG while shooting 36% from deep. A free agent this past offseason, the Bulls decided to bring him aboard to add him as a sizable bench piece to a team that was thin on size on the front line.
Kornet missed some time early in the season as he, like most Bulls players this year, dealt with a minor injury that kept him out for two weeks. Upon returning, Kornet had to work his way into the rotation before settling into a nice groove for about a month in January. In total, Kornet saw action in 36 games this season but did pick up 12 starts once Wendell Carter Jr. went down with his ankle injury.
The numbers are not great as he averaged only 6 PPG and 2.3 RPG, but that was expected given his track record as a bench player. What the Bulls and I must say myself liked from him was the way he stepped up when called upon in the starting lineup. Not only did he post a 20-point effort during that time, but Kornet also had a solid ten-game stretch where he was averaging 12.7 PPG and 5.2 RPG while shooting over 40% from distance. Those are all telling signs about what he can do if given a more consistent role on this team moving forward.
Season Grade C+: I was not real familiar with Kornet before last season, but I do like several aspects of his game. His size is undoubtedly a major plus as he is the tallest player on the Bulls roster. He not only gives them depth at the center position but can slide into the PF spot depending on what lineup the Bulls elect to go with.
Also, Kornet isn't your prototypical center, as we mentioned above, and can be a tough matchup for fellow bigs. While most centers like to guard the interior part of the defense, Kornet often stands out by the perimeter, forcing bigs to come out and chase him. That not only makes them uncomfortable, but opens things up in the paint for the likes of Zach Lavine, and company.
His three-point shot is also something the Bulls desperately needed as he led the team in three-point percentage the first half of the season. Granted, his attempts are nowhere near some of the others, but Kornet has proven he can knock down the outside jumper, which comes in handy off the bench. Now on the verge of the second year of his two-year deal, look for Kornet to be thrown into a more consistent role next season. With Cristiano Felicio most likely gone, Kornet should be getting more minutes, which will help the Bulls depth off the bench.