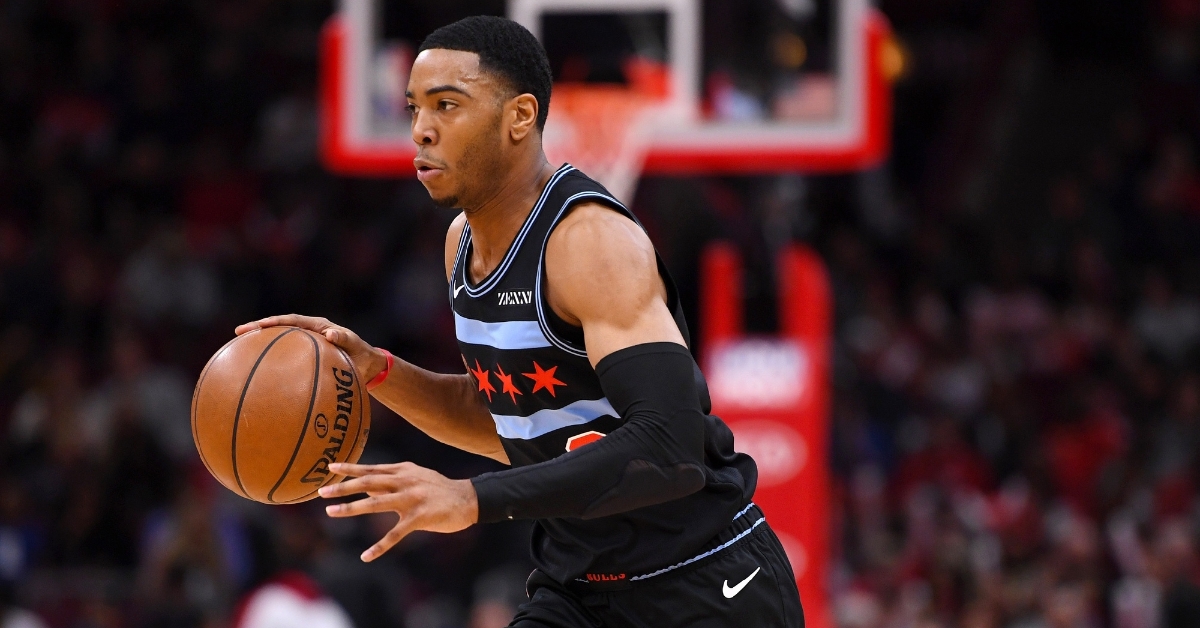 | | |
| --- | --- |
| Bulls News: Season in Review: Shaq Harrison | |
---
| | | |
| --- | --- | --- |
| Wednesday, April 15, 2020, 10:24 AM | | |
The Bulls have found ways to discover undrafted talent, but have yet to put those discoveries to good use. One of those players happens to be Shaq Harrison, as he is quickly becoming a fan favorite in Chicago. The former Tulsa guard went undrafted in 2016, after turning down scholarship offers to play defensive back in college.
That didn't stop him from making a name for himself on the court, where he put together a solid senior season averaging 14.8 PPG, 5.5 RPG, and 4.1 APG. Those were all strong numbers, and he became the only Tulsa player in program history to register 1300 points, 400 rebounds, and 200 steals for their career.
Despite going undrafted, Harrison didn't go unnoticed as the Phoenix Suns nabbed him up and put him on their G League affiliate for two-plus seasons before finally getting a shot at the NBA. In his 23 games with the Suns, Harrison saw around 15 minutes per contest and contributed the best way he could averaging 6.6 points in the action he saw.
Following the 2017-18 season with the Suns, Harrison was signed by the Bulls to replace Omer Asik on the roster and found himself playing in 73 games that season, including a handful of starts. His scoring average remained close to the same at 6.5 PPG, but he saw that rise to 7.8 PPG once in the starting lineup. What looked to be an up and coming role player was once again out of a job as the Bulls waived him on July 6th, 2019, only to bring him back 12 days later.
Chicago is happy they did as Harrison continues to put together solid seasons given the role he has carved out on this team. This season was a far cry from his previous year in Chicago as he played 30 fewer games to see action in just 43 games this season. However, he did manage to start a career-high this year in the process as injuries limited the Bulls options much of the second half allowing Harrison to start 20 of those 43 games, including 17 after January.
When you look at his numbers, you will see a career-low in nearly every category as he averaged just 4.5PPG, 2.0 RPG and 1.1 APG. That was mainly because he saw a career-low 11 minutes per game this season only until he got into the starting lineup. It was at that time when Harrison saw his minutes more than double as he was playing around 25 minutes per game and now averaging north of 10 points as his production went way up once given a chance.
Despite his scoring taking a huge hit this season until utilized in the starting lineup, Harrison continued to be a pest on defense as ranked near the top of the league in steals over the past month. He played great on the ball defense, similar to what Kris Dunn did. Harrison would be a nice keep on this roster, especially since it would come at a low price.
Season Grade C+: This grade may seem a little high to some, but it wasn't his fault Jim Boylan didn't play him much this season. Even when he did, especially early on, Harrison barely saw minutes to find a consistent rhythm, so the production was just not there. However, Harrison forced his way into the starting lineup when the injuries began to pile up, and given the way he plays on defense, he stayed there the final three weeks of the season. Chicago is going to have to decide between him and Ryan Arcidiacono next year as only one will probably remain on this roster.