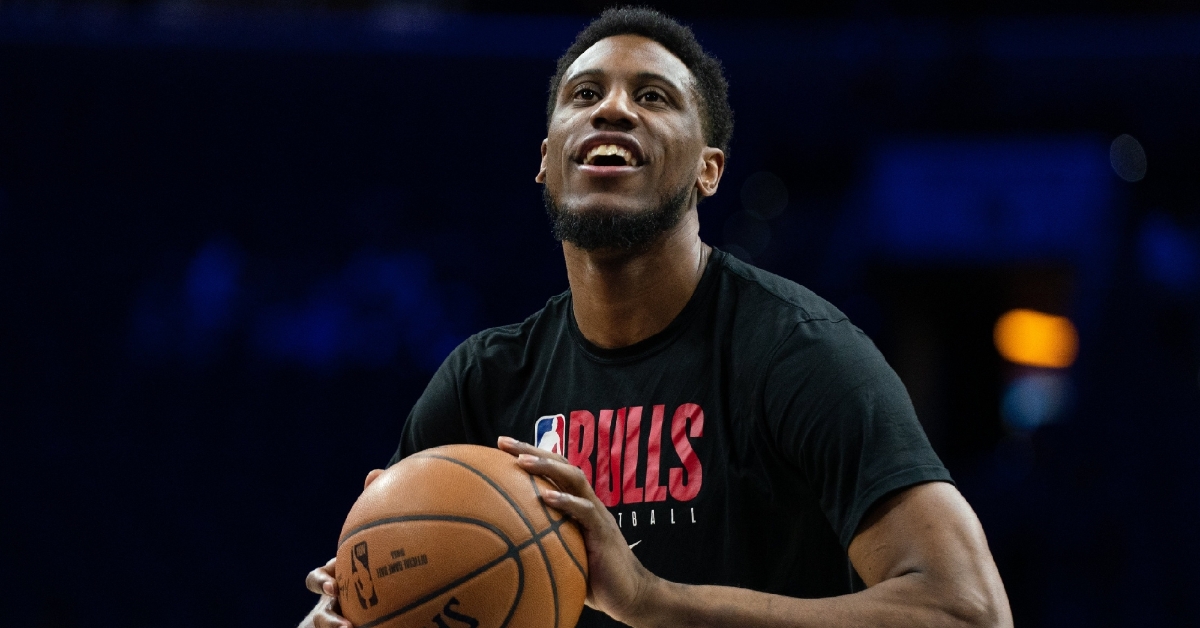 | | |
| --- | --- |
| Bulls News: Season in Review: Thaddeus Young | |
---
While the Bulls continued to fill their roster with young and unproven talent, the Bulls added some veteran pieces to that group through last year's free agency. One of those names and perhaps one of the most overlooked signings last year was that of veteran forward Thaddeus Young as he was exactly what this team needed.
The 31-year-old former Georgia Tech standout is no stranger to the NBA game, being drafted No. 12 overall by the Sixers back in 2007. After spending seven years with that organization, Young has bounced around between Minnesota, Brooklyn, Indiana, and now Chicago since 2014, but it was the Bulls who signed him to a three year 42 million dollar contract last year, making the Windy City his new home for a while.
Young is not a guy that is going to give you 20 points a night, but he is a player that knows how to play both coming off the bench and as a starter while bringing a much needed veteran presence to a team lacking veteran leadership. For his career, Young has averaged 13.4 PPG, with his career-high coming for Philadelphia in 2013 when he dropped 17.9 PPG. Outside of his 8.2PPG rookie season, Young has averaged at least 11.0 PPG while adding 6 RPG also.
Not knowing what to expect when he came to Chicago, Young knew that he would be coming off the bench backing up both Porter and Markkanen. Young quickly found out that he would need to contribute even more than he expected as the Bulls' lack of offense and critical injuries to several players forced Young to see more minutes before earning starting roles in the second half of the season.
In 64 games this season, Young started 18 of those games as he filled the void of both Porter and Markkanen during the season. At 6-8 and 235 LBS, Young isn't considered an SF or a PF as most teams view him as just a Forward who has the versatility to play both the three and four spots on the floor. For the season, Young averaged 10.3 PPG, but that was mainly his bench number production.
It was when he was inserted into the starting lineup when the old Young showed up as he averaged 12.9 PPG and 6.3 RPG during his time as a starter. Along with the increased scoring load with more minutes, Young also developed a much better three-point shot as he was over his career average this year and sat close to 35 % from beyond the arc. Young will undoubtedly be a piece to watch going forward as he very easily could be the team's starter next season or once again come off the bench.
Season grade B: As soon as news broke that the Bulls were signing Young last year, I instantly became excited because of the type of player he is. Not only is he versatile, a leader, and a veteran, but Young has played both the starting and bench role for different teams and knows exactly how to adapt to specific lineups on the floor.
While I underestimated his shooting until he got in the starting lineup, Young showed me more about his game than I realized in the past, which has me intrigued about him heading into next season. With Porter in the final year of his deal, it wouldn't shock me at all to see the Bulls flip him for a nice return and put Young at the starting SF position next season.
However, Young also had his name in trade talks during the season last year, with the Los Angeles Clippers as the team that was most involved. Young has two years left on his deal and depending on the direction the team elects to go this offseason, he could be a trade piece himself, whether before or in season. Regardless, Young is going to be an important piece for the Bulls one way or another, so it will be interesting to see how the new front office views his future with the ballclub.