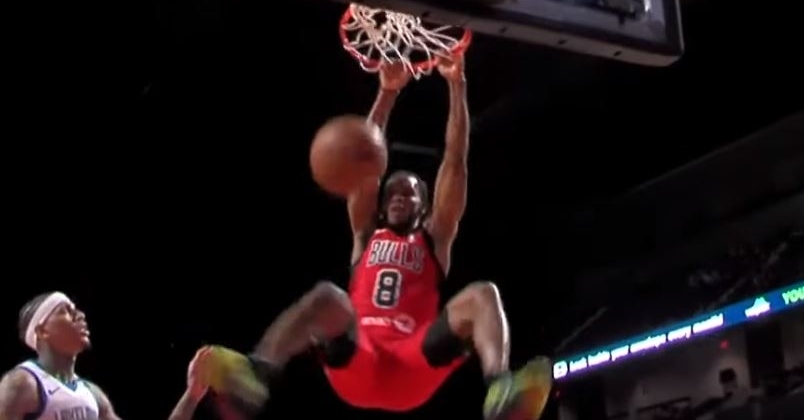 | | |
| --- | --- |
| Bulls News: Season in Review: Windy City Forwards | |
---
| | | |
| --- | --- | --- |
| Thursday, April 23, 2020, 9:46 AM | | |
Getting back to the G League side of things, we are going to focus on Windy City for the next two days as we wrap up their side of things for the season in review. Today we shift to the forward position covering both the SF and PF side of things even though not specified. From a stats standpoint, this was the strongest position for Windy City, and they delivered quite frequently on a nightly basis. They got even better after acquiring a high-level player from the Spurs organization that made his presence felt immediately.
V.J. BEACHEM: The 25-year-old forward, is very familiar with the Chicagoland area, playing his college ball across the border at Notre Dame University. Known as more of a slasher with the Fighting Irish, Beachem couldn't provide Windy City with the same style of play as he did in college, often fighting through inconsistent shots and having to settle for outside jumpers.
Despite that, Beachem saw action in 42 games starting five of those games, but still only averaged 16 minutes in the process as Windy City simply couldn't count on him. Despite knocking down 33% of his outside shots, Beachem shot under 40% from the field and averaged just 5.8 PPG right around his 6.8PPG average. Beachem did, however, have a five-game stretch in February where he averaged double figures as that was the rare time he was consistent with his shot.
Season Grade D: Growing up a Duke fan for college basketball, Beachem was always a guy that frustrated me with his play on the court. He was never going to be the best guy on the floor but did all the little things right that made not only himself a better player, but the team better also. For some reason, he hasn't been able to do that at the pro level, which is a shame for the Bulls.
TRE'DARIUS McCALLUM: A guy that continued to grow on me as the season went on was another Chicago area college star in Tre' Darius McCallum. The former DePaul guard offered Windy City some excellent shooting from the outside despite just playing in 18 per contest. His 39 games played were near the top for the team, but he only started six games with a chunk of those coming late in the season.
McCallum has now started seven career games and has seen action in just 52 total games, so he is still learning the speed of the pro game. Thus far, the Bulls have seen him average 6.4 and 6.2 PPG, respectively, while shooting near 35% from deep. While certainly not impressive numbers, to say the least, at least they get consistent play out of him, which is not something you can say for many of the Windy City players.
Season Grade C-: Unlike Beachem, McCallum, I think, deserves more minutes as he has at least shown some consistency with his game. He knows what he is good at and knows what he isn't that best at and will continue to feed off his strengths during the game. While his outside shooting certainly needs to get better, when he had the hot hand, Windy City didn't hesitate to feed him the ball. Look for significant strides from him next season.
JARON BLOSSOMGAME: Perhaps the most significant move Windy City has made in recent seasons was that of acquiring former Clemson standout Jaron Blossomgame from the Spurs organization. Known as a scorer in college, Blossomgame has found success at the G League level, averaging 17 PPG, including 16PPG this season. While his three-point shot is lackluster at best, he makes up for that with his aggressive nature to the hoop, which allows him to create his own shot in traffic and finish at the rim.
In 15 games for Windy City this season, not only did Blossomgame start all of them, but he led the team in minutes with more than 33 per contest while showing his elite ability to score in the process. That came full circle during his team debut when he put the team on his back to score 34 points and scored 20 plus points in his first three games with the Bulls before cooling off. He is a candidate to become a two-way player next year.
Season Grade A-: I would have loved to see what Blossomgame could have done with the Bulls all season long as I feel he may have earned a two-way deal this year. With that being said, he was by far one of the Bulls' best players this year and wasn't even there for 20 games. Windy City not only needs to hold on to him for next year, but they should strongly consider giving him a shot at a bench role on the NBA squad next year because he has proven to be an excellent fit.