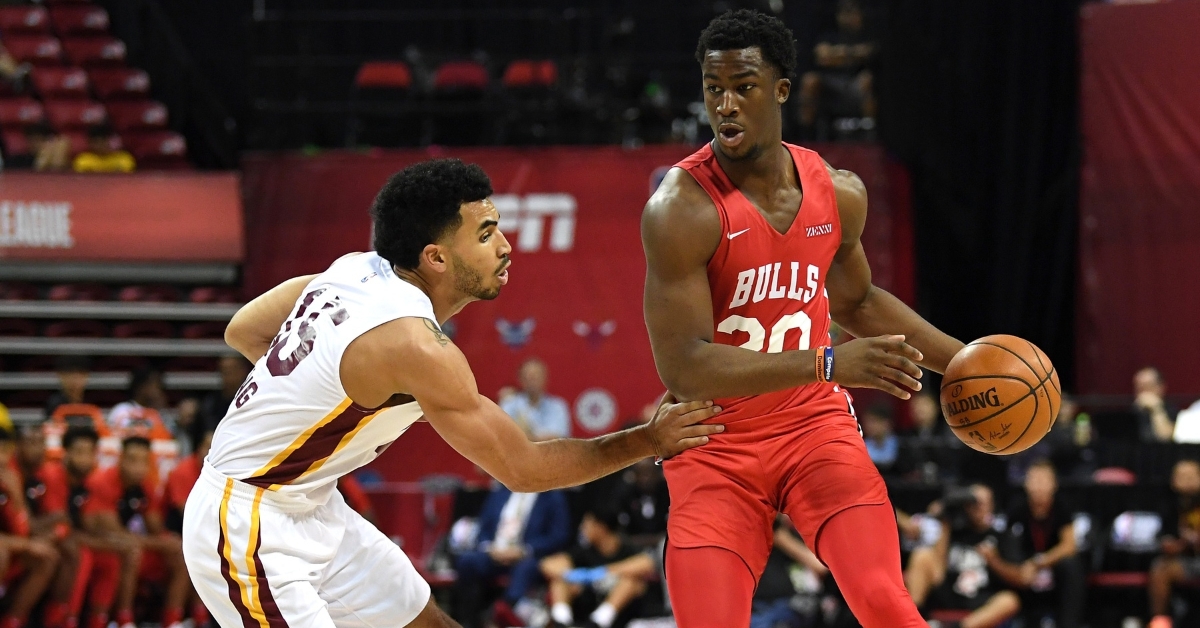 | | |
| --- | --- |
| Bulls News: Season in Review: Windy City Shooting Guards | |
---
We hop back into the Windy City portion of the season in review series as we focus on the shooting guards for the Windy City Bulls. While one name on this list everyone is familiar with given, he is a two-way player, the rest may not be as well known, but could be soon.
ADAM MOKOKA: The last of the two-way players for the Bulls, the France native Adam Mokoka is the name most people are familiar with when you talk about the Windy City Bulls. However, they are not familiar with his play on Windy City, more so what he did on the Bulls roster, especially during his 15-point performance in January, where he scored all those points in the final five minutes of regulation.
Even with that game showing the promise that Mokoka brings to the table, he was one of a handful of players that had trouble finding a consistent role on the team there, for he saw his skills round out in the G League. The 21-year-old rookie saw action in 31 games for Windy City this season, 30 of which were starts and saw around 33 minutes of action per game.
While his 15 points in five minutes is something that was never duplicated, Mokoka showed the makings of a solid player as he averaged 10.9 PPG, 5.7 RPG, and 3.3 APG. That shows that he can make an impact in many ways as the Windy City offense appeared more fluid with him on the floor. I like his game and what he can become and am interested to see what happens next season.
Grade B-: Mokoka is an exciting piece for the Bulls as he can provide them with a lift off the bench. Yes, he may start the season for Windy City again next year, but don't be surprised to see him earn a two-way deal again. He reminds me of Keith Bogans, who the Bulls had a while ago and could play that type of ball.
MILTON DOYLE: Chicago native in terms of where he went to school (Loyola) Milton Doyle found a home for Windy City this season as he continues to put together a solid G League Career. Now in his second season in the G League, Doyle was in his first for the Bulls, where he led the team in minutes played and poured in a 17.5PPG average. For his career, Doyle averages 19.1 PPG, so he has proven to be a reliable scorer.
Playing in a league where the pace is much more frantic than the NBA game is weird, but also fun to watch at the same time. You're going to have a lot of streaky shooting performances, and Doyle was no different. Despite a solid scoring average, Doyle did go through his share of shooting slumps but still managed to nearly 36% of his shots from the outside, which made him one of the better shooters on the team. Should he continue to score at the pace he does, the Bulls will be forced to move him up to their roster sooner rather than later.
Season Grade A-: Doyle showed me a lot this season as I didn't know much about him once the season started. Although he is only 6-4, he plays much bigger than that and doesn't hesitate to go after more physical players on the other side. While his team had a tough time finding consistent outside shooting, Doyle was one of the few players on the roster that could stretch the floor and get those shots to fall. Chicago struggles to find consistent outside shooting on the NBA side of things, which is something Doyle could help off the bench.
DANIEL DIXON: One of my favorite players on the Bulls G League affiliation is that of former Bakersfield Suns product Daniel Dixon. No stranger to this league as he has been around a few seasons, Dixon has 91 games of experience in which he has averaged 10.6 PPG over his G League career. Most of those games came in the Suns organization as the Bulls acquired him earlier this season before getting him in their active rotation.
For the season, Dixon saw action in 16 games for the Bulls, which was a little less than half of the total games played. While he didn't start any of those games, Dixon found himself coming off the bench to average around 20 minutes per contest, but those minutes increased later in the season. When you look at his stat line and see his 5.9PPG average, you would think he took major steps back from what he has done in the past.
While that is mainly true, he did have a few 20-point games with the Suns this season showing he can contribute with a more regular role on the team. The problem for Dixon this season was the position he played as there was two players better than him at the SG spot. He could have moved to the three spot, but once again would have been behind a few players so he wouldn't have gotten in a nice groove. Dixon scored his season-high with Windy City late in the season as he tallied 16 points off the bench.
Season Grade C: I love Dixon and had he played at the level he did for Bakersfield this season his grade would have been higher. Dixon can knock down shots from the outside, but also has no fear taking the ball inside. I look for him to have a more regular role next season, giving the Bulls the first opportunity to see what he is made of.