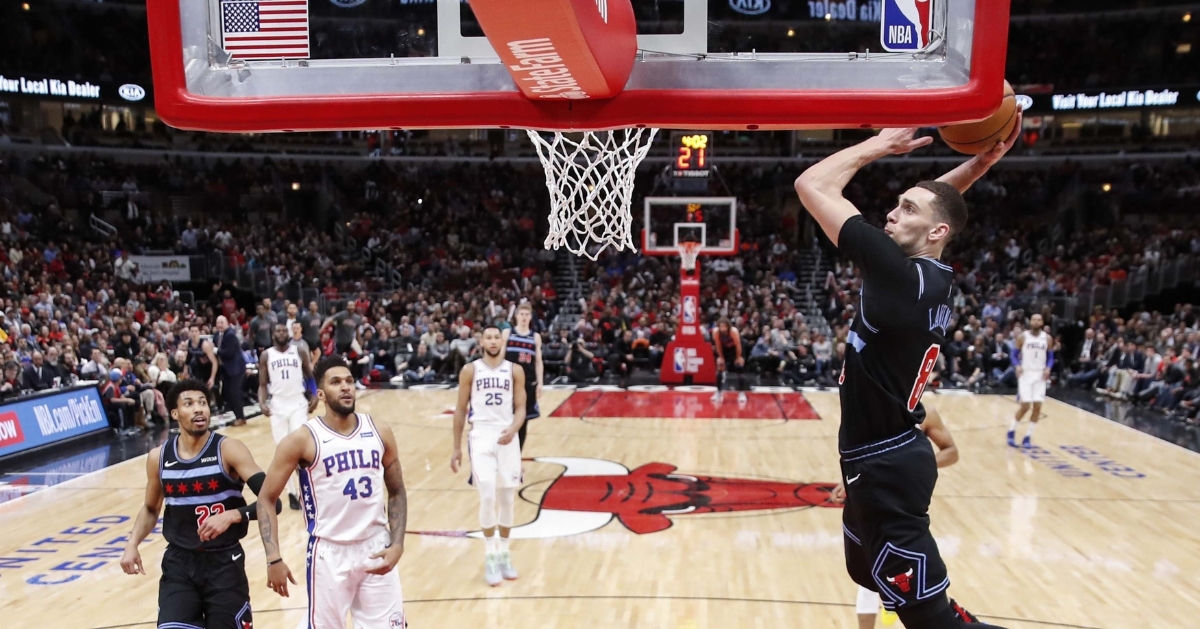 | | |
| --- | --- |
| Bulls News: Season in Review: Zach LaVine | |
---
| | | |
| --- | --- | --- |
| Thursday, April 16, 2020, 9:00 AM | | |
The Bulls have had their fair share of great players in their day, dating back to the 1990s. It was Michael Jordan, Scottie Pippen, Toni Kukoc and Dennis Rodman who were the first batch of Bulls greats that led Chicago to six titles in nine years.
After missing the postseason for five years once that group was put together, the second batch of greats came in as Derrick Rose, Joakim Noah, Jimmy Butler, and Luol Deng were now the faces of the franchise that put the Bulls in the postseason for seven straight years and eight out of nine. Granted, they didn't have the same success as the group in the '90s, Chicago once again has gone through rebuild mode as they have failed to make the playoffs the last three seasons.
With a new GM, a new VP, and a new front office, the Bulls could be on the verge of building another strong roster with postseason potential. With fans hoping that is the direction this team is heading, they have a solid building block to build around as the next Bulls great in Zach Lavine is now the face of the franchise.
When the Bulls made the trade for Lavine from Minnesota three years ago, I don't think anyone expected to get from him what he has delivered for the franchise thus far. The former top recruit and UCLA guard entered the draft after just one year of college were his numbers were less than appealing. He averaged only 9.4 PPG for the Bruins that season, but at 19 years old, his athleticism is what stood out and caught scout's eyes come combine time.
It proved too much for Minnesota to pass up as they took him in the first round of the 2014 NBA draft with the 13th overall pick. What looked to be a reach at the time, showed promise a few years later, but nothing to the magnitude he has shown in Chicago. During his tenure with the Timberwolves, Lavine was known more as a dunker despite improving his game each season. He earned two NBA ALL Star dunk titles with Minnesota while seeing his scoring go from 10.1PPG as a rookie, to 14.0 PPG to 18.9 PPG the year before he was dealt.
It was in his final season with Minnesota where he started to show his potential, but a torn ACL ended his season before he could get started, and he was shipped off to Chicago the very next season. Knowing they wouldn't get much out of him in his first season, the Bulls were cautious with Lavine in 2017-2018, as he played in just 23 games averaging 16.7 PPG.
It was in 2018-19 and then this season when the full potential of Lavine has come full circle as he has not only proven to be the best player on the Bulls roster but one of the best players and scorers in the NBA. Healthy for the first time since 2016, Lavine saw action in 63 games last season, with 62 of those games being starts. A few nagging injuries and knee soreness kept him out of some games, but he still managed to post a career-best 23.7 PPG, 4.7 RPG and 4.5 APG in the process.
Lavine wanted to do even better and continued to up his game this season to new heights. Once again, Lavine dealt with some late-season injuries, which kept him out of the lineup for the team's final five games. He still managed to play 60 games and was the only player on the roster to start every game he played in. After scoring near 24 PPG the year before, Lavine upped the ante to rank in the top 15 in scoring this season at 25.5 PPG while averaging 4.8 RPG and 4.2 APG. He always averaged a career-high in minutes and saw his defense improve immensely, which has been one of his biggest flaws as a player.
Almost stolen by the Kings before the 2018-19 season, the Bulls awarded Lavine with a four-year max contract, which keeps him in Chicago for at least two more seasons. While he is a fantastic piece to build around, the question becomes, how long will he be in Chicago? With a new ownership group in place, they may look to tear down this roster to start from scratch with their plan. That could mean unloading Lavine soon for not only players but for draft picks also.
Season Grade A: You can't give him anything less than an A grade as he proved to be the one constant on the Bulls roster. No matter the injuries, struggles, or lack of scoring from the team, you could count on Lavine, showing up every night and getting his as he continued to wow the crowd on a nightly basis. His defense still needs a lot of work, although it got much better as the season went on, and his shot selection was very questionable at times. That is mostly since the Bulls offense was terrible much of the season, so he tried to do a little too much if you ask me.
Should the Bulls keep him around and add more scoring to this roster, Lavine's numbers may go down in the scoring column, but he will become a completer and more well-rounded player. He has proven to be the most athletically gifted guard in the NBA along with Russell Westbrook and has now taken on the role of a topflight scorer. In a long list of Bulls greats, he is now the face of this franchise, and the team should look to tailor this team to his overall strengths.