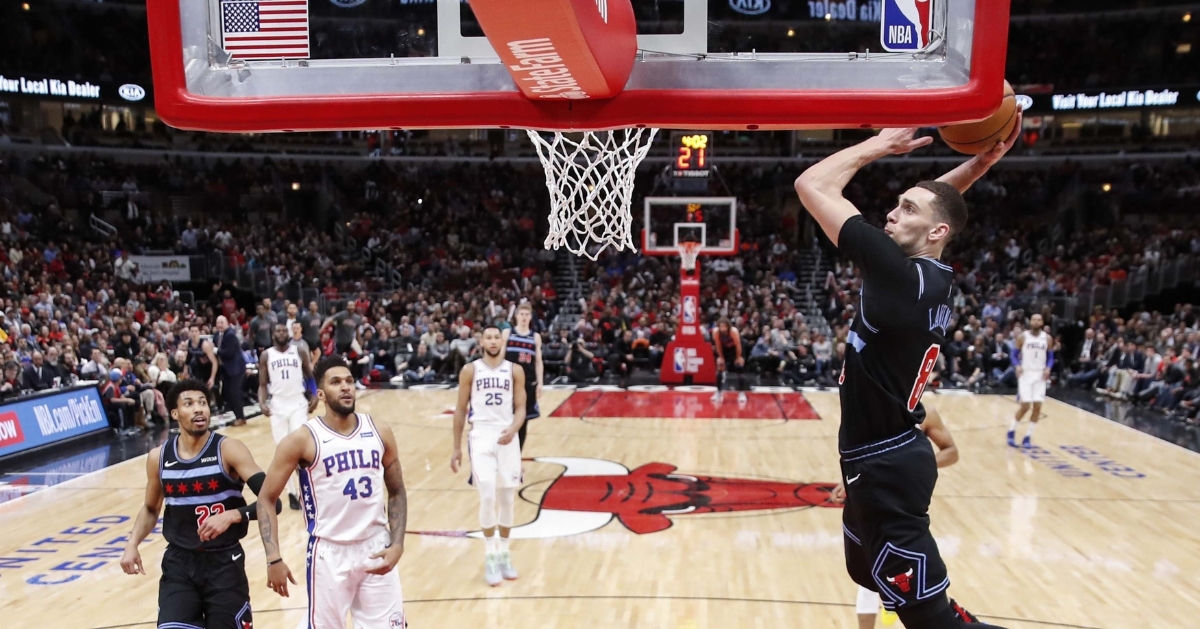 | | |
| --- | --- |
| Bulls News: Several teams reportedly interested in Zach LaVine | |
---
Most of our Bulls talk right now has been centered around free agency and what the Bulls are playing to do come draft night. Considering the draft is a week away, it makes sense to talk about that at this point. However, with Arturas Karnisovas running the show, November 18th isn't just the NBA draft; it is the beginning of a new ERA in Chicago.
The draft is just the tipping point to what this team could become, but there will be many more changes to follow. While the Bulls may currently occupy the fourth pick, many NBA execs believe Chicago may trade that pick for other assets. The Bulls are also viewed as being one of the more active teams right now in discussions, which some teams are trying to cash in on.
It appears the Bulls are going to stay put in the draft as they are seeking another playmaker with that pick to pair next to Coby White and Zach Lavine. The consensus feeling is that the Bulls will pull the trigger on LaMelo Ball if he is around at four, meaning more significant changes to the organization could follow.
One of those changes could be in the backcourt as multiple teams continue to inquire about LaVine, with the Dallas Mavericks really interested.
According to @KevinOConnorNBA, the Dallas Mavericks are one of several teams that have shown interest in trading for Chicago Bulls guard Zach LaVine.

— Daniel Greenberg (@ChiSportUpdates) November 12, 2020
A LaVine trade shouldn't shock anyone as this was brought up a lot last season but is now being brought up for the first time this offseason. Lavine saw his name pop up in rumors a lot last season, and the Bulls have had plenty of phone calls over the past season or so regarding his availability. It got so bad that good contending teams were in on him, and John Paxson wouldn't even pick up the phone. Since Karnisovas is now in charge, don't rule out a LaVine trade as he is undoubtedly to monitor the star's situation.
Could Zach LaVine be the third star for the Mavs? ?? pic.twitter.com/tfo4LxvEsu

— Mavs Nation (@MavsNationCP) November 13, 2020
LaVine is the Bulls best player on offense, and it isn't even close. He is the only one who can take over a game and can create his own shot. That makes the likelihood of him getting dealt this season more realistic than ever. It seems as if the Bulls want to make their backcourt a priority in the draft this season.
The front office believes that White is more of a scoring guard than a true point guard, which would move him to the No. 2. Let's say, for the sake of this column, the Bulls are looking at adding a true facilitator in Ball. That would allow them to not only play White more at the shooting guard spot but could give them a clear path to move Lavine.
LaVine is the most valuable asset on this team and would net the most significant return. However, with a new regime in place do they want to deal him now in hopes of bringing back a return they could transfer into their breed. At a reasonable 19.5 million owed to him the next two seasons, Chicago can use that as leverage to get a more significant return. He is underpaid if you look at his numbers, and the Bulls know that.
While a lot of teams may be calling, the Mavericks appear to make the most sense. At least right now, they do. From a financial side of things, Tim Hardaway Jr. would most likely come to the Bulls as he is set to make around 18 million this season. However, a LaVine-Hardaway deal won't get anyone excited without more coming back.
Karnisovas will most likely look to acquire picks in the process, and the Mavericks don't have much to offer in that area. If the Bulls are looking for a great return, they may have to look elsewhere from Dallas or bring a third team into the mix. Here is where things could get interesting.
Why not try and bring a team like the Celtics into the mix. The Bulls could deal Lavine to the Mavericks with Hardaway going to Boston. The Bulls, in return, would get someone like a Marcus Smart or Jaylen Brown plus one or two of the Celtics three first-round picks. This is the type of big splash move Karnisovas could make to put his team on the map next season.